Equipment
25x 20 baking tray
---
A gorgeous, healthy and delicious twist on the traditional lamington.
Who said sweet treats couldn't be healthy and delicious? Have you been searching for a healthier, delicious treat to share with friends or family or to snack on after a stressful day, one that is both moreish and gorgeous without too much added sugar? If so, then this Low Carb Raspberry Lamington recipe is right up your alley.
Catering to everyone's dietary needs while also baking something delicious and attainable can be extremely stressful. Below is a recipe using Lakanto Monk fruit Sweetener for a healthy baked good that will satisfy your sweet tooth without sacrificing taste.
In 2022, Lakanto Monkfruit Sweetener won the consumer-voted Product of The Year Award.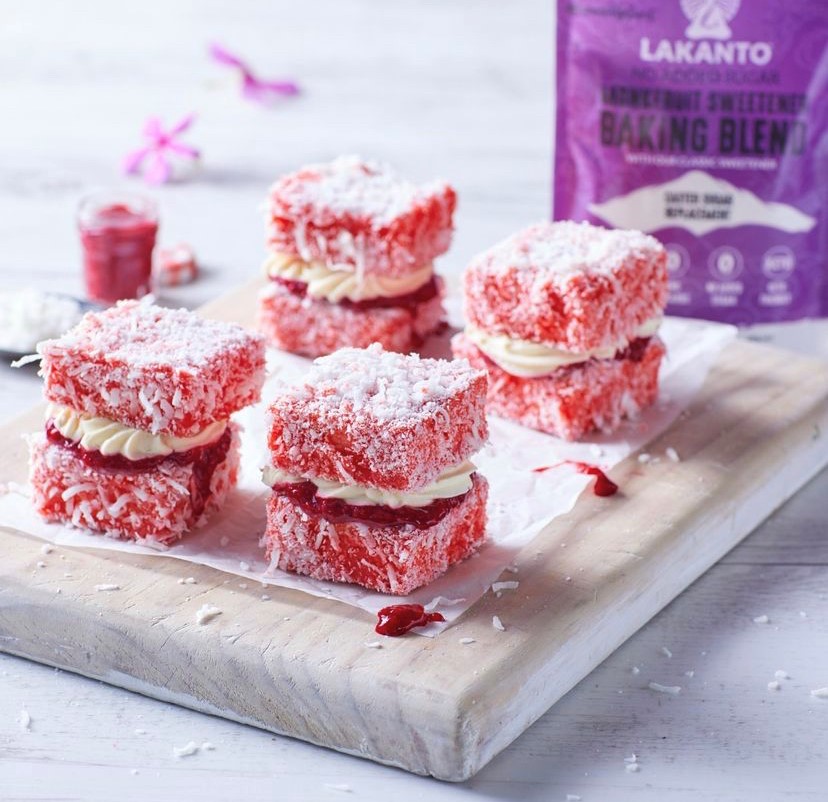 Ingredients
Sponge
8 whole eggs, separated
2 egg yolks
1 cup Lakanto Baking Blend
80g plain flour
3 tbsp cornflour
2 1⁄2 tbsp unsalted butter, melted
5ml (1teaspoon) vanilla extract
1⁄2 cup desiccated coconut
Raspberry Icing
2 tbsp unsalted butter
4 tbsp strawberry sugar free jelly crystals (alternative Gelatine Crystals and Raspberry Flavour)
1 cup Lakanto Pure Icing Powder
250ml Water
Raspberry Compote
2 cups Frozen Raspberries
1 cup Lakanto Baking Blend
1⁄2 tsp Vanilla Essence
2 tsp Arrowroot
1⁄4 cup Water
Chantilly Cream
1 cup Double Cream
3 tbsp Lakanto Pure Icing Powder
1⁄2 tsp Vanilla Essence
Method
Preheat oven to 180°C. Grease and line 25 x 20 baking tray.
Place 10 yolks and 90g Lakanto Baking Blend in a bowl and beat until pale. Transfer to alarge bowl.
Sift the flours together, then fold into the yolk mixture.
Fold in butter.
Beat egg whites with remaining Lakanto Baking Blend and vanilla. Fold half the egg whites into yolk mixture.
Fold in remaining egg whites. Spread into pan, bake for 15 minutes. Remove from oven, cover with a tea towel.
Icing Place the butter and sugar free jelly crystals in a bowl, pour over 250ml boiling water and stir to dissolve butter. Sift in icing sugar, whisk until smooth.
Set aside to cool slightly. Cut sponge into 12 squares, dip in the icing, then roll in coconut.
Compote Combine all the Compote ingredients into a small pot and bring to the boil remove from the heat and allow to cool.
Cream Filling For the Chantilly cream whip the double cream until it peaks then add the vanilla and pure icing powder.
Dollop the raspberry compote and cream between the two lamingtons.
---