Mini Red Velvet Cakes with White Chocolate Frosting, recipe from Eric Lanlard.
This All-American favourite is now a worldwide sensation, and the use of oil and buttermilk make it extremely moist. My twist on the frosting makes this version even more indulgent.
Master pâtissier and baker to the stars Eric Lanlard's cookbook 'Afternoon Tea' features deliciously achievable recipes, that you can bake for your High Tea at home.
Afternoon Tea by Eric Lanlard, is published by Octopus Books (c) photography Kate Whitaker.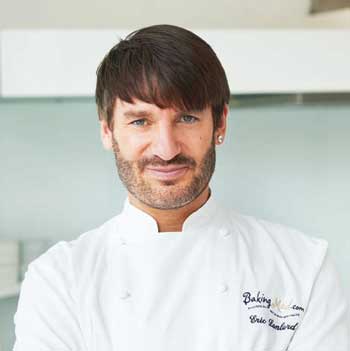 Ingredients for cake:
butter, for greasing
225g (7½oz) golden caster sugar
2 eggs
275 ml (9fl oz) vegetable oil
125ml (4fl oz) buttermilk
1 tbsp red food colouring
1 tsp vanilla extract
175g (6oz) plain flour
15g (½oz) cocoa powder
½ tsp baking powder
½ tsp salt
2 tsp white wine vinegar
icing sugar, for dusting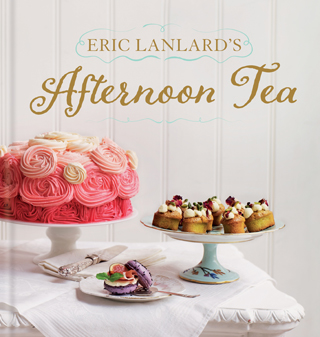 Ingredients for the frosting:
75g (3oz) white chocolate,
roughly chopped
175g (6oz) unsalted butter, softened
375g (12oz) icing sugar
2 tbsp milk
Instructions
Preheat the oven to 180°C (fan 160°C)/350°F/gas mark 4. Grease 7 x 6cm (2½in) diameter cooking rings 4cm (1½in) deep, line with baking paper, and place on a baking sheet lined with baking paper.
In a large bowl, whisk the eggs and sugar together using an electric hand whisk until pale. On slow speed, add the oil a little at a time until it has all been incorporated. Beat in the buttermilk, food colouring and vanilla. Sift the flour, cocoa powder, baking powder and salt together, then fold in, followed by the vinegar.
Divide the mixture between the cake rings, filling them three-quarters full. Bake in the oven for 35 minutes, or until a skewer inserted into the centres comes out clean.
Leave to cool in the rings for 5 minutes, then remove the cakes from the rings to a cooling rack to cool completely.
To make the frosting, melt the chocolate in a heatproof bowl set over a saucepan of barely simmering water, making sure the surface of the water does not touch the bowl. Leave to cool. Beat the butter and half the icing sugar together until smooth, then add the remaining icing sugar a little at a time, beating until the mixture is smooth. Add the milk and cooled chocolate and beat for a further 2 minutes.
To assemble, slice a mini cake horizontally into 3 layers. Thinly spread a layer of frosting on to the base layer, then sandwich the middle layer on top. Spread a little more frosting on the middle layer, then add the top layer. Repeat with 5 of the mini cakes so that you have 6 cakes in total leaving one spare. Spoon the remaining frosting into a piping bag fitted with a plain piping nozzle, then pipe around the edges of the cakes until completely covered. Crumble the remaining mini cake and sprinkle the crumbs over the tops of the piped cakes. Serve dusted with icing sugar.
---