Equipment
3 x 20cm round sandwich cake tins
---
A beautiful layered cake is a highlight of any High Tea setting, and this Pink Ombre Layer Cake recipe from SACWA is the perfect centre-piece.
This South Australian Country Women's Association (SACWA) cake recipe is not your typical layered cake. Six individual layers of delicious yellow cake, each a different shade of pink and sandwiched between generous amounts of buttercream frosting, create a delicious, towering gradient. Unassuming at first glance, this towering cake seems like any other until the first slice is served, revealing the surprise inside.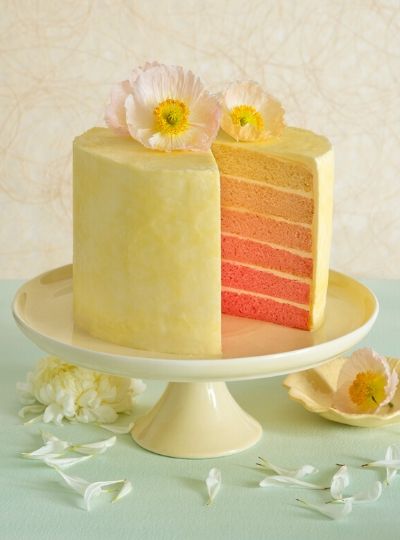 If you're looking for inspiration to host an at-home High Tea, look no further than the SACWA's Calendar of Cakes recipe book for tasty and nostalgic treats, that are easy to whip up in your own kitchen. This layer cake is a featured recipe in the book, alongside a range of other delicious and visually appealing dishes.
"Calendar of Cakes" by Fiona Roberts & Jacqui Way. Learn more here: www.sacwa.org.au.
Cake Ingredients:
500g unsalted butter, softened
1 ½ cups caster sugar
1 tablespoon vanilla extract
8 large free-range eggs
6 cups self-raising flour, sifted
Pinch of salt
3 cups (750mL) buttermilk
Rose pink food colouring
Buttercream Icing Ingredients:
500g unsalted butter, softened
1 tablespoon vanilla extract
1kg icing sugar
---
Instructions
Preheat oven to 170oC (150oC fan-forced). Lightly grease 3 x 20cm round sandwich cake tins and line with baking paper.

Using an electric mixer, beat 250g butter, ¾ cup sugar and 2 teaspoons vanilla together until light and fluffy.

Add 4 eggs – one at a time- beating between each addition until well combined.

Add 1 ½ cups sifted flour salt and 190mL buttermilk to the egg mixture and using a large metal spoon gently fold until combined. Add another 1 ½ cups flour and 185mL buttermilk and again fold into the egg mixture until combined.

Using a set of scales, divide this mixture evenly into three separate mixing bowls

Add 2, 1 and ½ teaspoon rose pink food colouring accordingly, stirring each to combine. Remember you want each bowl of mixture to be slightly lighter than the one before. Please note that food colouring fades in the oven, so go slightly darker.

Spoon cake mixtures into the prepared cake tins. Bake in pre-heated oven for 25 minutes, or until a skewer comes out of the centre clean. Remove cakes from the oven, allow to cool in tins for 10 minutes before turning out onto a wire rack to cool completely.

Wash and dry cake tins, then lightly grease and line with baking paper, repeat the above process for making the remaining cake batter.

Using a set of scales, divide the remaining mixture evenly into 3 separate mixing bowls.

Add ¼ and 1/8 teaspoon rose pink food colouring to two mixtures, stirring each to combine, leaving one uncoloured. Spoon the remaining three bowls of cake mixture into the prepared cake tins and repeat the baking process above.

To make buttercream, beat butter and vanilla together using an electric mixer until pale and creamy. Add icing sugar in batches, beating until mixture is smooth pale and fluffy.

To assemble cake, secure bottom layer (darkest) to a cake board or cake stand with a little of the buttercream.

Spread the sides and top with a generous amount of buttercream and sandwich the next layer on top. Repeat until all layers are iced and the lightest layer is at the top. Ice the sides and top of the cake generously with buttercream. Place in refrigerator to set the icing.

Decorate with fresh flowers (for example, roses or poppies), bunting, cake toppers or shredded coconut.

NOTE: No one ever has buttermilk in the fridge. Just add a tablespoon of lemon juice or vinegar to a cup of milk and let it sit for five minutes.