Equipment
8 small cake tins
---
Red Velvet Cake is a modern classic. This rich, moist, dark red chocolatey sponge cake with cream cheese frosting is a crowd pleaser.
This recipe is from Chapter & Verse at the JW Marriott Gold Coast and features in their Valentine's Day High Tea menu.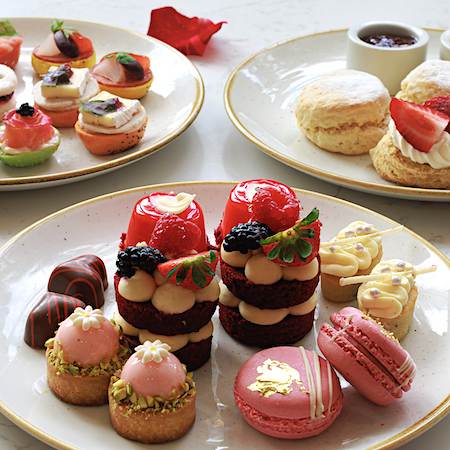 Cake Base:
Butter 884g
Caster sugar 2574g
Eggs whole 936g
Vanilla Essence 26g
Plain flour 2756g
Cocoa powder 130g
Salt 36g
Milk 1560g
Yoghurt 520g
Red food colour liquid 338g
Vinegar 36ml
Bicarb soda 36g
Cream Cheese Frosting:
Icing mixture 4500g
Cream cheese 3000g
Butter 1500g
Preparation Cake Base:
Cream the butter, sugar, eggs and vanilla together in a mixer machine.
Mix the sifted flour, cocoa and salt together.
Mix the milk, yoghurt & food colour and add alternatively with the flour mix in 3 stages.
Mix the vinegar and bicarb and add to the mix until well combined.
Pour mix into well-oiled frames. Weigh each frame with 800g each of mixture.
Bake at 175c for 15-20 minutes. Remove and cool.
When cooled, sandwich 750g of frosting between two slabs and 700g of frosting on the top.
Set and portion.
Preparation Frosting:
Mix all ingredients together until light and fluffy.
---