Pop on your stilettos, slick on some lipstick and get ready for some afternoon elegance – The Waiting Room has reopened its doors as Crown Towers celebrates its 25th anniversary, and High Tea is being served.
The High Tea Society was among the first to try out The Waiting Room's decadent new High Tea menu and we're pleased to report the offering is a royal flush.
Glass display cabinets with delicious desserts flank the entrance, and high tea goers have the option of being seated at the front, where you'll enjoy a front-row seat to the hustle and bustle of the hotel foyer and are similarly sitting to be seen.
The second option is to be seated within the cocktail bar itself, where the vibe is more opulent and intimate. Inside, the interior is stylishly decorated with low lighting, plush couches lining the walls, deep velvet green chairs, a mirrored mosaic along one wall and vases of flowers dotting the space. The whole effect is very sleek and super luxe.
It's a return to high tea service for The Waiting Room, which hasn't served high tea in recent years – that honour instead being performed upstairs at The Conservatory with a buffet-style offering.
Now, The Waiting Room is the only Crown venue to serve High Tea.
In devising the menu, Executive Pastry Chef Hari Unterrainer said his aim was simple – to deliver Melbourne's best high tea offering using local produce. He doesn't disappoint.
Served on a specially-made four-tier stand, the colourful high tea offering is a feast of the senses, exquisitely presented and equally delicious. It's the kind of stand that is made for Instagram, the kind you need to pull your phone out for and take happy snaps of before diving in.
Even better, the food smells incredible from the moment it is set down on the table.
Unterrainer is both playful and generous in his offering, with the lobster vol-a-vents jam-packed with juicy lobster, the saffron mustard a perfect accompaniment.
The salmon opera slice is a fun and delicious take on a dessert favourite. Layers of salmon, crème fraiche and rye, topped with Yarra Valley Atlantic Salmon caviar, combine to create the perfect mouthful.
Then there's the spicy prawn cocktail filling overflowing from a mini brioche bun, topped with a mini quail egg and caviar.
There's a nod to tradition with both plain and raisin scones, and the little pot of dulce de leche served alongside the pots of jam and cream is an inspired choice.
Over to the desserts, and if you're a salted caramel fan you're going to love the salted caramel macaron.
The raspberry lychee jelly tartlet, encircled with a thin case of white chocolate, is very refreshing and provides a great palate cleanser, while the verrine is an explosion of citrus.
The Waiting Room offers a few drinks packages with its high tea, including a two-hour package with free-flowing Piper-Heidsieck Essentiel Brut Champagne. If you're not driving and love bubbles, this is a great option.
There's also a Waiting Room signature in-house martini with infused vodka, Davidson plum, lemon myrtle and sweet vermouth for those wanting something extra.
The Waiting Room uses high-quality ingredients to produce a stand-out menu that is a must-try.
The Waiting Room High Tea Menu: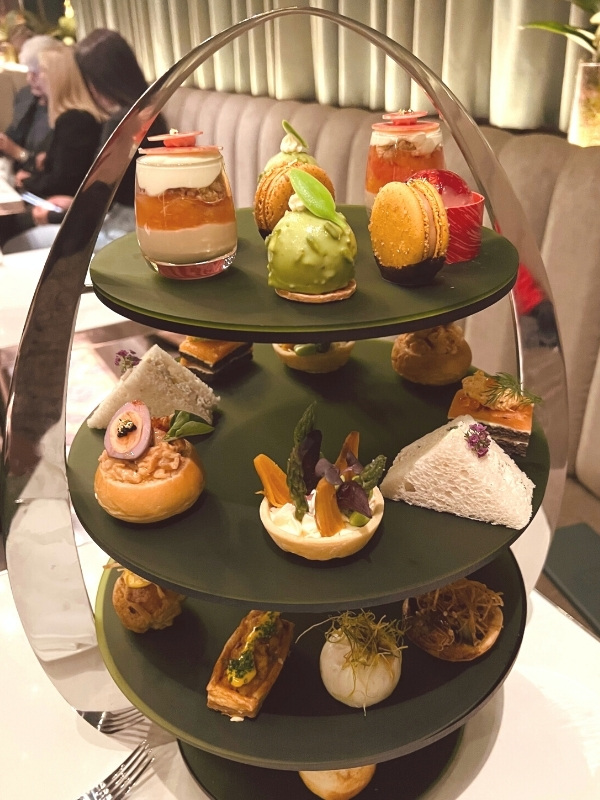 Savoury
Brioche, Prawn cocktail, Watercress
Salmon Rillettes, Dark Bread, Yarra Valley Atlantic Salmon Caviar
Chicken & Celery Triangle
Milawa Goat Cheese Tart, Grilled Asparagus, Confit Heirloom Beet, Edamame
Wild Mushroom and Gruyere Quiche, Onion Jam, Black Garlic Aioli, Enoki Chips
Beef Wellington, Hollandaise, Parsnip Textures
Lobster Thermidor Vol-au-Vents, Saffron Mustard
Duck, Lemongrass & Lime Steamed Bao
Sweet
Pistachio & Cherry Rocher
Citrus & Vanilla Mascarpone Verrine
Raspberry Lychee Jelly Tartlet
Salted Caramel Macarons
Scones
Traditional & Raisin Scones served with Meander Valley Clotted Cream, Raspberry Jam and Dulce de Leche
High Tea Melbourne – find more experiences
in our High Tea Venue Directory