Equipment
1 Madelaine tray of 14 medium size madeleines
Wisk
2 Piping bag with a plain nozzle 6
Butter to grease moulds
Brush
---
Orange Blossom Madeleine recipe by Anthony Teva Dagorn. This is a subtle and delicate cake with a delicious orange blossom ganache.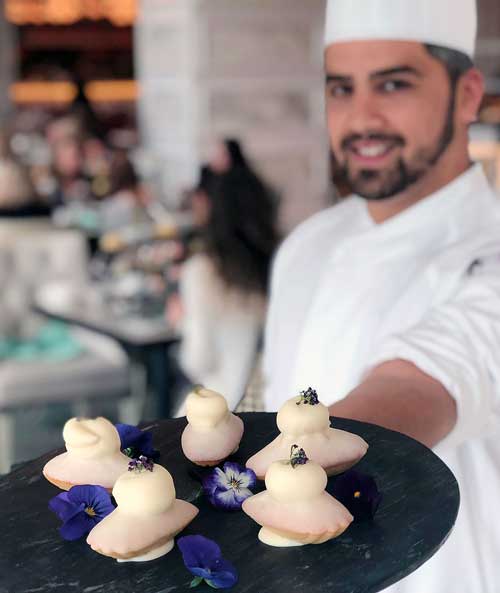 An Orange Blossom Madeleine is a light and buttery pastry, which originates from France.
Dagorn was born and raised in France, where he developed the love of pastry at a young age. He trained and was qualified at 19, since he has worked in numerous restaurants and patisseries.
Moving to Australia in 2010, Dagorn soon missed his pastry and took up a position at Crown, since he was worked his way to chef de cuisine – Pastry, where he creates pastry masterpieces for the menu, including the High Tea.
---
Ingredients
---
Instructions
The Madeleines

- Mix eggs, sugar, orange blossom and orange zest
- Add sifted flour and baking powder
- Melt the butter and add in the milk and oil.
- Brush the tray with melted butter and pipe 30g of madeleine mix
- Bake in an oven at 170*C for 12 min

The Ganache

- Heat the cream and add the white chocolate cocoa butter
- Add the butter when the ganache reaches 35 degrees
- At the cold stage, add the orange blossom
- Mix well and rest for 24 hours
- Pipe a gourmand ball on top of each madeleine and keep refrigerated