The Hotel Windsor, Melbourne offers a quintessential English affair complete with elegant setting and perfect scones for Afternoon Tea.
The Hotel Windsor in Melbourne is an icon, with its old-world charm and black tie service. It truly is a luxurious and opulent experience.
Set just off the lobby, the One Eleven tea lounge is like taking a step back in time. It is easy for one to feel as if they are dining with the ladies of Downton Abbey or the like.
On this particular afternoon, there is a buzz in the room with groups of old and young all gathered around to share the experience. Once we are seated we are offered a glass of champagne and the menu is explained and placed for us to peruse.
The tea selection was excellent with a good variety of 11 different teas, I chose a Sencha green which was refreshing and calming. The silverware was so well worn, but it created a unique authenticity as if these very tea pots and crockery has been used since Afternoon Tea was first served.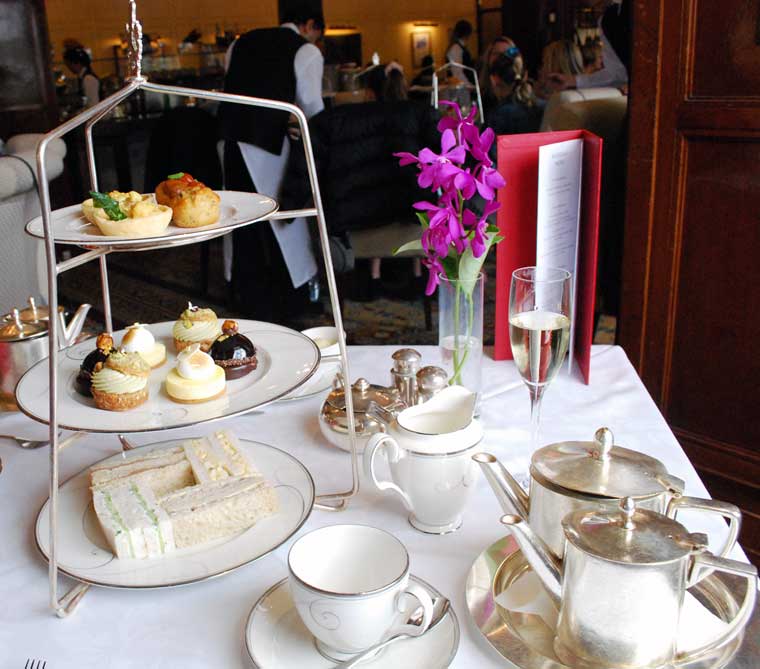 The table was dressed in white linen, and cloth napkins were placed in guests laps. The tea tray was simple but beautiful, adorned with a lion figure, it was open and really showcased the food well. The presentation was superb with each piece displayed to show off the detail.
The bottom tray held the finger sandwiches, presented in a square formation, displaying each one's filling, which was very appealing to the eye.
While the sandwiches are somewhat traditional, there were modern twists that added an element of surprise. There was an egg with mayonnaise, horseradish and Dijon mustard, smoked salmon with avocado cream, cucumber and ricotta cheese with herbs. The favourite for me was the chicken with celery and walnuts, which not only had a great flavour but also a crunch and good texture. All the fillings were perfect, not too thin or thick, specifically the salmon and the cucumber which were pleasant and not overpowering as they can sometimes be.
The petite savouries were quite enjoyable as well. There was a prosciutto muffin with tomato chutney and a parmesan cauliflower tart with spicy butter. The cauliflower tart was delicious, with a cauliflower mash as the filling the flavours were balanced and it was a pleasant texture. It could be enjoyed by someone such as myself who doesn't overly like cauliflower.
The middle tier was next and this was by far the most exciting. Created by the Hotel Windsor's new Head Pastry Chef Jérémie Parmentier, who has only been in Australia for 3 months after an extensive career and training in France.
Each pastry looked absolutely divine with extreme precision and detail put into the presentation. There was an intense dark chocolate praline and a light and tangy lemon tart. The standout though was the crispy spring choux filled with pistachio cream and a cherry confit. This truly was perfection from the pastry to the filling, it was as light as air and the addition of the cherry really brought it all together. There were the best sweet pastries I have ever had at a High Tea, not just in Melbourne but anywhere.
Finally, the scones, which were brought to us still warm. Traditional and sultana scones were served with Windsor jam and thick double cream. These were so delicious and light and broke apart easily in our hands. High Tea Society was fortunate enough to be given this fantastic scone recipe as well.
Overall this entire experience was excellent, the Hotel Windsor, Melbourne know how to host and present High Tea. From the setting, to the service, food and overall presentation this is one Afternoon Tea that all should experience.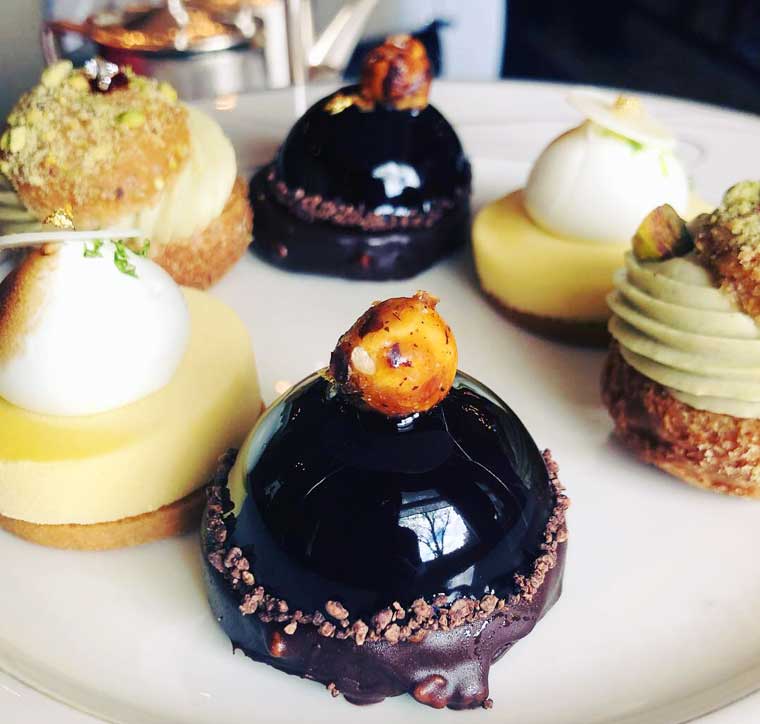 The Hotel Windsor, Spring Afternoon Tea Menu: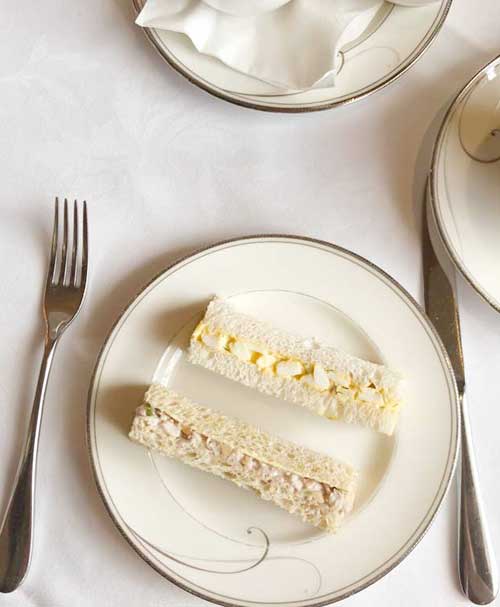 Savouries:
Parmesan cauliflower tart with spicy butter
Prosciutto muffin with tomato chutney
Ribbon sandwiches:
Egg with mayonnaise, horseradish and Dijon mustard
Smoked salmon with avocado cream
Cucumber and ricotta cheese with herbs
Chicken with celery and walnuts
Patisserie:
Intense dark chocolate praline – manjari mousse, guanaja cremeux, housemade crispy praline, chocolate sponge
Crispy spring choux – choux puff, crispy pistachio cream, cherry confit
Light and Tangy Lemon Tart – lemon cream, almond cream, kaffir lime meringue, lime gel, sweet sable
Scones: