Just when you thought afternoon tea at The Windsor couldn't get any more opulent, Melbourne's most traditional afternoon tea venue has upped the ante.
How, you may ask? Afternoon tea goers can expect not one, but two full cake stands in your sitting. Yes, you read that right, two.
Like every other Melbourne venue, The Windsor has had to redefine their offering in line with Victoria's COVID-19 restrictions, meaning their famous weekend dessert buffet is a thing of the past (for now, anyway).
However, we at the High Tea Society were ever so pleased to discover that this has not translated into a smaller menu. Instead, guests are now treated to one cake stand at the start of the sitting filled with savoury items, and a second cake stand halfway through with desserts.
Ahh … heaven!
We were also pleased to discover that because The Windsor is a spacious venue and tables have always been kept a comfortable distance apart, the social distancing between tables appears effortless.
From the moment you walk into The Windsor's tearoom and soak in the traditional 19th-century décor, chandeliers, Noritake fine bone china, silverware, and arts and artefacts paying homage to Melbourne and The Windsor's history, you know you're in for something special.
The Windsor is an afternoon tea venue that people put their Sunday best on for, and the overall vibe is refined yet relaxed, with soft music playing in the background and a low hum of chatter.
This time around there are no linen tablecloths and the sugar is served in sachets rather than sugar cubes (again, a nod to COVID restrictions), however, the offering remains as impeccable as ever.
We are offered a glass of Louis Roederer Brut Premier Champagne on arrival and encouraged to pick from one of 11 black, green and herbal teas on offer, or coffee.
The Windsor has opted to celebrate Melbourne's reopening with a new, colourful menu that brings back the familiar afternoon tea flavours of yore, starting with a thoroughly traditional yet modern savoury offering.
As you would expect, there are the cucumber finger sandwiches that are synonymous with The Windsor afternoon tea, adorned with slivers of cucumber fanned out across the top.
There's also a sweet bun featuring Western Australian white anchovy, seasoned with a delicious tangy combination of lemon and paprika that turned this former anchovy hater into a convert.
Meanwhile, the gooey roasted pumpkin filling encased in choux pastry and topped with gougere cheese was another standout.
Next up is the dessert cake stand, featuring The Windsor's signature plain and raisin scones and a hibiscus madeleine on top, followed by a beautiful pastel-coloured Earl Grey and calamansi macaron, a delectable mille feuille and a blueberry choux on the middle tier.
But the absolute stand-out of the day was the trio of desserts on the bottom fashioned to look like finger sandwiches.
This playful concept was flawless, with the mango and coconut mousse sponge my personal favourite.
Afternoon tea at The Windsor has always been a classy affair, and we're pleased as punch that their offering remains as glamourous and classy as ever, even with COVID restrictions.
Come here for the stunning venue, on-point menu and attention to detail.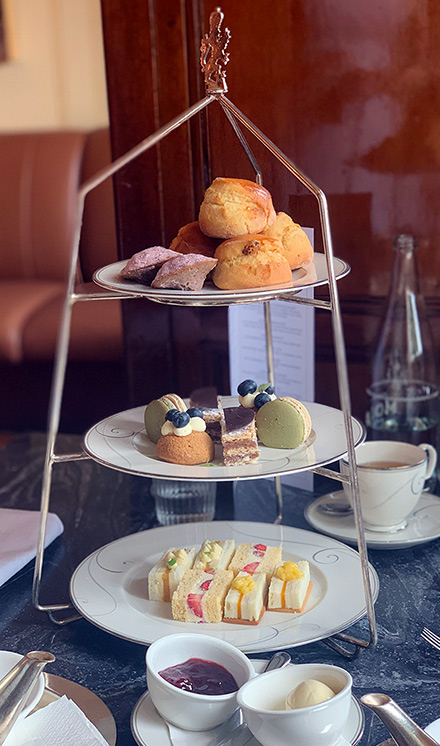 The Windsor Afternoon Tea Menu:
Savoury Canapés:
Gougere, Comté & Roasted Pumpkin
Spring Tart, Caramelised Onion on Puff Pastry
Heirloom Tomato, Ricotta, Fried Capers on Puff Pastry
Sandwiches:
Cucumber, Crème Fraîche & Spiced Fennel on White Bread
White Anchovy, Paprika & Lemon on a Crispy Bun
Pastrami, Sauerkraut & Swiss Cheese on Toasted Rye
Sweets:
Blueberry, Saké & Mascarpone Choux
Earl Grey & Calamansi Macaron
Gianduja Mille Feuille
Hibiscus Madeleine
Marmalade on Toasted Sponge with Buttercream
Strawberries and Cream Shokupan
Mango and Coconut Mousse Sponge
The Windsor's Traditional & Raisin Scones with Jam and Cream
High Tea Melbourne – find more experiences
in our High Tea Venue Directory