Located inside one of Melbourne's most glamorous hotel foyers, the Grand Hyatt Melbourne's high tea is an indulgent experience sure to impress.
High Tea Society recently enjoyed a very satisfying Sunday afternoon High Tea at the hotel's Collins Kitchen, complete with proper white tablecloths, free-flowing sparkling, a French pastry chef and perfectly warm scones!
The Grand Hyatt's High Tea is particularly extensive and, given the substantial savoury offering, is likely to appeal to a wider audience than just High Tea aficionados. The High Tea commences with a glass of Chandon Blanc de Blancs NV and the traditional tiered High Tea stand. The stand features classic finger sandwiches, a selection of savouries and plain and raisin scones.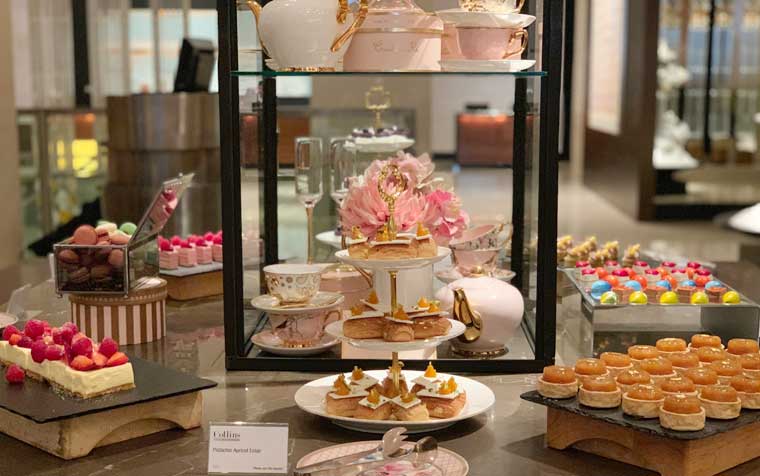 The Grand Hyatt Melbourne delivers on the classics, with the lightly curried egg finger sandwich being a real winner. The scones, served warm with apricot jam, strawberry jam and whipped cream, were superb. They were the perfect size and had a nice balance of flavour and fluffiness.
Once you've worked your way through the tiered stand and perhaps selected a tea from the T2 tea menu, guests are welcome to help themselves to not one, but two buffets. The savoury buffet includes an ever-changing range of miniature treats that, when High Tea Society visited, included wagyu beef sliders served with cheese, mustard and a pickle on a milk bun, pork and apple sausage rolls, and pea and mint arancini.
Even though the restaurant was full, the buffets never felt crowded and they are carefully replenished by discrete staff throughout the high tea. Tables in the dining room are well spaced apart, to ensure the room does not feel too full and the noise levels are low.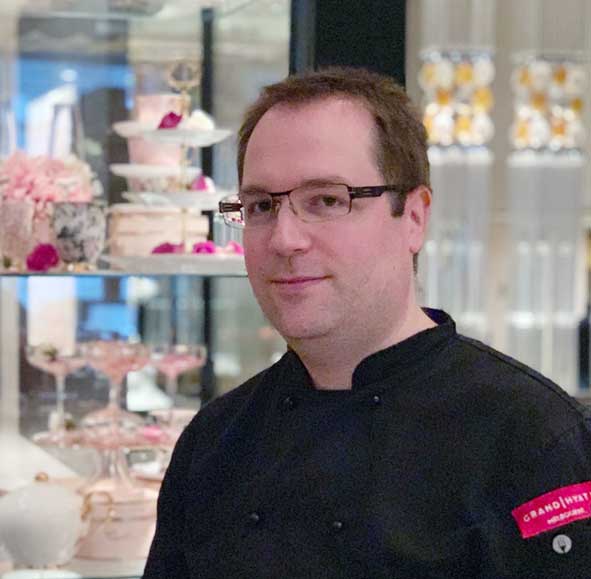 The sweet buffet includes a range of French style mini gateaux, a rotating menu of different flavoured macarons, an ice cream stand, a waffle and pancake station, and a chocolate fountain with homemade churros. The beautiful display of gateaux is lovingly made in-house by a team of 16 pastry chefs at the Grand Hyatt, led by Head Pastry Chef, Louis Bioteau. Louis, originally from France, has worked in London and at High Tea Society favourite the Park Hyatt Sydney, before heading to the Grand Hyatt Melbourne to head up their pastry team.
Some of the highlights (it's hard to choose just a few!) included the miniature lemon meringue tarts, the visually arresting bright pink Raspberry Opera cake, and the hugely popular Pear Tarte Tatin.
The Grand Hyatt's High Tea Menu: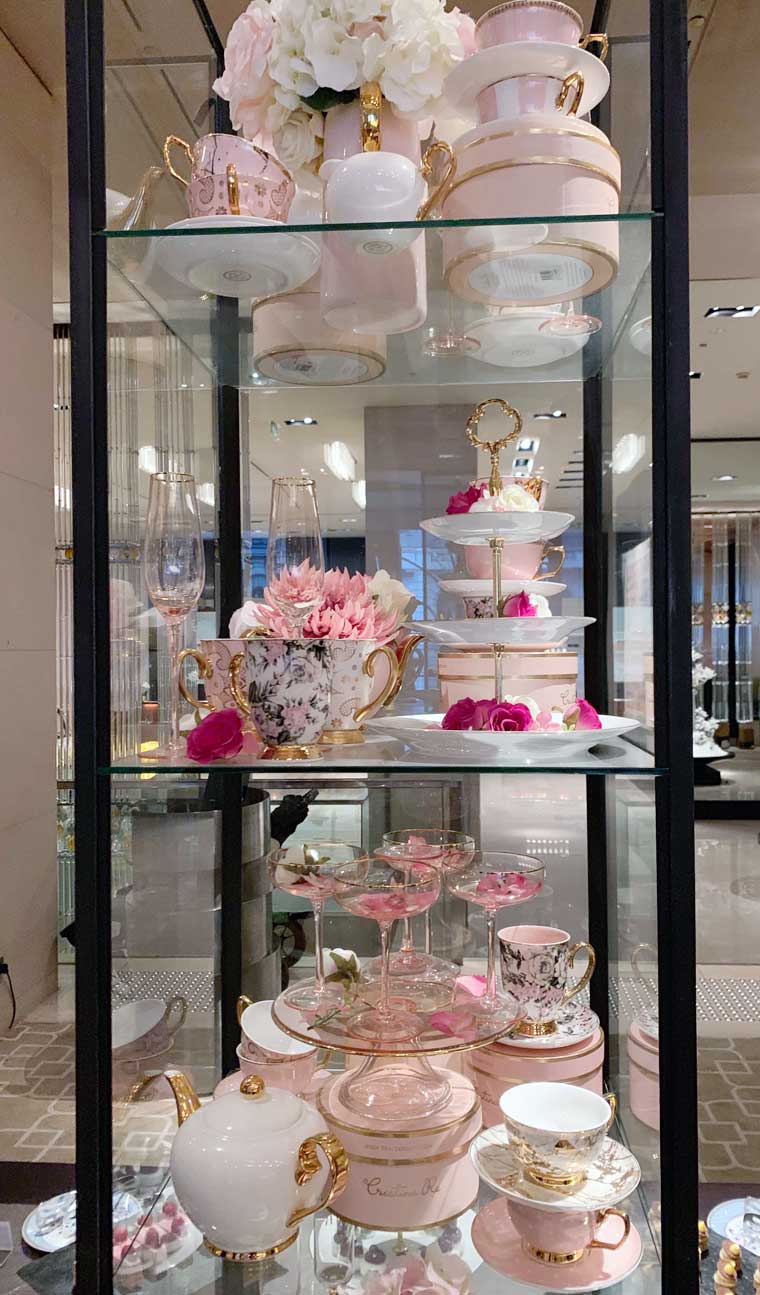 On the stand:
Free-range egg finger sandwich
Slow roast chicken finger sandwich
A selection of savouries
Freshly baked plain and raisin scones
Two choices of jam and whipped cream
From the buffet:
A rotating selection of warm savouries, which included:
Mini burgers
Arancini
Sausage rolls
Dumplings
Mini pies
Empanadas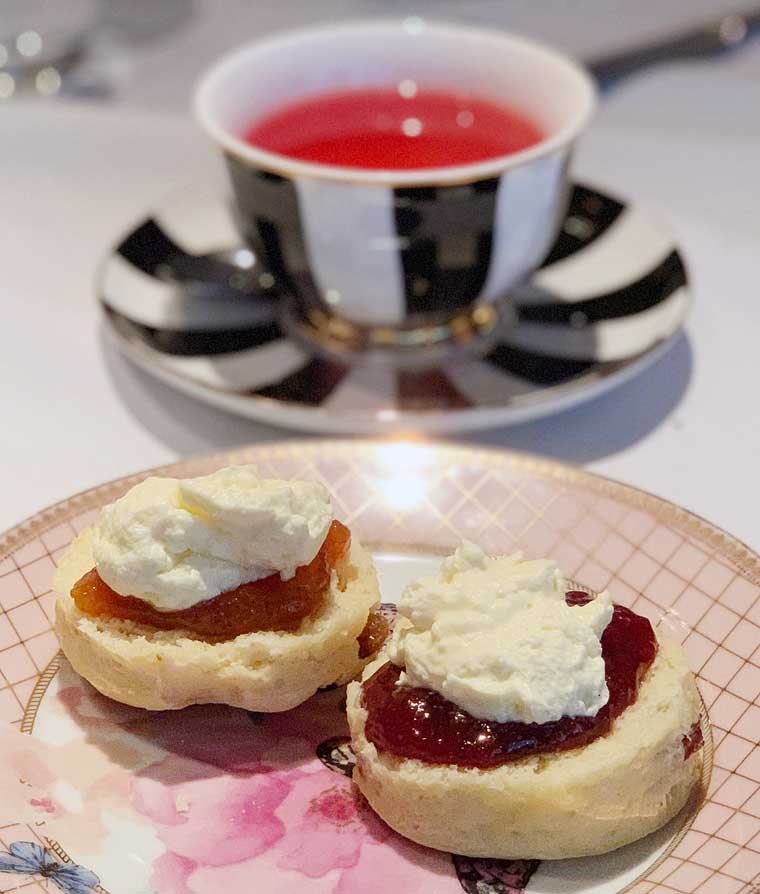 A large rotating selection of gateaux, which included:
Raspberry Opera
Golden Gaytime Brownie
Blueberry, Coconut and Lime Cake
Earl Grey Lemon Teacake
Pear Tarte Tatin
Apricot and Pistachio Éclair
Peanut Butter Profiterole
New York Baked Cheesecake
Assorted Macarons
Crème Brulee
Seasonal Fruit Crumble
Coconut Mango Rice Pudding
Ice cream station
Waffle and pancake station
Chocolate fountain
To drink:
Chandon Blanc de Blancs NV
A selection of T2 teas
High Tea at the Grand Hyatt is a seamlessly run, decadent five-star experience, which offers a crowd-pleasing buffet along with the more traditional scones and finger sandwiches. The High Tea is justifiably popular, so do book ahead to enjoy this experience. And, a pro tip: for groups of 6 or less, request one of the booth seats by the windows. These semi-private booths offer the quietest and comfiest seating in the dining room.