Billed as the "high tea in style", the Grand Hyatt's weekend afternoon tea epitomises chic surroundings and on-trend gastronomy.
The five-star hotel has paired up with luxury lifestyle designer Cristina Re for its latest high tea offering, which pairs an exotic menu with Cristina's signature tea ware collection.
Served in the hotel's ground-floor restaurant, Collins Kitchen, the decor is spacious and stylishly minimal, with polished wood floors and warm low lighting.
Upon arrival, we are seated in our own private glass booth with floor-to-ceiling windows overlooking Russell St. The booths, which have plush lounges, are spacious yet intimate, and the glass partitions allow you to experience the chatty and convivial atmosphere without actually overhearing any conversations – or being overheard, for that matter.
The table is beautifully set with a white tablecloth, and an array of coloured and patterned Cristina Re fine china, all trimmed in 24-carat gold.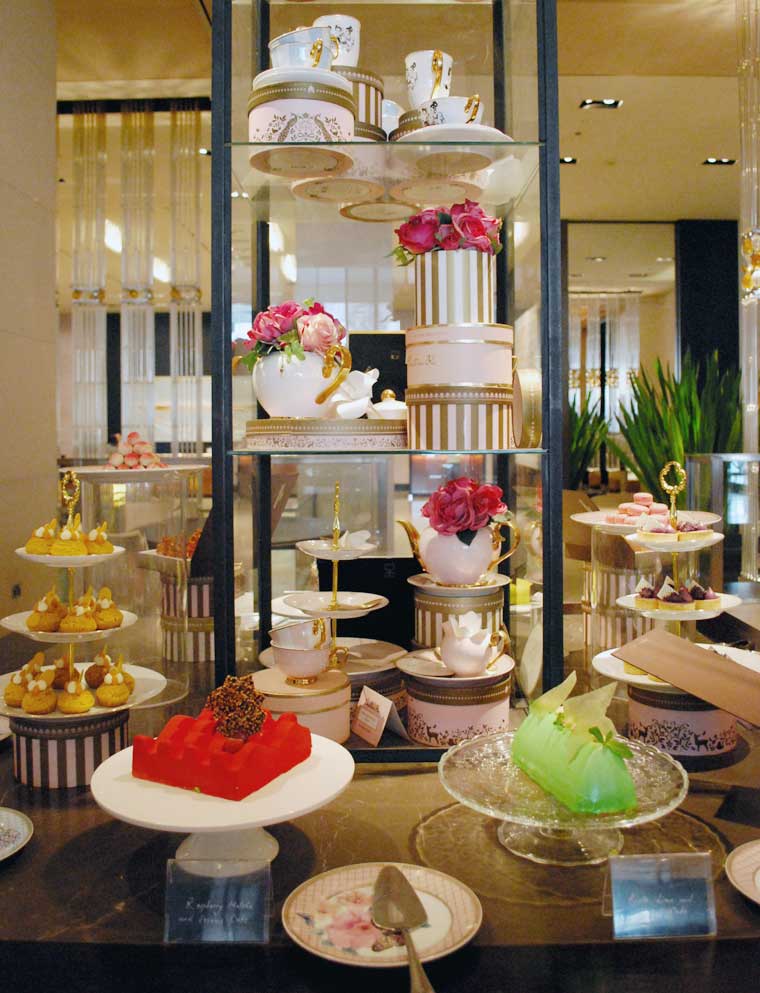 We are offered a glass of Chandon NV Sparkling Brut on arrival and are referred to a tea menu with a variety of T2 teas. Espresso coffee is also available.
Unfortunately, the only piece of tea ware that was not Cristina Re were the teapots, which were your regular white fine bone china variety.
There's not a finger sandwich to be seen in the internationally-inspired menu, with Vietnamese, Mexican and French influences among the extensive savoury and dessert offering.
It starts off with a three-tiered cake stand served to the table filled with savoury items, and an accompanying plate of warm plain and raisin scones, with bowls filled with jam and cream.
From there, there is a selection of hot savouries available from the buffet, followed by a larger self-serve patisserie, complete with chocolate fountain and edible dessert garden, which is truly a piece of (delicious) art.
Between the savoury cake stand and the two buffets, high tea goers are spoilt for choice with 30 different menu items on offer. Even more impressive is the fact that each and every item is made on-site.
Among the stand-outs savoury dishes were the pork banh mi, the bulgogi beef steamed bun and the kangaroo sausage rolls.
Choose carefully among the desserts, because it's impossible to try out everything within the two-hour sitting. For those with a penchant for dark chocolate, the very rich chocolate and hazelnut log is a must-try.
The perfectly layered raspberry, matcha and sesame cake melts in your mouth and lastly, do not leave without trying the impossibly fresh and tangy passionfruit filling in the white chocolate and passionfruit choux.
With the sheer quantity and quality of food, and the stylish surroundings, the Grand Hyatt's high tea is perfect for a girls' day out or a special event.
Grand Hyatt Melbourne High Tea Menu:
Served at your table:
Curried egg with chive and crispy chicken skin
Cured salmon buttermilk blini, cottage cheese and smoked roe
Pork banh mi with chicken liver pate, pickled vegetables, coriander and sriracha mayonnaise
Spanner crab taco with avocado, chipotle mayo and lime
Burrata tostada with tomatillo salsa and pickled jalapeno
Thyme gougeres with mepunga gruyere and black salt
Freshly baked scones with Stefano's jam and whipped cream
Hot buffet selection:
Eight-hour smoked beef short rib with chimichurri and empanada
14-hour smoked brisket sliders with BBQ sauce, mustard and McClure's pickles
Kangaroo sausage rolls with salsa verde and bush tomato chutney
White savourine tart with caramelised onion and thyme
Bulgogi beef steamed bun with pickled cucumber and sriracha
Creamed corn croquette with miso and mustard
Patisserie:
Edible dessert garden
Chocolate fountain with marshmallow, Turkish delight and churros
Red velvet cream cheese cupcake
Mandarin coconut tea cake
Tropical ride pudding verrine
Selection of ice cream and sorbet
Selection of fruits
Pineapple coconut crumbles
White chocolate and passionfruit choux
Dark chocolate and hazelnut log
Apple lime and mint cake
Raspberry, matcha and sesame cake
Banana, chocolate and macadamia cake
Raspberry chocolate truffle
Rosewater macaron
Blueberry tart
Assorted tuille