A delicious and luxurious High Tea in Style with Cristina Re's elegant teaware at the Collins Kitchen, Grand Hyatt Melbourne.
Photos by Kate Nelson & Michelle Milton
Step off the bustle of Collins Street into the hushed class that is Collins Kitchen. As a guest, sink into the very comfortable seats, enjoy the glorious – and very Melbourne – view out into the treetops of Russell Street and settle in for an afternoon treat.
During our visit the venue was full – and yet the very clever arrangement of tables and partitions ensured that we felt our experience was a private one. For me, it's always a joy when tables are arranged out of earshot of other guests. Our staff were attentive and seamless.
A few small changes in these post-Covid times. Your high tea stand is still delivered to your table, and now table service also includes the selection of sharing plates (previously you would line up and the chefs would plate up directly). You can still watch the chefs at work – through the glass (as the area is now cordoned off). Your place setting also comes with a sanitising wipe so you can clean your hands before the meal. These are, in my mind, welcome changes in service – and I hope they remain.
As always the Grand Hyatt Melbourne's high tea did not disappoint. Starting with the sandwiches – it really was hard to pick a favourite as they were all utterly delicious. And the savoury petit fours were mouth watering for me the stand out was the very pretty Garden Pea Tartlet (but again they were all delicious). The scones came with local jams that were both subtle and flavoursome.
On our warm sharing plates the sausage roll was the standout – I need to know the secret recipe!! And over on the Dessert Counter the choices are overwhelming (lucky they are bite sized so you can avoid any guilt trying each of them).
Collins Kitchen High Tea Menu: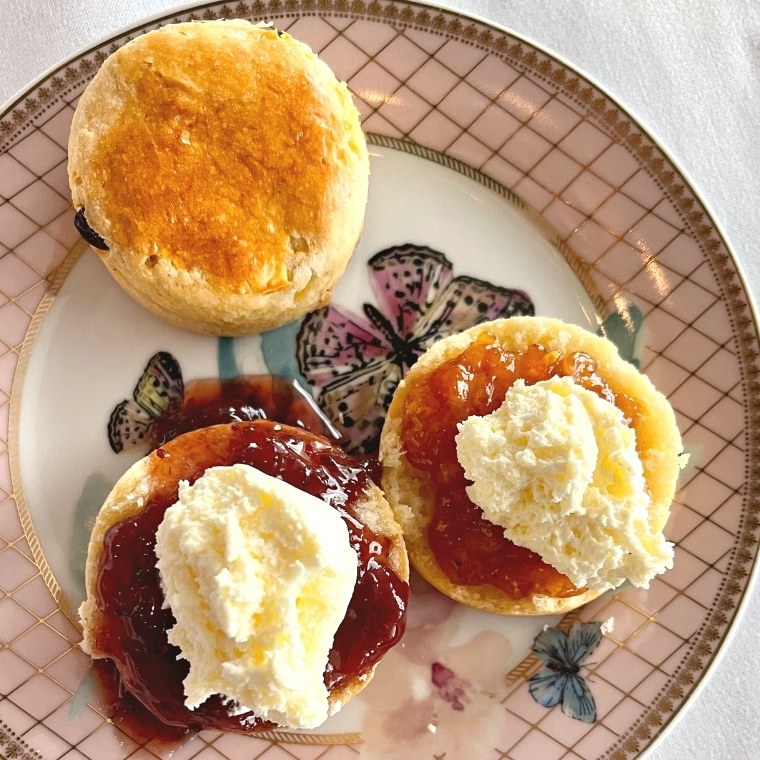 Savoury Stand:
Freshly Baked Scones, Jam Lady Jam and Cream
Confit Chicken Finger Sandwich, Avocado, Tarragon and Garlic Mayonnaise
Curried Egg Finger Sandwich, Wild Watercress
Rare Roast Beef Finger Sandwich, Truffle Celeriac Remoulade, Wild Rocket
Garden Pea Tartlet, Stracciatella, Foraged Wild Flowers
Free Range Chicken Liver Pâté, Backyard Honey Financier, Black Salt
Smoked Salmon Bilini, Lemon Crème Fraîche, Yarra Valley Salmon Roe
Sharing Plates:
Free Range Chicken and Basil Empanada, Chimichurri
Collins Kitchen Sausage Roll, Tomato and Capsicum Relish
Hand Picked Spanner Crab Croquettes, Whipped Taramasalata
Dessert Counter:
Chocolate and Hazelnut Slice, Hazelnut Cream, Gold Leaf
Orange Profiterole, Orange Marmalade, Chantilly Cream
Rose Macaron, Fresh Berries, Strawberry Cream, Flower Petals
Vanilla Cupcake, Blueberry Buttercream, Fresh Blueberry
Pistachio and Raspberry Financier, Chantilly Cream, Fresh Raspberry
White Chocolate and Lemon Tartlet, White Chocolate Ganache, Lemon Curd
Ice cream, Your choice of one scoop of ice cream from our Pastry Counter
High Tea Melbourne – find more experiences
in our High Tea Venue Directory