Sophisticated and modern, nestled in amongst some of the best eateries Melbourne has to offer, Om Nom at the Adelphi Hotel is a high tea to remember.
One of the first things you notice when walking into Om Nom is the lush decor that oozes class with a hint of playfulness, like the floor-to-ceiling artwork, or the front desk that forms a carriage being led by a giant wire horse sculpture.
A table has been set for us with beautiful Maxwell & Williams china, fresh linen, and quirky burnished gold cutlery that ties in with Om Nom's tasteful colour scheme. Flutes also await us on the table, ready to be filled with chilled champagne from a nearby ice bucket.
With quiet chatter that fills the room and the dim lighting, you could be forgiven for mistaking the afternoon high tea for a cocktail bar. Indeed, you can order cocktails from the bar if you so desire. We tried two of their mocktails; the virgin strawberry mojito, and the Italian orange spritz.
As far as the drinks selection goes, their high tea also offers bottomless tea and coffee. Some of the tea options include "Chocolate-T", and Apple Oolong, as well as the classic English breakfast and herbal teas. The Rooitea Vanilla fruit tea was a refreshing option that complimented the high tea well.
Soon we are greeted by Head Chef and creator of the afternoon's high tea menu, John Law, who worked as a sous chef at Kisume before starting at Om Nom in November of 2019.
In an entertaining twist, the teacup perched on the top tier of the cake stand is filled not with chocolate, but with dry ice, which lends mystery to the high tea with a foggy smokescreen from which behind a delectable selection of sweet and savoury treats are revealed.
The savoury treats are all exceptional, but a special mention is necessary for the egg, potato and truffle sandwich with shaved jamon.
View this post on Instagram
"I don't think I'll ever make a sandwich as good as this one," Mr Law said.
The confit duck waffle cone with cherry pâte d'fruit is another that won't be removed from the menu any time soon. The unique flavours paired with the novelty of the waffle cone makes this morsel an instant winner.
It's a tough act to follow, but the sweet treats do not disappoint.
Accompanied by a small spoon, the dark chocolate verrine with cherry and coconut is absolutely divine, and reminiscent of the Australian classic, the lamington. Another nod to traditional Australian treats is the fairy bread scone. The scone felt slightly short of the standard compared to the other intricate sweets, feeling a tad blander and simpler than the others. However, ultimately the treats were a success.
One not to miss, high tea at Om Nom is an afternoon of creativity and tantalising the taste buds that will have you coming back for round two in no time.
Om Nom High Tea Menu: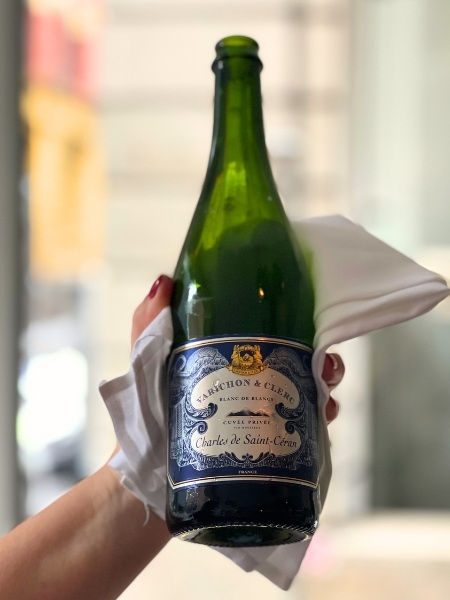 Something Savoury:
Goat cheese, sundried tomato, evergreen tartlet
Gruyere cheese scone, truffle honey glaze
Egg, potato, truffle sandwich, shaved jamon
Smoked salmon and cream cheese gougere
Confit duck waffle cone, cherry pate d' fruit, foie gras
Smoked turkey salad, green apple, house-made crisp
Something Sweet:
Macaron du jour
Lemon pavlova, grapefruit, mandarin crunch
Fairy bread scone
Dark chocolate verrine, cherry, coconut
Passionfruit coconut layer cake
Tiramisu tart
Served with unlimited coffee and teas.
High Tea Melbourne – find more experiences
in our High Tea Venue Directory