Om Nom, inside the world's first dessert-themed hotel - the Adelphi Hotel, is a sweet-tooth's heaven and a great choice for a contemporary and stylish high tea in Melbourne.
When High Tea Society visited on a Saturday afternoon, the small but fun space was full of happy diners enjoying Executive Pastry Chef Jo Ward's high tea offering. With couches that swing from the ceiling, lighting reminiscent of a cocktail bar and not a traditional scone or finger sandwich to be seen, high tea at Om Nom in the Adelphi Hotel is a thoroughly modern affair.
While the seating looks like giant liquorice all-sorts, and the colour scheme is inspired by chocolate and cherry, Om Nom's high tea menu does actually include an initial savoury course. When it's brought to the table on a long slate platter, it smells absolutely delicious. The miniature savoury cheesecake is very rich, but tastes tangy, and I have no trouble polishing it off. The crispy chicken sliders and mousse cones add some crunch and texture to the offering and the spinach and feta puffs, while certainly not ground-breaking, are pleasantly flaky and warm. Om Nom also offers a vegetarian version of the high tea, which includes a creamy avocado mousse cone.
Tea is served in individual bright floral teapots, but that's about as close to traditional as Om Nom's high tea gets. After the savouries, the tiered dessert stand is delivered to our table by low-key but friendly staff. This, let's face it, is really the main event for this high tea! The stand looks spectacular and lots of fun to eat, with meringues bobbing on wires, chocolate truffles and macarons on the top tier and a selection of brightly coloured gateaux on the bottom two levels.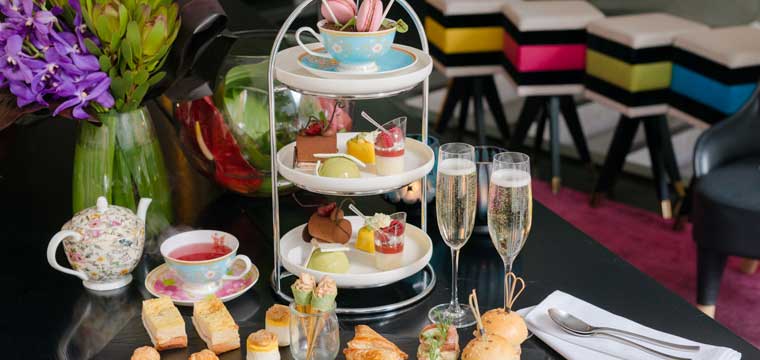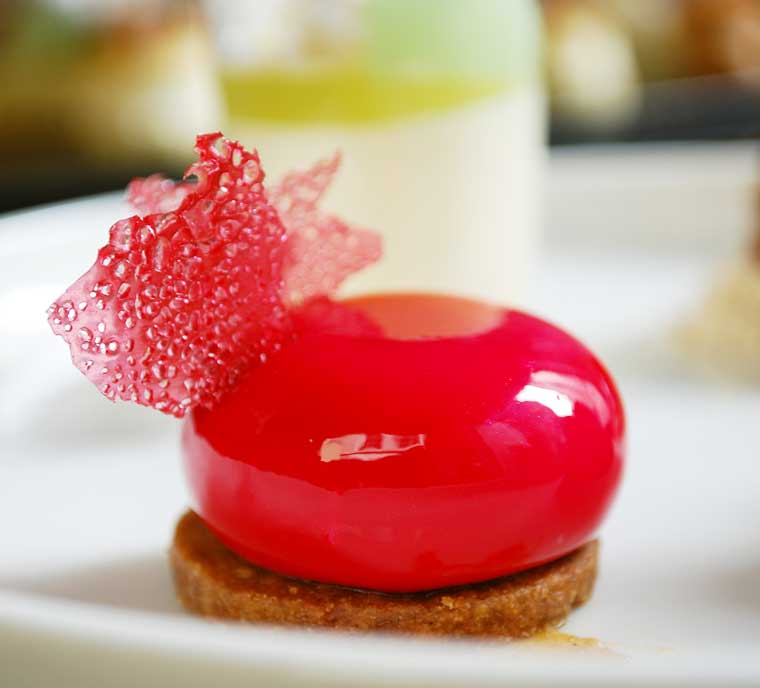 The stand did not disappoint, with every sweet item being beautifully made. The Granny Smith panna cotta, served in a small clear tube, hit that sweet spot (pardon the pun!) of being both nostalgic and fresh. The panna cotta itself was smooth and full of vanilla bean, and it was topped with a bright apple gel and just a sprinkling of zingy popping candy. My favourite item on the menu though, was definitely the chocolate, passionfruit and salted peanut dome. The caramelised chocolate paired so well with the punchy passionfruit filling, and the sweetness was offset by a salty peanut crumb.
Om Nom's modern and glamorous vibe makes it perfect for a girls' weekend or celebration. For a birthday or hen's day, there is the option to have free-flowing French champagne for the two-hour duration of your high tea, or even one (or two!) of Om Nom's fanciful cocktails. This venue also thoughtfully caters for the little ones, with a dedicated children's high tea menu for $39, complete with kid-friendly treats and a babyccino. If you can live without scones, just this once, then high tea at Om Nom is an upbeat and contemporary choice with some truly inspired desserts.
Om Nom's Weekend High Tea Menu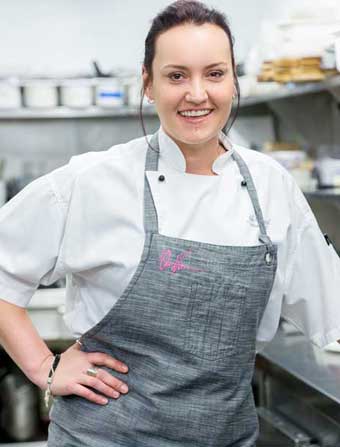 Something Savoury:
Croque monsieur fingers
Prosciutto and mustard mayo bites
Mushroom and herb choux profiteroles
Goat cheese and beetroot savoury cheesecake
Cream cheese and smoked salmon mousse cones
Crispy chicken and coleslaw sliders
Spinach and feta puffs
Something Sweet:
Handmade chocolate truffles
Raspberry fizzy meringue
Assorted macarons
Valrhona Jiva tartlet
Granny Smith panna cotta
Valrhona Dulcey, passionfruit and salted peanut
Glazed lime cheesecake, raspberry centre & spiced shortbread
To Drink:
St Ali coffee
T-Bar tea
A glass of French sparkling, or Besserat de Bellefon Brut Champagne (additional $10)