High Tea at the Om Nom Kitchen is located within the Adelphi Hotel in Melbourne.
The Adelphi opened in the early 90's and was the first of its kind – forging a new kind of hotel movement globally. Owned by Melbourne's iconic architects Mr's Denton Corker and Marshall, the three designed a hotel they would want to stay at: luxurious with a touch of whimsy.
Fast forward 30 years and not only is the Adelphi still leading the way (and winning awards) it's in-house Kitchen specialises in desserts, responsible for the Adelphi being crowned "the world's premier dessert hotel".
As you walk up the steps into the very funky hotel reception – you look past the welcoming staff into the Om Nom Kitchen dining room… a dramatically dark space that exudes Melbourne style.
The Sunday we attended every table was filled and the room was buzzing with many small groups of two and four and one larger group down the very back. It was a pleasant sound level – we certainly didn't need to strain to hear each other as we marvelled at all the treats we were presented with… one of the many reasons I love to catch up with a friend over high tea.
The menu came with a number of options – we enjoyed the regular offering that came with a glass of French Sparkling. And we added a cocktail.
First up lets talk about the cocktails. I have tried a few in my time… these, however, were next level. The presentation was incredible… they were almost too pretty to drink.
Michelle was presented with her order, the Salted Caramel Cracking Espresso – it looked fabulous (like an old fashioned milkshake). To top it off when it arrived at the table our waiter then poured liquid nitrogen over it, shrouding out table in a white fog, and adding the "cracking" element as the top of her drink was frozen. Both dramatic and rather exciting!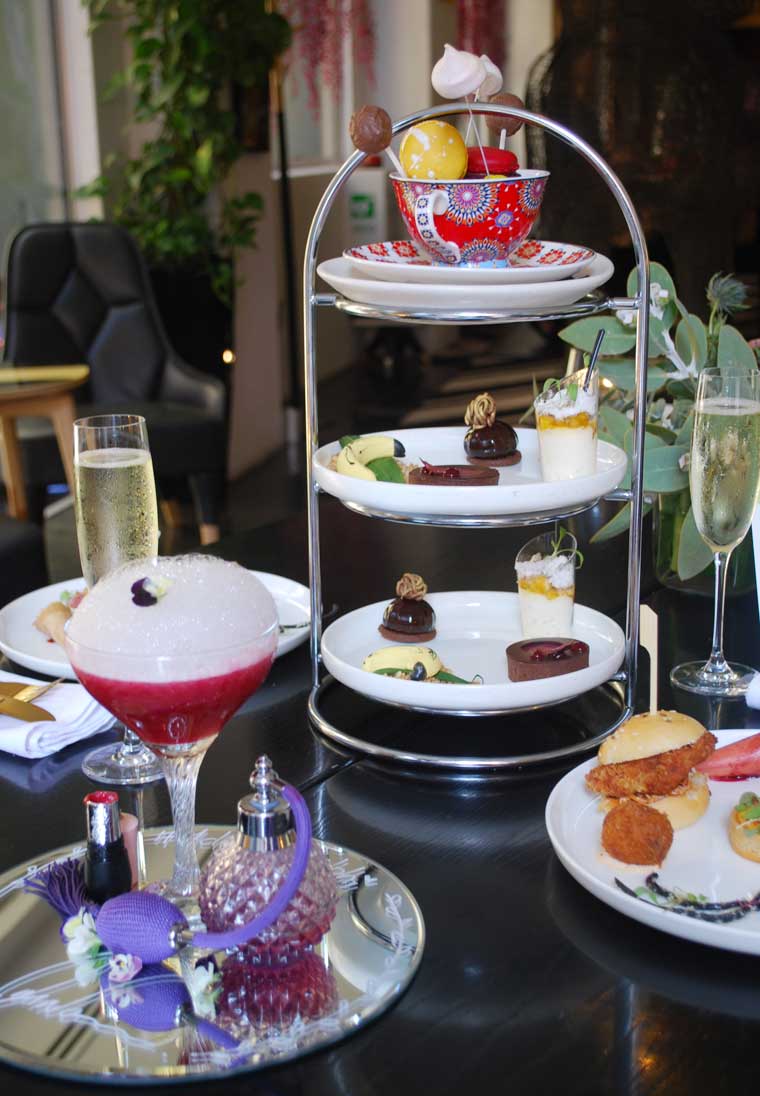 My cocktail was called Girls Night Out (a fairly recent addition to the menu) and it was akin to an art installation. The cocktail glass was topped with a fluffy foam and edible flowers, presented on a mirrored tray, and beside it sat a perfume shaped bottle that contained champagne (which you misted into your mouth) and a frozen raspberry and chambord shaped lipstick (which you ate!).
Needless to say everyone seated nearby swivelled their heads around to get a better look at our cocktails and we definitely sparked some inter-table conversations. It was a lot of fun.
Our high teas did not disappoint either. The savoury items were all bite sized delicacies – each with a unique set of flavours that had us momentarily wishing we could have seconds (yet in true high tea style, we got to the end of our feast and couldn't eat another bite).
Standouts for me were the charcoal pretzels, the Korean style chicken slider and the chorizo and caramelised onion tartlet.
The sweets were again all unique – each with a new burst of flavour sensations, and not always what we expected. And it wasn't just the flavour, the combinations also included a variety of textures. My favourites were the rice pudding and the tiramisu. There was no doubt in our minds that the title of the "worlds premier dessert hotel" was well deserved.
Thank you Om Nom for the incredible experience that was your high tea. What a special treat that will be long remembered.
Om Nom High Tea Menu: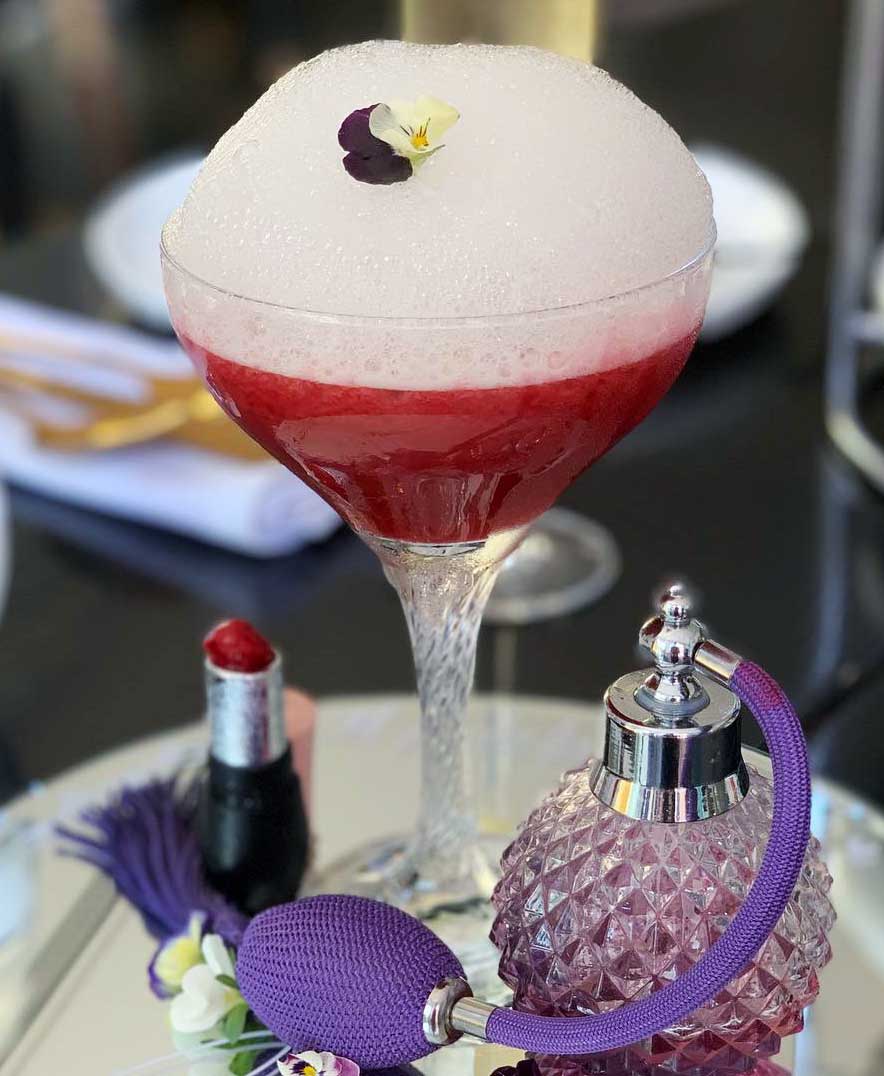 The new savoury menu includes:
Tuna Tartare
Jamon en Croute
Charcoal Pretzel
Korean Slider
Chorizo & Caramelised Onion Tartlet
Corn Croquette
Confit Duck Cone
The new sweet menu includes:
Coconut Rice Pudding
Tiramisu
Griottine Cherry and Chocolate Tart
Banana, Passionfruit & Macadamia
A glass of French sparkling $69 per person
Free flow French sparkling $89 per person (limited to 2 hour seating & available for entire table only.)
Dietary requirements at time of booking.
High Tea Melbourne – find more experiences in
our High Tea Venue Directory