It's been a long lockdown, Melbourne, and Om Nom is celebrating the lifting of restrictions by launching a new high tea menu that is sure to tickle the tastebuds.
This latest offering is the brainchild of head chef John Law, who spent two years as sous chef at Kisume before joining the Om Nom team last November.
"This (Om Nom) was a pastry kitchen I could really sink my teeth into – I could see a lot of potential." he said.
The dessert bar has long held a reputation for its theatrical desserts and signature cocktails and Law's modern twist on high tea doesn't disappoint, with both savouries and desserts best described as edible art.
Adding to the theatre is Om Nom itself – with its moody lighting, dark sheer curtains and chic interior, this vibe is much more cocktail hour than ladies who lunch.
Guests are offered the choice of French sparkling or Veuve Clicquot on arrival, and there's also a selection of high tea cocktails, ranging from a Mediterranean margarita that delivers a savoury twist on the classic drink with an olive, lemon, thyme and rosemary infused tequila to a marshmellow colada served in a cloud of hickory smoke.
On to the tea, of which there's 13 black, green, herbal and fruity teas to choose from, served in individual Maxwell and Williams patterned teapots and accessorised with gold plated cutlery.
Savoury items are served on individual plates for each guest, with the sweets elegantly presented across three tiers on the traditional high tea stand, which is whimsically topped with a tea cup full of raspberry macarons and lemon meringue profiteroles.
Mr Law said the entire menu had been inspired by his childhood, with the chicken and leek vol au vent reminiscent of a chicken pot pie that was a family staple.
Meanwhile the mango and coconut verrine, layered between toasted coconut and served in a glass, was his take on the Mango Weis bars he used to eat after school.
Not a foot has been put wrong in the entire menu, but the confit duck waffle cone rates a special mention, with the sweetness of the cherry pate d'fruit the perfect contrast for the duck.
It's much harder to pick a favourite out of the desserts, with "lamingtart" – lamington flavours reimagined in a chocolate-encased tart – deliciously balanced and fresh; the dark chocolate and strong coffee flavour a marriage made in heaven in the Om Nom layer cake; and passionfruit curd in the pavlova simply divine.
Yes, Melbourne is once again open and weekend high tea at Om Nom is back, serving up a modern and playful take on the traditional high tea menu the way only On Nom can.
This one is a must-try.
Om Nom High Tea Menu: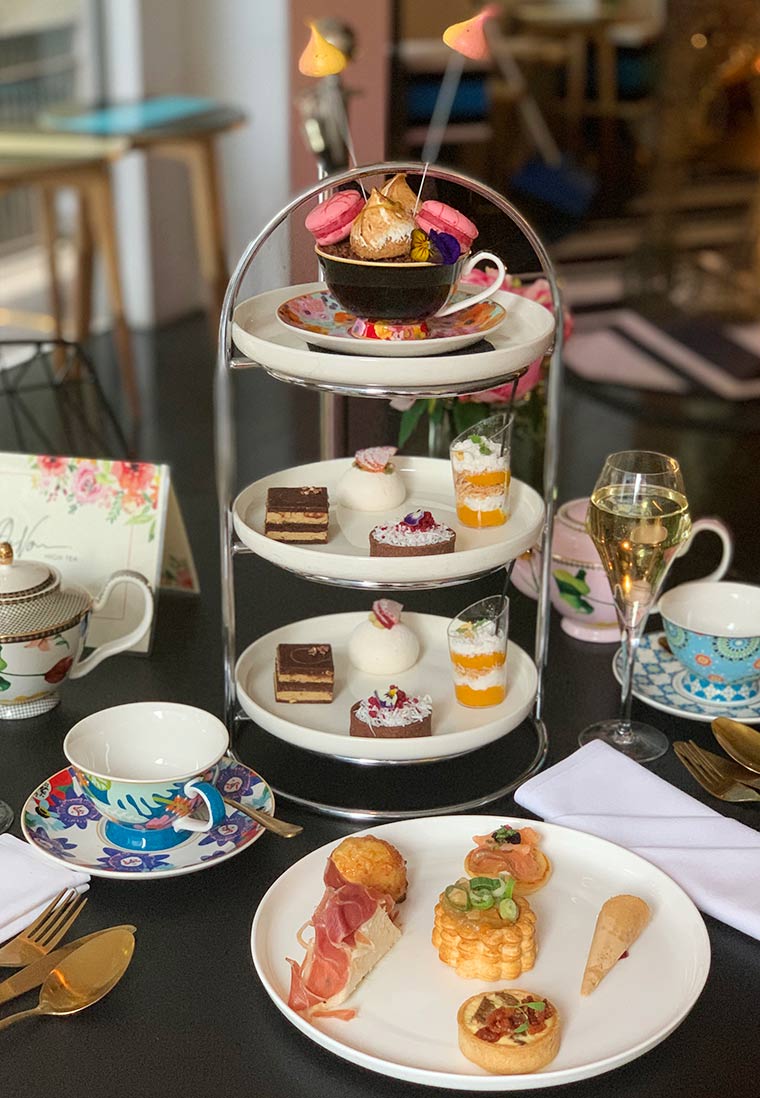 Something savoury
Mushroom, thyme and bacon tartlet
Scones with Gruyere cheese and truffle honey
Egg, potato, jamon and truffle sandwich
Smoked salmon blini, crème fraiche and flying fish roe
Confit duck waffle cone, cherry pate d'fruit and foie gras
Chicken and leek vol au vent
Something sweet
Raspberry macarons
Passionfruit pavlova, fresh kiwi and strawberry
On Nom layer cake – chocolate, coffee, cocoa nibs
Lemon meringue profiterole
Mango and coconut verrine with toasted coconut and mango crispy
"Lamingtart" – raspberry jam, coconut ganache, raspberry crunch
This review was done just days before lockdown 2.0. Om Nom will reopen on Saturday 5 December 2020, bookings are open now. Om Nom will also offer take away High Tea (pick up only) from Saturday 5 December 2020, order via the website from 26 November.
High Tea Melbourne – find more experiences in our High Tea Venue Directory