It's clear from the second you walk into the Om Nom Kitchen and Dessert Bar that high tea at this venue is not your traditional ribbon sandwiches and scones affair.
In fact, these two high tea staples do not feature on this funky and indulgent menu.
Located on the bottom floor of the Adelphi Hotel – which is famous for its rooftop pool deck that juts out ever so slightly over the rest of the building – Om Nom has a contemporary, cocktail lounge-inspired décor, with green and black felt-backed seats.
Its new high tea menu, which was created by head chef Christy Tania, has the same modern, sophisticated feel.
Sous chef Brett Hope said the new menu, which has been out for just over a month, was a move from ultra-traditional high teas and embraced pushing the envelope.
The quality ingredients and touches – including the French champagne offered upon arrival, tempura soft shell crab, and a dark chocolate tart made with Manjari chocolate sourced from Madagascar – are both delicious and decadent.
The salty soft shell crab was the stand-out of the savouries, and the savoury macaron tasted surprisingly good with the chorizo and goats cheese.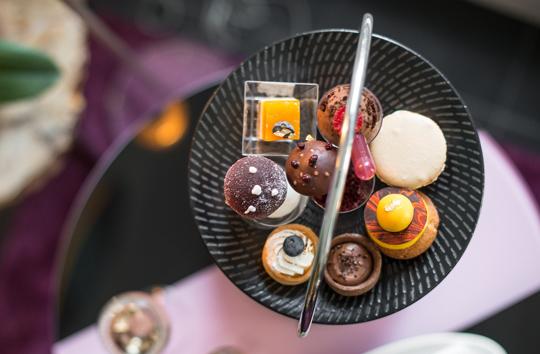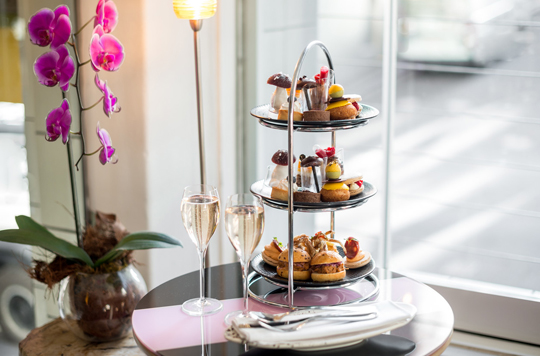 But the emphasis is placed squarely on the sweet side of things, with a generous eight desserts to sample.
The sweet macaron had a lovely rosewater aftertaste, while the much-hyped dark chocolate tart had a distinct, slightly bitter flavour.
The toadstool was visually was the centrepiece of the desserts, while the mango mousse, which Tania famously set as a challenge for last year's Masterchef contestants, was a mini-tower of yum.
Disappointing, the popping candy was lost in the passionfruit meringue, which otherwise had a light, tangy flavour.
The Adelphi Hotel, and Om Nom Kitchen have a reputation for being cutting edge – and this new menu certainly delivers.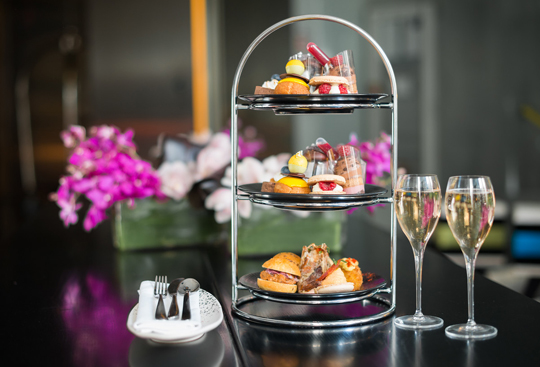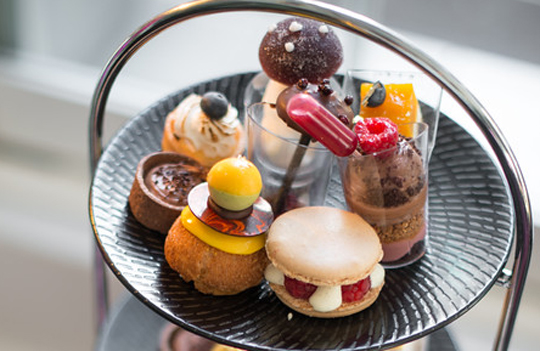 Om Nom High Tea Menu

Adelphi slider, slow cooked pulled pork, swiss cheese, house made law and brioche
Tempura soft shell crab, taramasalata, chilli and capsicum salsa
Potato croquette and blue cheese sauce
Savoury macaron, chorizo and smoked paprika goats cheese
Verrine of chocolate mousse, chocolate soil, caramelised chocolate, raspberry cremeux and raspberry coulis
Passionfruit tart, caramelised meringue and blueberry
Chocolate coat passionfruit meringue and popping candy
Dark chocolate tart, salted caramel, sea salt and cocoa nibs
Sour cherry pate de fruit toadstool
Adelphi feature gateaux
Macaron of raspberry and rosewater vanilla cream
Mango mousse, choux and shiso cremeux
Includes tea, coffee and a glass of Louis Roederer Champagne