The ultimate winter indulgence
A stones throw from some of Sydney's most famous sites and establishing itself as the ultimate winter warmer indulgence; High Tea Society had the pleasure of experiencing Shangri-La Hotel's Wickedly Sweet High Tea.
Don't be fooled by the traditional Lobby Lounge atmosphere of Sydney's Shangri-La Hotel as a decadent chocolate experience awaits anyone brave enough to get wicked this winter. Running through the months of June, July and August, Shangri-La Hotel has put their sweet-tooth twist on the traditional high tea thanks to Executive Pastry Chef, Lee Turford.
A three tier stand of 12 sinfully sweet treats await you and your guest armed with the choice of Belgium's Callebaut white, milk or dark hot chocolate to kick-start your palette. Unlimited Vittoria coffee and Ronnefeldt loose leaf tea are available also and we recommend taking advantage of the fruit and herbal infusions to help you get through the sugar overload you are bound to endure.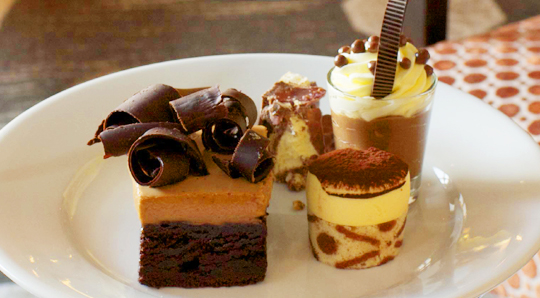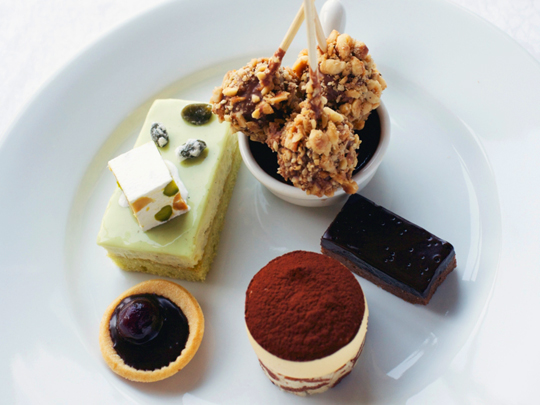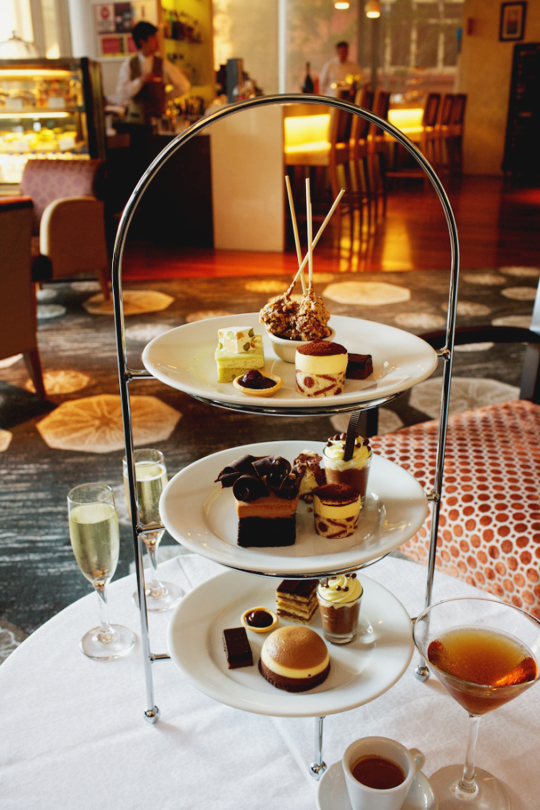 This afternoon experience is for true chocolate lovers as the Wickedly Sweet High Tea presents indulgence after indulgence through well thought-out combinations with an adults-only feel from the Whisky Candy Bar to the Chocolate & Kirsch Cherry Tart. Chef Lee Turford and his team produce all these treats in-house including homemade marshmallow and rose jelly as part of the delicious Rocky Road and bite-size flavoured Macarons.
From the Gateau Opera's Kahlua soaked sponge, Chocolate Shot milk chocolate cream topped with chocolate crunch and Fondue Lollipops to the Pistachio Slice with a rice pudding bavarois this all sweet no savoury High Tea presents contrasting shapes and textures to delight your tastebuds. Individual chocolate cakes and sweets are also available to order or takeaway should you discover a favourite you just can't be without.
Shangri La Sydney Afternoon Tea Menu:

Each guest receives one of each chocolate:

Gateau Opera – Layers of Kahlua soaked sponge with hazelnut chocolate crunch and coffee butter cream
Double Chocolate Brownie – Chocolate and walnut brownie with a milk chocolate mousse
Chocolate Shot-  Milk chocolate cream topped with chocolate crunch
Selection of Macarons – Variety of chocolate flavoured macarons
Whisky Candy Bar – A crispy feuilletine base topped with whisky infused chocolate
Pistachio Slice – Pistachio sponge with a White chocolate and rice pudding bavarois finished with a pistachio glaze
Triple Chocolate Dome – Layers of white, dark and milk chocolate mousse set on a chocolate sable
Chocolate and Cherry Tart – Sweet pastry tart shell with  baked chocolate mousse and cherries in kirsch
Chocolate Bavarois – Mini chocolate bavarois cake
Fondue with Lollipops – Warm chocolate fondue with frozen chocolate and hazelnut pops
Rocky Road – Raspberry marshmallow, Rose jelly, salted peanut chocolate caramel
The Wickedly Sweet High Tea Chocolate Tasting is designed for two people and suits the grown-up atmosphere of this luxury hotel's Lobby Lounge where you can browse the weekend papers or take in the sounds of a live pianist. The bite-sized chocolate treats on offer are guaranteed to warm a chilly winter's day and please lovers of the humble cocoa bean like nothing else.