ANA InterContinental Tokyo presents the world's first ever Ruby Chocolate Afternoon Tea.
This afternoon delight is inclusive of 11 richly flavoured "Petits Gâteaux Assortis" – an assortment of 11 exquisite varieties of moist, gently baked, crimson coloured sweets, all handcrafted from Ruby Chocolate – the world's newest form of chocolate, and served with a side of 5 different savoury bites and a choice of beverages.
Sweet, slightly spicy and totally natural, and the fourth variety of chocolate after dark chocolate, milk chocolate and white chocolate, Ruby Chocolate was developed and created by Belgian-Swiss cocoa company, Barry Callebaut in September 2017. The chocolate does not contain any berries, fruit flavours, colourants or genetically-modified ingredients. Callebaut claims that ruby chocolate owes its smoky-rose colour and distinctive taste solely to the "expert selection and meticulous processing of the ruby beans". The taste is one of intense fruitiness, with fresh and sour notes. Its flavour has been described as completely unlike dark chocolate, closer to that of white chocolate but more complex, with a bright berry note and a tartness that's balanced by sweetness. Initially, there's a fleeting perception of milk chocolate, thanks to its milk powder content, but it quickly gives way to the fresh berry piquancy.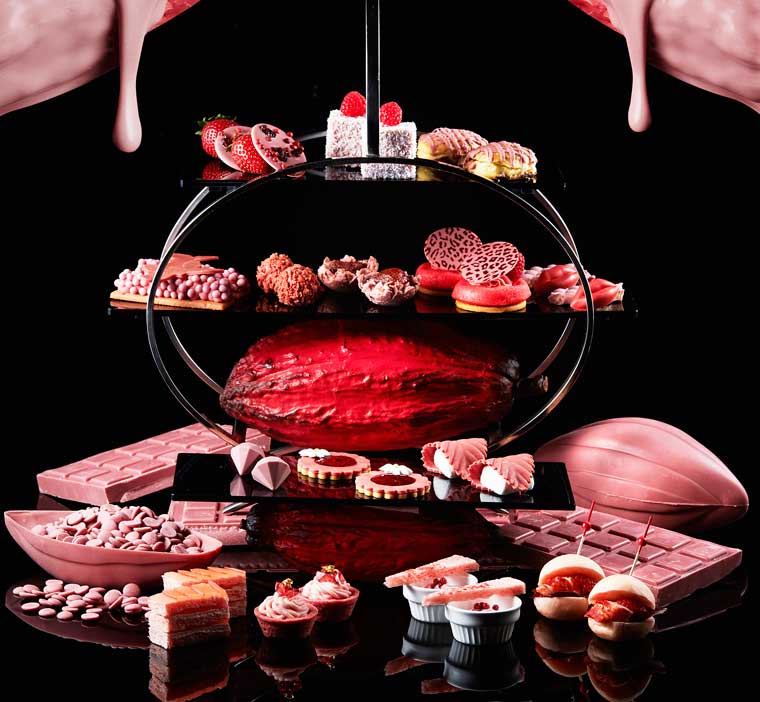 The Ruby Chocolate Afternoon Tea is the headliner for 'Chocolate Sensations' a lusciously lip-smacking international culinary festival starring Ruby Chocolate and celebrating all that is chocolate. Over 4,500 kgs of chocolate will be hand-crafted into 220 delicious items, to be made available every day until 26th December 2018 in 11 of ANA InterContinental Tokyo's restaurants and bars.
From 1st November, innovative workshops and seminars# will be available, staged by international bean to bar specialists, artisanal producers of fine chocolate as well as local curators of chocolate. Other treats in store include a photographic celebration of cocoa beans and sculptures carved from chocolate. A 4.5-metre-high Tokyo Tower handcrafted from Ladurée chocolate macarons will set the scene, while six pop-up shops within the hotel will add further sensation, colour and scrumptiousness.
Chocolate Sensations starring Ruby Chocolate aims to ensure that visitors, curious observers, tasters and participants will never think about chocolate in the same way again.
The Ruby Chocolate Afternoon Tea
 is available at the ATRIUM Lounge of ANA InterContinental Tokyo until 26th December 2018. 
Afternoon Tea Tokyo – find more
experiences in our High Tea Venue Directory.