Blackberry and Apple Scone recipe from the (UK) National Trust Book of Scones – 50 delicious recipes and some curious crumbs of history Sarah Clelland.
The National Trust is just as well known for its scones as it is for its glorious gardens and historic houses. From the classic fruit scone served in every National Trust café to a wickedly indulgent Triple Chocolate Scone, scone enthusiast Sarah Clelland has collected 50 delicious, easy scone recipes from National Trust experts around the country.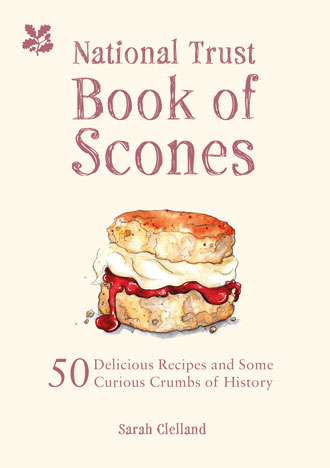 There's an incredible range of sweet and savoury recipes including the Early Grey scone for a sophisticated afternoon tea or the Roasted Shallot & Gruyère for a hearty treat on a cold day. Every scone comes with a side order of quirky history – eccentric owners, strange treasures, scandalous love lives and obscure facts.
Recipe supplied by the National Trust Book of Scones.
---
Ingredients
---
Instructions
Preheat the oven to 190°C. Line a baking sheet with greaseproof paper.

Sift the flour, sugar and cinnamon into a mixing bowl, add the butter and rub in until it resembles fine crumbs. Add the diced apples and mix briefly to distribute them evenly.

Pour the milk into a jug, crack in the egg and stir to mix. Make a well in the centre of the dry ingredients and gradually pour in the liquid, adding enough to draw all the mixture into a damp dough but not enough to make it sloppy and wet.

Add the blackberries and stir through gently.

Turn out onto a lightly floured surface and roll out to about 3cm thick. Stamp out using a 7cm round fluted cutter and place on the baking sheet. Gently knead the trimmings together, re-roll and stamp out more rounds.

Bake for 15–20 minutes until risen and springy to the touch. Transfer to a wire rack to cool slightly. Serve warm with blackcurrant jam and clotted cream.