This delightful Chocolate Choux recipe is from the High Tea at the Hearth Restaurant at The Ritz-Carlton, Perth.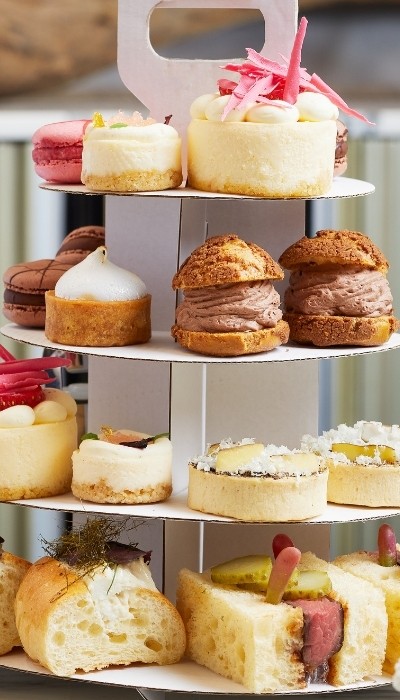 Choux
Ingredients:
Water 100ml
Milk 100ml
Caster sugar 3g
Salt 2g Butter 80g
Plain Flour 120g
Eggs 210g
Method:
In a saucepan, bring water, milk, sugar, salt and butter to a boil.
Remove from the heat and stir in the sifted flour all at once. Place the pan back over medium heat and cook the paste to dry it out, stirring continuously for 2-3 minutes. A thin film will form on the bottom and the paste will pull away from the pan.
Transfer to a mixing bowl fitted with a paddle attachment and beat the mixture to release the steam.
Allow the mixture to cool to 50 degrees so as to not cook the eggs when added.
Slowly incorporate eggs until batter is at the correct consistency.
Pipe onto tray with a silpat mat. Freeze before baking.
To bake, thaw choux on a perforated tray with a silpat mat. Apply craquelin on top. Bake at 180 degrees for 20 minutes or until firm and golden brown.
Craquelin
Ingredients:
Almond meal 30g
Caster sugar 30g
Plain Flour (sifted) 30g
Soft butter 30g
Cocoa powder(sifted) 2g
Method:
Whisk dry ingredients together in a mixing bowl.
Add soft butter and incorporate until dough has just formed. Chill in the fridge until firm.
Roll out dough using sheeter or rolling pin to 2mm thickness. Freeze sheeted dough. Cut rounds when needed and place on choux just before baking.
Dark Chocolate Ganache
Ingredients:
Whipping cream (A) 420ml
Cocoa powder 12.5g
Glucose 30g
Trimoline 30g
Dark chocolate 64% 190g
Whipping cream (B) 290ml
Method:
Boil cream and cocoa powder in a pot, keep whisking until smooth. Warp with clingwrap to steep and infuse for 20 minutes.
Pour the cocoa cream over chocolate. Add cream (B) and mix with whisk or a hand blender until smooth consistency.
Chill overnight.
Whip when needed using a whisk. Be careful not to overwhip.
Ingredients
Chocolate Crumble:
Ingredients:
Sugar Butter
Plain Flour Cocoa
Dry yeast
Method:
Mix butter and sugar with
Add dry ingredients and continue to mix till a smooth dough forms.
Knead briefly and crumble into trays.
Bake at 180oC until crispy.
Allow to cool completely.
Chocolate Choux
Take one choux puff, pipe the dark chocolate ganache on top. Sprinkle chocolate crumble and add another choux on top.
---