Equipment
3 standard baking trays
Silpat mats or baking paper
Stand mixer with whisk attachment
---
Kirsten Tibballs' shares one of her most popular recipes from her Savour Online Classes. This Decadent Chocolate Cookie recipe will be a delicious addition to your High Tea at Home.
There's no doubt that Covid has created a new legion of avid home bakers, with Australia's Queen of Chocolate Kirsten Tibballs, on hand to assist. Since lockdowns started around the world more than 6 months ago, Kirsten has been delivering a new online tutorial every week to a virtual classroom of students that has increased dramatically as a result of the pandemic.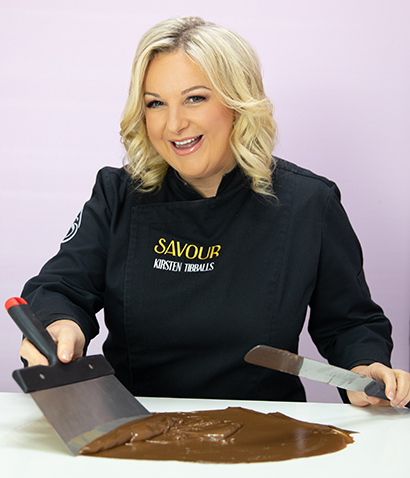 As the owner of the world-renowned Savour Chocolate and Patisserie School in Melbourne, Kirsten established online classes 7 years ago. Since launching her online classes, Kirsten has created over 350 video tutorials, with a new online class released on a weekly basis and each including a downloadable recipe.
With something for everyone, the Savour online classes have been designed to appeal to all skills sets, from complete beginners to seasoned professionals, and everyone in between. Those who tune in can even learn how to create some of her most famous desserts including her MasterChef Australia challenge dishes Trio of Fruits and her most recent Meljito creation.
"It has been really exciting to see how many people have taken comfort in cooking and baking during the isolation period, with many jumping online to learn a new skill whilst at home. During this time, my Decedent Chocolate Cookie recipe has been one of the most popular from my Savour Online Classes, and I'm excited to be able to share this recipe further," Kirsten Tibballs says.
To find out more about Savour Online Classes, visit: www.savourschool.com.au/online-classes
Chocolate Cookies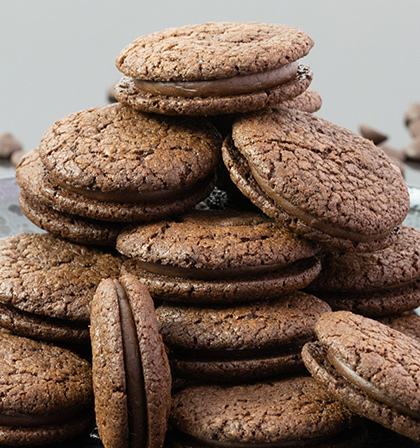 Ingredients:
120g (4.23oz) plain (all-purpose) flour
30g (1.06oz) Callebaut Cocoa Powder
5g (0.18oz) cream of tartar*
2g (0.07oz) bicarbonate of soda
2g (0.07oz) sea salt
125g (4.41oz) unsalted butter
200g (7.05oz) Callebaut 70-30 Dark Couverture 70%
110g (3.88oz) whole eggs, at room temperature
120g (4.23oz) caster (superfine) sugar
130g (4.59oz) brown sugar
Method:
Preheat the oven to 160°C.
Line 3 standard baking trays with Silpat mats or baking paper.
Combine the flour, cocoa powder, cream of tartar, bicarbonate of soda and salt in a bowl. Set aside.
Melt the butter in a small saucepan or the microwave. Once fully melted, stir in the chocolate, and combine until smooth. If the chocolate doesn't completely melt from the heat of the melted butter, you can apply a little bit more heat.
Leave at room temperature to cool. In the bowl of a stand mixer fitted with a whisk attachment, place the eggs, caster sugar and brown sugar and whisk for 5-6 mins until pale and light.
Change to a paddle attachment and add the dry ingredients, until just combined.
Add in the cooled chocolate and butter mixture and combine. Transfer the mixture into a piping bag fitted with a 12mm plain piping tube. Pipe approximately 30mm discs onto your lined trays, leaving room between to allow for spreading. Bake for 8-9 mins at 160°C until risen and with a cracked on top. Leave to cool on the trays.
*If you can't get cream of tartar, you can replace it by adding a small amount of lemon juice into the butter.
Vanilla Ganache
Ingredients:
235g (8.29oz) fresh cream 35% fat
10g (0.35oz) Heilala Vanilla Bean Paste
8g (0.28oz) inverted sugar*
35g (1.23oz) unsalted butter
220g (7.76oz) Callebaut Dark 811 Couverture 54.5%
80g (2.82oz) Callebaut Milk 823 Couverture 33%
Method:
In a saucepan boil the cream, vanilla, inverted sugar and butter.
Pour over the two couvertures in a bowl and whisk to combine.
Cover with plastic wrap touching the surface of the ganache and cool at room temperature until it reaches a piping consistency.
*If you don't have inverted sugar, you can use honey.
Assembly
Once cool, turn over every second biscuit.
Place the ganache once set into a piping bag with a 12mm plain piping tube.
Pipe onto the turned over biscuits and then sandwich together.
Discover more Recipes.
---