Equipment
Pancake griddle, or non-stick frying pan
---
Drop Scone recipe by Royal Chef, Mark Flanagan and Royal Pastry Chef, Kathryn Cuthbertson from Buckingham Palace.
This type of small pancake, dropped on to a hot griddle to cook, has a place in almost every cuisine in the world. The drop scone, or 'Scotch pancake' is very similar to American breakfast pancakes, and can be eaten with melted butter, spread with jam, or served with maple syrup – all are equally good!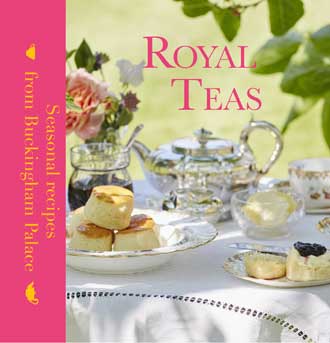 This Victoria Sponge recipe is from the "Royal Teas, Seasonal recipes from Buckingham Palace".
Written by the Royal Chef, Mark Flanagan, and Royal Pastry Chef, Kathryn Cuthbertson, this latest Royal Collection Trust cookbook celebrates the quintessentially English tradition of taking afternoon tea. From simple cardamom and orange shortbread to the show-stopping 'Gâteau Opéra' topped with gold leaf, the 40 mouth-watering sweet and savoury recipes are illustrated with specially commissioned photography at Buckingham Palace and Windsor Castle.
Royal Teas: Seasonal Recipes from Buckingham Palace is available on Amazon.
Available from the 8 May 2017.
Royal Collection Trust
© Her Majesty Queen Elizabeth 2017
---
Ingredients
---
Instructions
In a mixing bowl sieve together the dry ingredients: flour, bicarbonate of soda, cream of tartar and sugar. Add to this the milk and egg and whisk to a smooth batter, finally adding the warm melted butter. Pass through a sieve to get rid of any lumps and if necessary thin with more milk. The batter should have a dropping consistency, but remain thick enough to retain its shape on the griddle.

Heat the griddle (or frying pan) over a medium heat and grease with clarified butter. Using a dessert spoon or small ladle, carefully pour spoonfuls of the batter on to the griddle. After one side has cooked, flip the scones with a palette knife to cook the other. Once you feel more confident you can cook a few scones at a time, being careful not to let them over-cook on either side.

Serve warm with butter and home-made preserves.