Egg Mayo Sandwich recipe by Chef Craig Sung from the Park Hyatt Melbourne.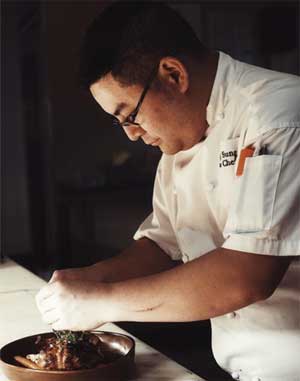 A staple savoury for High Tea is finger sandwiches, filled with an assortment of fillings. An egg sandwich however is a classic.
Craig Sung, the Chef de Cuisine at Park Hyatt Melbourne shares his Egg Mayo Sandwich recipe with High Tea Society.
Hailing from Canada, Sung has a strong farm-to-table approach when it comes to the food he chooses to serve. His dishes are a reflective of this being both innovative and honest.
---
Ingredients
---
Instructions
Put the eggs in a saucepan and cover with cold water.

Bring to boil, then simmer for 6 minutes.

Place the eggs in a bowl of cold water to cool off.

Peel the eggs and mash them with a fork.

Mix in the mayonnaise and mustard, then season with salt and pepper.

Spread butter onto each slice of bread and add the egg mixture evenly onto it.

Top with fresh watercress.

Trim Crusts, cut each sandwich into 2 fingers and enjoy!