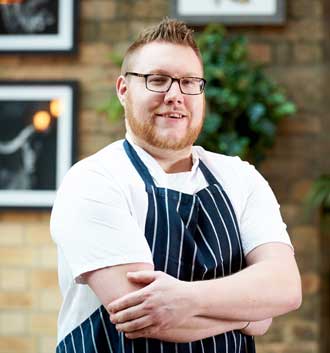 Mint Chocolate Macaron recipe from Martyn Edmonds, Head Pastry Chef at The Principal York.
Feature photo by 'Bacon on the Beech'.
---
Ingredients
---
Instructions
For the macaron shells:

Blitz together the almonds and icing sugar in a food processor.

Add the first batch of egg whites and whisk together.

Add a few drops of food colouring to get to your desired shade of green.

Place the water and sugar into a pan and heat to 118°C.

In a separate bowl, whisk the second batch of egg whites until they form stiff peaks.

Pour the hot sugar and water mix into the second batch of egg whites and continue to whisk until the mixture has cooled. Then fold into the almond mixture.

Line three baking trays with silicone mats. Dip a 3cm cookie cutter into icing sugar to mark out guidelines for piping each shell.

Attach a round nozzle to a piping bag and fill the bag with the mixture. Pipe enough of the mixture to fill each circle.

Leave the shells to dry out on a rack for one hour.

Pre-heat an oven to 150°C/130°C fan and bake for 18 minutes.

Allow to cool. You can store in a Tupperware box in the freezer until you need the shells.

For the butter cream filling:

Beat together the butter and sugar until pale and fluffy.

Break up the Mint Aero bar and melt in a bowl over a pan of boiling water (ensuring the bowl does not touch the water).

Add the Mint Aero bar to the butter and sugar mixture, and continue to beat until fully combined.

Place the mixture into a piping bag with a round nozzle.

Pipe the butter cream filling onto half of the macaron shells and then sandwich the other shells on top.