Pistachio & Rose Financiers recipe from Eric Lanlard.
Traditionally made with ground almonds, for these financiers I substituted ground pistachios to make the recipe moreish and colourful. The rose cream topping and edible rose petals bring a Middle Eastern touch to this delicate tea time treat.
Master pâtissier and baker to the stars Eric Lanlard's cookbook 'Afternoon Tea' features deliciously achievable recipes, that you can bake for your High Tea at home.
Afternoon Tea by Eric Lanlard, is published by Octopus Books (c) photography Kate Whitaker.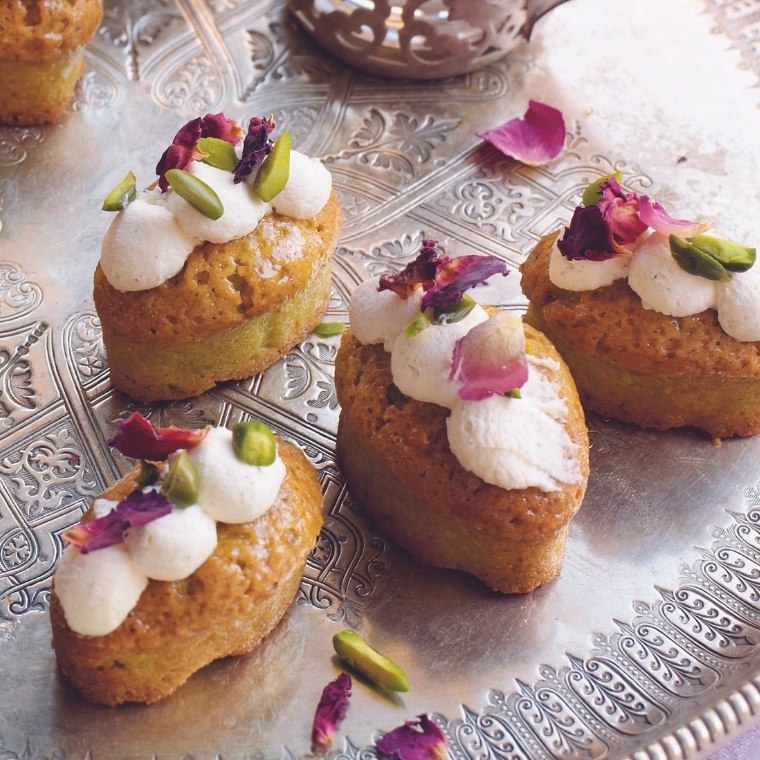 Ingredients:
150g (5½oz) unsalted butter
85g (3oz) shelled pistachio nuts, plus extra to decorate
70g (2½oz) plain flour
6 egg whites
pinch of salt
175g (6oz) icing sugar, sifted
50g (1¾oz) ground almonds
Ingredients for decoration:
200ml (7fl oz) whipping cream
1 tbsp vanilla sugar
few drops of rose extract, to taste
edible dried rose petals or buds
Instructions
Heat the butter in small saucepan and bubble until it smells nutty and the milk solids turn golden brown. Set aside.
Put the pistachios and flour into a food processor and whizz until finely ground. In a large bowl, whisk the egg whites and salt together until foamy, then fold in the icing sugar, flour mixture and ground almonds. Fold in the melted beurre noisette. Pour the mixture into a piping bag and leave to firm up in the refrigerator for at least 1 hour.
Preheat the oven to 180°C (fan 160°C)/350°F/gas mark 4. Pipe the mixture into 24 small financier moulds (or you can use mini muffin tins) and bake in the oven for 15–20 minutes until lightly golden brown. Leave to cool in the trays for 15 minutes, then turn out on to a cooling rack to cool completely.
To decorate, lightly whip the whipping cream, vanilla sugar and rose extract, then spoon into a piping bag fitted with a medium star or petal shaped piping nozzle. Pipe rosettes onto each financier and decorate with extra chopped pistachios and dried rose petals or buds.
---