Quick Pavlova recipe by Kerry Vincent.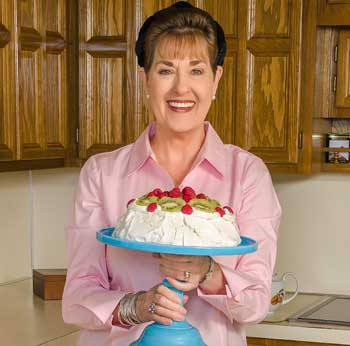 One of my all time favourite desserts, I never tire of it. Keep it simple, keep it pretty, in a crisp meringue case filled with whipped cream and fresh seasonal fruit. This is a very quick pav meringue that can be left to beat itself without supervision.
---
Ingredients
---
Instructions
Set the oven to 275ºF or 150 ºC

METHOD

Prepare a baking sheet in advance. Use a 9-inch/23-cm plate as a guide to draw a circle on parchment paper, turn the parchment over lightly spray it with shortening and place on the baking sheet.

Add the first six ingredients (in the order given) to the mixing bowl and beat until thick and creamy and the mixture forms stiff peaks, about 15 minutes.

Now, add the sifted corn starch/cornflour and incorporate thoroughly, do not overbeat.

Spoon the meringue onto the parchment keeping the mixture inside the circle while piling it high at the edges and using a large spoon make a shallow depression at the centre.

Cook for 1 hour turn off the oven and cool completely.

I often cook the meringue at night, turn off the oven and take it out in the morning.

PREPARE TO SERVE

Peel the parchment away, choose a pretty plate and centre the meringue on it.

Select a colourful combination of berries and summer fruit, about 2 cups, rinse and dry and if you can find one or two, mix in some purple passionfruit (Passiflora Edulis) seeds and all (Unlike Australia passion fruit are not easy to find in the USA and when they do people try to deseed them).

Whip one cup of cream until stiff but not dry and use half of it to line the depression in the Pav and top with the chosen fruit. Use the remaining cream to pipe a pretty border.

Refrigerate until serving time!

Now you have finished, invite me to tea!

TIP: There is no need to sweeten the cream or add flavouring, there is already enough in the meringue itself. For diehards who can't live without their sweet fix, or the fruit is tart add 2-3 tablespoons of powdered sugar to the cream at whipping stage.