There's been some serious changes since I last had high tea at the Pan Pacific Perth in May. It's gone from good to outstanding and here's why…
For starters the high teas have moved from Montereys to the newly opened Bar Uma, situated where the old Lobby bar resided. The decor is pretty as a picture, from the sheer curtains and u-shaped luxe booths to the pianist tinkling the ivories whilst you indulge in the very decadent and plentiful menu.
Starting with the beverages, I was immediately impressed with the bottomless Dilmah Rose and Vanilla Tea that is continually topped up by the very attentive staff. The first cocktail of the day was the Orange Sherbet which tasted like liquefied Fruit Tingles, so moreish. The refreshingly fruity, From Where You'd Rather Be followed. This one contains vodka, Malibu and a plethora of fruit juices. There is also a wide range of bubbles available. For the skippers and teetotallers the mocktails are also a winner and points for serving the drinks with bamboo straws, where applicable.
Now onto the food…
In a slight twist three canapés came out on one plate rather than part of a tier. At the centre of the plate was the showstopper, the Peking duck spring roll with hoi sin sauce and wow what a way to start?! Simply stunning both in appearance and taste. Next up was the smoked salmon blinis, or mini pancake with dill crème fraiche and caviar. The pint sized pancake packed a punch. However, it was the third canapé that really set a precedence for the decadent afternoon that lay ahead, and it's a crowd divider, a freshly shucked oyster with chive mignonette. Fair to say I'm a fan of this contentious seafood (understatement) so this won hands down for best canapé. It was so good to see this on the menu in the first place.
The highly anticipated three tiers of sweet and savoury treats then appeared at the table. In a twist the savoury tier resided at the bottom so that is where I started with the watermelon, Persian feta, picked shallots and fried black rice served on a Chinese spoon. The light palette cleanser was most welcome after the full flavoured canapés. The bite sized herbed goats pinwheel with fig and sultana compote on spinach bread followed with the fig adding a sweetness I wasn't expecting. Next up was essentially a prawn cocktail, even down to the iceberg lettuce, in a brioche poppy seed roll. I do love a spot of retro so this was a big hit! I rounded out the savouries with the coronation chicken finger sandwich on tomato bread. This creamy curry invention dates back to the coronation of Queen Elizabeth II in 1953, and it was well represented this day.
I'm pleased to say the staff still walk the floor offering extra savouries, yay!
It was then time to shift my attention to the sweets, namely the cranberry and lime scones with potted cream and berry compote. I almost got the feeling they were slightly undercooked, a deliberate ploy I'm sure as it made them so much better to almost any others I have tried.
I don't think you see prosecco in food enough so it was a joy to see it in jelly form with strawberries in a tall glass. The alcohol infused food in tall glasses continued with the pina colada panna cotta with rum pineapple which was so refreshing. The Frasier strawberry cake is a French classic and this mini option was beautifully done and matched the rather impressive presentation in taste. The peach and white chocolate profiterole was both generous in size and flavour. The chocolate flavour continued with my final dessert, the lemon myrtle tart in a chocolate case. It was an interesting combination flavours and one I wouldn't normally put together but this worked and was a great way to round out the day.
Bar Uma's high tea has a large menu and I liked that there were a few surprises in there that you don't usually see. You're so spoilt from the moment you walk in, special shout out to Vivi for looking after us so well. Oh and it pays to go there on your birthday as you will receive a complimentary special dessert and a rendition of Happy Birthday from the pianist if you so desire. There are also various picturesque locations on the floor that are primed for a pic or two with your friends and family to commemorate the day.
Prices start at $49 per person (non-alcoholic), $69 per person (free-flowing Australian sparkling and cocktails) and $99 per person (French champagne and cocktails).
Bar Uma's spring free-flowing high tea is decadence personified from start to finish. The food and beverages are faultless as are the staff and décor.
Make a booking today, you deserve it!
Pan Pacific Perth High Tea Menu: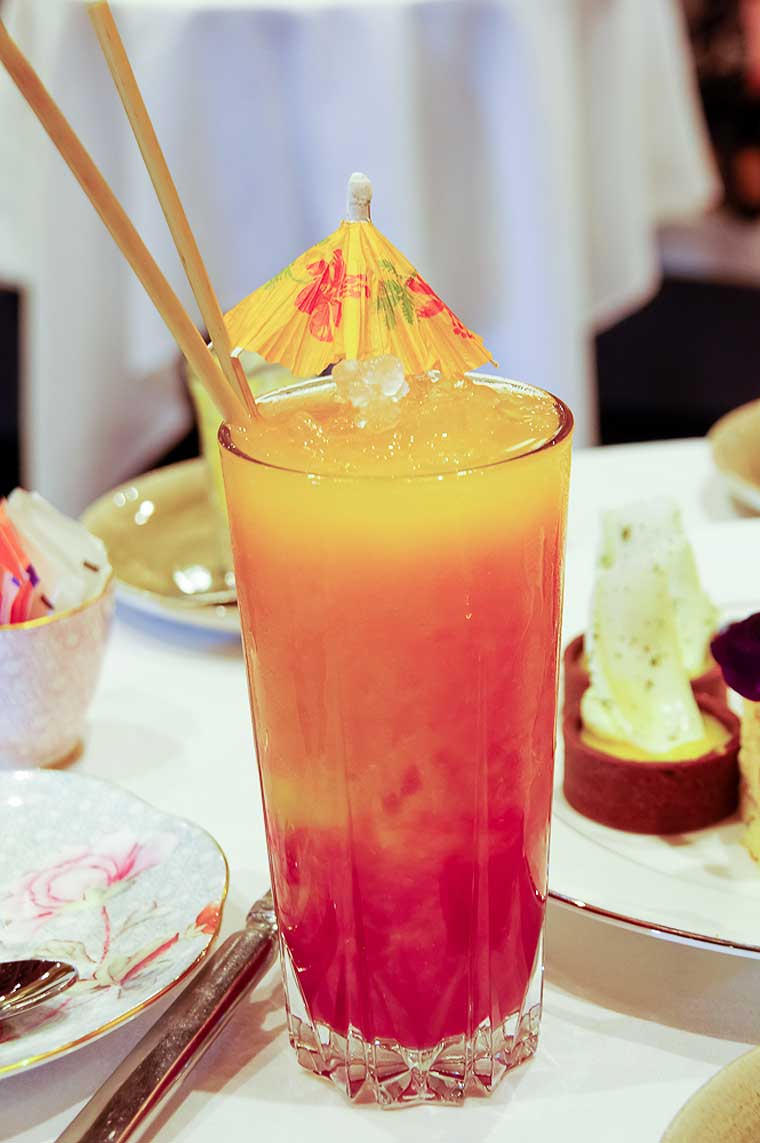 CANAPÉS:
Smoked salmon blinis, dill crème fraiche, caviar
Peking duck spring rolls, hoisin sauce
Freshly shucked oysters, chive mignonette
SCONES:
Cranberry & lime scones, potted cream, berry compote
SWEET:
Strawberry & Prosecco jellies
Lemon myrtle tart
Pina colada panna cotta, rum pineapple Strawberry cake
Peach & white chocolate profiterole
SAVOURY:
Poached prawn, Marie Rose sauce, iceberg lettuce, brioche roll
Coronation chicken finger sandwich, tomato bread
Herbed goats cheese pinwheel, fig & sultana compote, spinach bread
Compressed watermelon, Persian feta, pickled shallots, fried black rice