I'm back at Pan Pacific's Bar Uma in Perth's CBD for their Autumn Free Flowing High Tea. This was my third visit and once again the standard was first class, and plentiful with canapes, savouries, scones AND sweets.
One notable change was the pianist has moved from the restaurant to the hotel foyer. This made for a grand entrance indeed as I was escorted to one of their luxurious leather booths laid out with beautiful Wedgwood china. I was then greeted by the attentive Shannon who immediately poured me a cup of Dilmah's Italian Almond. The bottomless beverage was the perfect cleanser before the canapes arrived. Their tea menu is lengthy so there is something on there to suit most palettes.
I opted for a glass of the sparkling Hill St to compliment the first course which kicked off with the wild forest mushroom velouté served in a shot glass. The creamy French soup was the perfect warmer-upper for the rainy afternoon. The chorizo party sausage roll that followed had plenty of spicy filling and the dollop of tangy tomato sauce on top added an extra kick to the two-bite delight. Next up was my favourite canape/savoury of the day, the sautéed spinach and Persian feta quiche. The soft feta left a lovely after taste that took this quiche from good to great. So much so when the waitstaff came around with extra helpings (yes that's still a thing) I didn't hesitate to have a second serving.
It was then time for the three-tiered tower of scrumptious sweet and savoury treats. I started on the bottom tier with the savouries. The lightness of the sesame salmon with avocado and wasabi purée served on a Chinese spoon was the perfect palette cleanser to kickstart this course. The wasabi was not hot but it was still spicy enough to compliment, rather than overpower the salmon and avocado.
Pineapple coulis is not something I would normally associate with a pulled pork open slider but boy did it work. It was a yummy alternative to your traditional apple sauce. The sweet potato, onion chutney and house-made baba ganoush pin wheel sandwich was bursting with flavour long after the last mouthful. Special shout out to the onion chutney. What I wouldn't give for a jar of that! I concluded the savouries with a long-standing favourite, Audren's spiced chicken finger sandwich. Named after Bar Uma's Mauritian chef, the sun-dried tomato bread with chicken, ginger, turmeric, lemongrass and countless other ingredients was (not surprisingly) brimming with flavour.
Time to move up to the middle tier where the buttermilk date scones served with pots of double whipped cream and house-made quince resided. The scones were not the largest I've seen but that didn't matter, in fact it was welcomed given I still had another tier ahead of me. The quince was a standout as the flavour (similar to spicy apple and pear) was a delightful surprise from the usual preserves.
I then turned my attention to the French sweet treats on the top tier. I first opted for the histoire d'un baba aka kiwi, ginger and citronella chantilly gateau served in a glass. This modern take on the very sweet 18th century dessert looked like a latte from a distance, however, upon closer inspection it resembled waves where one layer met another, simply mesmerising!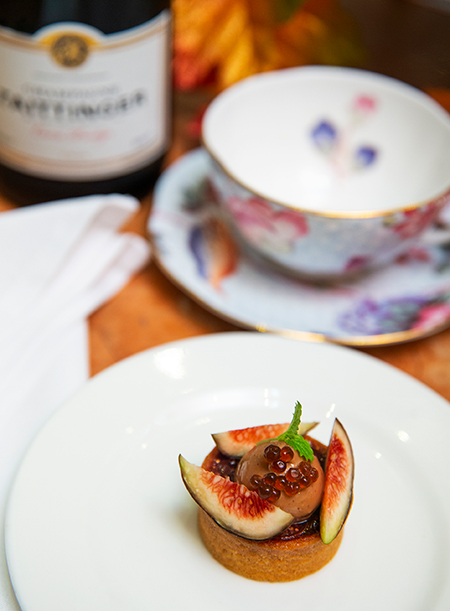 The entremet mandarine and chestnut followed. The mousse square was another very sweet inclusion with the highlight being the tangy mandarin jelly top. It was at this point I was looking for some calm after the two injections of sweetness and enter dish of the day, Pomme D'Aneth. This dessert was pretty as a picture, inside and out. Think perfectly shaped miniature apple complete with dark chocolate stork. Adding to that, the light Granny Smith Apple, dill and yoghurt mousse tasted like pure heaven. I finished up the day with la figue. I have to confess I'm not a massive fan of figs however, the other ingredients namely the hazelnut and caviar housed in the buttery shell complimented the sweetness from the fig.
Before leaving I did a walk around the venue and came across a stylish secluded area where they host Hen's parties for just $95 per person. Their other packages start at $55 per person (non-alcoholic), $75 per person (free-flowing Australian sparkling) and $115 per person (French champagne). They also offer seasonal cocktails and mocktails for a little extra.
Bar Uma's Autumn Free Flowing High Tea is a great mix of flavours with a heavy leaning towards French cuisine. Their menu changes seasonally however, some of the favourites carry over into the next season. If you love great food, service and a venue bursting with atmosphere, make a booking, you won't be disappointed.
High Tea Perth – find more experiences
in our High Tea Venue Directory