If you are looking for a decadent treat to share with someone special then High Tea at TWR Crown Melbourne hits the mark.
It's a very generous spread, with four tiers to the stand! And if you are a savoury fan, this spread will not leave you wanting – there are four hot items and four cold items on the two savoury layers.
As the title of the latest TWR High Tea alludes, this High Tea has a theme… namely the featuring of Hendrick's Gin in some of the items on the platters as well as the Hendrick's Gins featured on the drinks list. And as a very special touch, Hendrick's infused chocolates to take home as a gift.
For me there were a number of stand out features to this High Tea. Firstly the palates of the different items felt well considered, as a complete experience – rather than competing flavours that collectively overwhelm (the touch of having chocolates to take home and savour on another occasion really resonated with me as this High Tea was absolutely enough without adding a rich chocolate item to the menu!).
Hats off to the team at Crown for creating such a variety of mini items all on site – each being a bite sized meal that took the taste buds on a very happy journey. My particular favourites were the Truffled Egg & Rye Bread, the Hendrick's Neptunia Gin & Beetroot Scented Smoked Salmon, the Pistachio Raspberry Finger and the Passion Fruit & Mango Verrine… oh and the Dulce de Leche that came with the scones (that was some kind of confectionary voodoo).
View this post on Instagram
Hendrick's Cocktail Taster with a TWR Twist: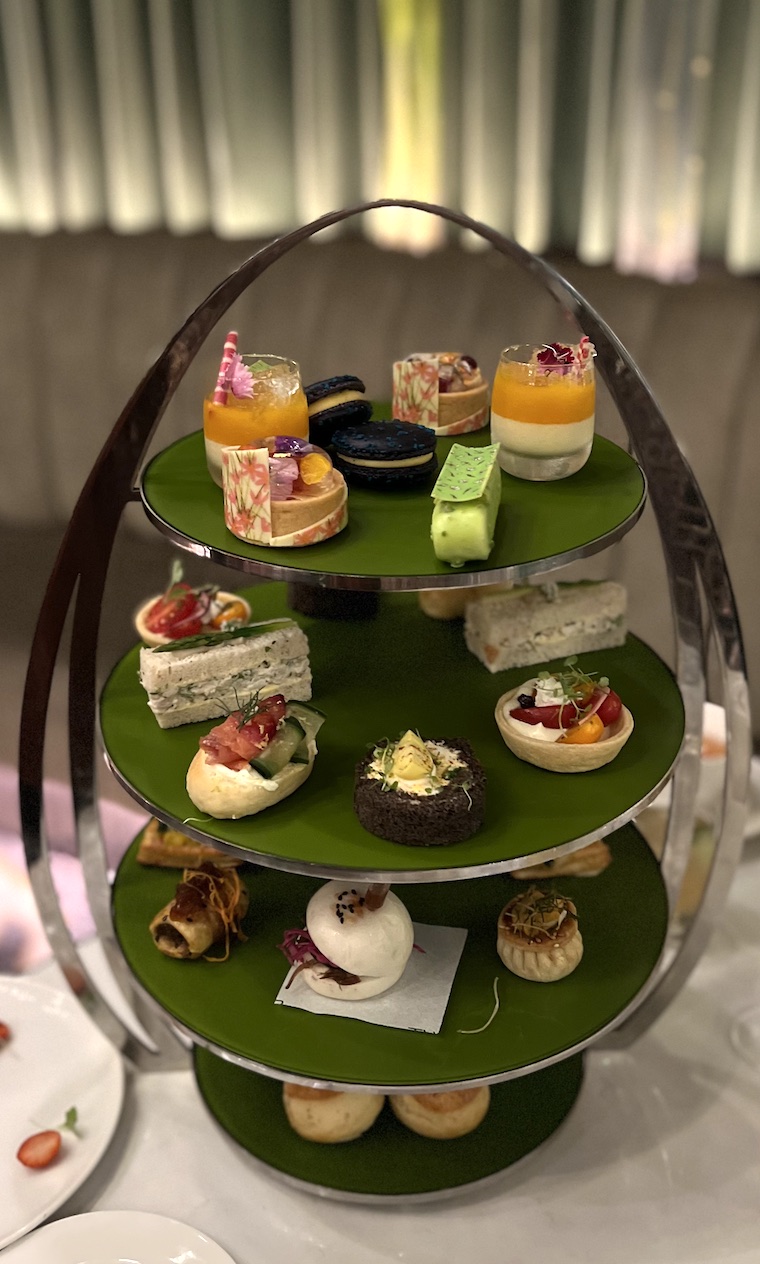 Cold:
Heirloom Tomato Tart, Yarra Valley Fetta,
Burrata Cream, Kalamata Olive Textures, Micro Basil
Truffled Egg & Rye Bread, Kale Mayonnaise, Watercress
Chicken & Celery, Artichoke, White Bean,
Lemon Braised Asparagus
Hendrick's Neptunia Gin & Beetroot Scented
Smoked Salmon, Compressed Dill Cucumber,
Horseradish Cream
Hot:
Spiced Duck Bao Slider, Hendrick's Lunar Gin
Pickled Summer Greens, Hoisin & Plum Emulsion
Scallop & Chilli Lime Crab Vol-Au Vent,
Spiced Mango Relish
Spanish Wagyu Beef Roll, Caramelised Onion,
Smokey Tomato Jam
Rosemary Pumpkin & Parmesan Pie,
Roasted Red Pepper Hummus
Scones:
Traditional & Raisin Scones (V)
Meander Valley Clotted Cream, Raspberry Jam,
Dulce de Leche
Sweet:
Hendrick's Gin & Lemon Macaron
Pistachio Raspberry Finger
Elderflower & Strawberry Cream Cheese Tartlet
Passion Fruit & Mango Verrine
High Tea Melbourne – find more experiences
in our High Tea Venue Directory