The team at Crown's Waiting Room love to partner with a brand to bring a unique theme to their High Tea, and this season's theme is a wonderful collaboration with Japanese Whiskey, Nikka.
As we've mentioned in previous reviews, The Waiting Room (TWR) delivers some of the very best (this writer would say "best") savoury high tea items in Melbourne. With the Japanese theme touched on and hints of the Nikka range featured – it's a delicious array that I would happily return for a second or third visit any time soon.
The TWR high tea is served with a selection of teas and coffee, and it comes with a bonus welcome cocktail taster (they rotate the cocktails, so it will be any one of the cocktails from the accompanying cocktail menu) – which can also be a mocktail – and a take home box of chocolates.
You can upgrade your high tea to also include Piper-Heidsieck champagne (either by the glass or free flowing) or you can also enjoy the specially designed cocktails that feature Nikka spirits and have been designed to complement the high tea.
While it's impossible to single out a favourite savoury item (they were all just #chefskiss delicious) the sweets tasted as good as they looked too, and they were works of art. A firm favourite for me was the chocolate cigar – not only did it look just like one, the dusty dark chocolate cut through the sweetness, and the hint of smokiness added to the experience!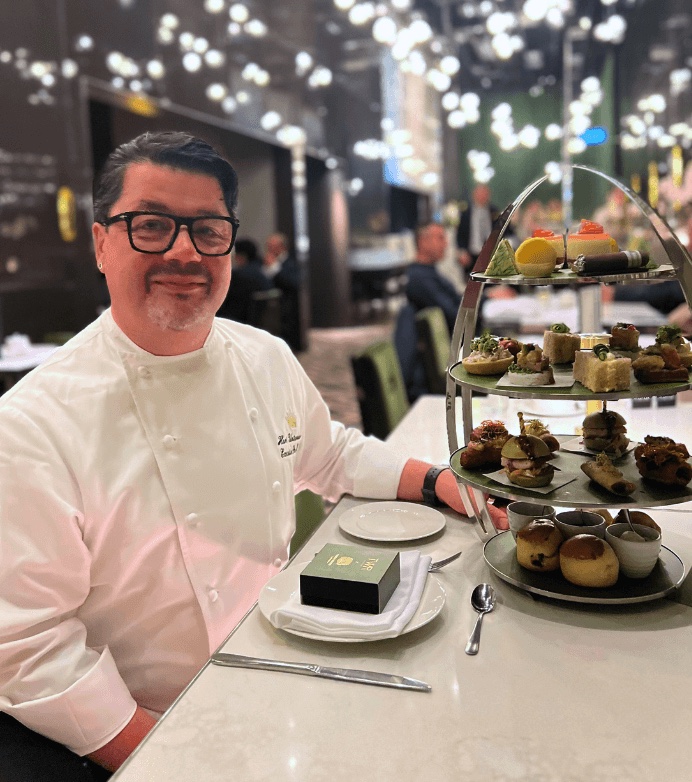 I would also like to add bonus points for excellent scones – these were restrained in size, with a nice buttery texture that provided the perfect counteract to the flavour burst of the jam. Not all high teas nail the scones, but these are worth a mention.
And finally, the staff and venue. We were tucked away and could really enjoy our quiet chat without competition. The staff were also quietly attentive – being a Friday they were in no rush to move us on (and if you're looking to avoid the busier days, the Friday session is a lovely treat!).
Thank you TWR for a delicious and delightful afternoon of treats!
Nikka High Tea Menu: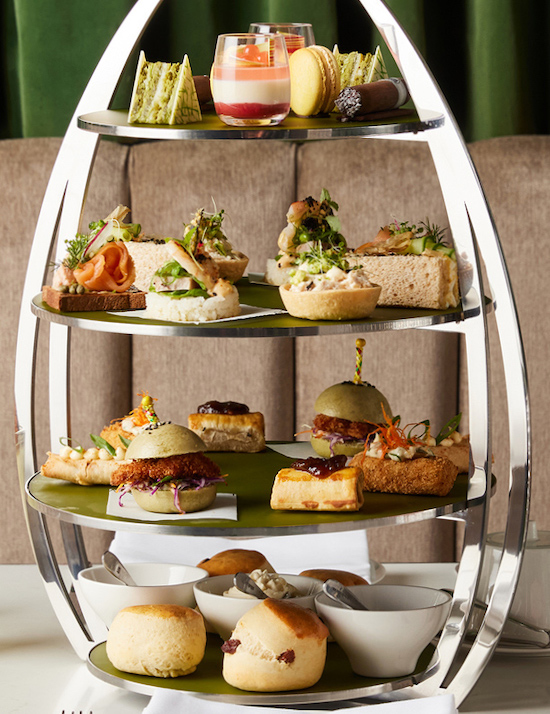 Welcome Taster Cocktail
Scones:
Plain & Raisin Scones (V)
Crème Chantilly, Blackberry Jam, Yuzu Marmalade
Cold:
Spicy Tuna & Prawn Trifle, Caper & Togarashi Infusion, Edamame
Kewpie Egg & Cucumber Sandwich, Furekake Dust, Whole Meal Bread (V)
Nikka Gin Cured Smoked Salmon, Rye Bread, Wasabi Mayo, Pickled Cucumber Relish
Poached Chicken & Avocado Tart, Yuzukoshu
Hot:
Matcha Bao Sliders, Chicken Katsu, Japanese Slaw, Tonkatsu Sauce
Black Cod & Crab Croquette, Yuzu Tarter, Seaweed Gomasio Textures
Miso Eggplant Spring Rolls, Creamy Sesame Mayo (V)
Wagyu Sausage Roll, Caramelised Onion & Truffle Porcini Emulsion
Sweet:
Yuzu Macaron
Matcha & Sudachi Opera Cake
Kinako & Whisky Chocolate Cigar
Strawberry & Vanilla Namelaka, Cherry Blossom Jelly
(V) Vegetarian Champagne and Sparkling Wine option also include choice of tea or coffee
High Tea Melbourne – find more experiences
in our High Tea Venue Directory