I'm back at The Treasury Lounge and Bar situated in the COMO Treasury for their Winter Afternoon Tea and it's great to see they've kept some of the old favourites whilst also introducing some new delights.
Prices have stayed the same, starting at $55 for limitless tea and coffee, $70 with a glass of Singlefile Great Southern Sparking and $80 will get you a glass of the rather decadent French Taittinger champagne.
So with a glass of bubbly in my hand I settled in for the afternoon. It wasn't long before the beautifully wrapped warm fruit and plain scones with Chantilly cream and housemade strawberry jam came out. I usually start with savoury and end with sweet but the smell of freshly baked scones was too good to resist so I tucked in without hesitation, and yum!
Then the two tiered tower of treats for two came out. Try saying that three times fast. The bottom tier contained three mouth-watering savouries. I opted to start with my 'savoury of the day' from my last visit, the classic egg sandwich with quail egg, avruga caviar on white bread. The real hero is the fried quail egg that sits oh so delicately on top. The rich soft yolk is a burst of flavour that perfectly compliments the creamy egg filling and caviar, simply stunning! I have resigned myself to the fact that I will never have an egg sandwich as good as this anywhere else. Hmm challenge accepted to find out if this is the case.
The roast chicken, smoked bacon, vintage cheddar and ranch roulade was now under some serious pressure to deliver the goods and it did. The rolled savoury was full of flavour with the smoked bacon the clear winner in the flavour department. I rounded out the savouries with the shark bay prawn roll, wasabi tobiko with kipfler potato chips. This ran a very close second to the egg sandwich in flavour. The prawn filling was simply divine and worked so well with the light roll and surprisingly crunchy wasabi tobiko.
It was then time to order my customary peppermint tea to accompany the ridiculously ornate desserts that lay ahead. I kicked off with the tarte au citron that was akin to a deconstructed lemon meringue slice. The presentation was so so pretty with the mini mountain peaks of Swiss meringue and crème au citron side by side, on a crunchy biscuit base. It was a refreshingly light way to start the desserts that only got more decadent as I went on. This leads me to the rather impressive (understatement) mandarin dice on an almond biscuit base, topped with a marshmallow knot. The dice can best be described as a light fluffy mandarin mousse encasing a cube of deluxe chocolate. Given orange chocolate is a personal favourite of mine, this took out dessert of the day for me.
I rounded out the sweet treats with one of THE most impressive desserts I've seen in quite some time, the cremeux au café profiterole. I actually felt guilty dismantling what can only be described as a work of art. The gold dusted profiterole was halved and filled with a scrumptious caramelized pecan whipped ganache. However it was the profiterole itself that really packed a punch. The rich coffee filling was something else and the perfect way to round out the day, or so I thought.
The manager suggested I try the Treasury Lounge and Bars signature ginger, lemon and honey tea. It is generously steeped for two hours and you can taste the love in every sip. It was the perfect conclusion to a beautiful afternoon.
The Treasury Lounge and Bar has once again delivered in spades and just like last time you get a take home menu that also maps where the ingredients were sourced in WA. The old favourites are just as good as last time whilst the new additions are packed full of flavour and have the wow factor in terms of presentation. The sheer elegance and indulgence of their Winter Afternoon Tea makes it a must-do for all high tea enthusiasts and newbies.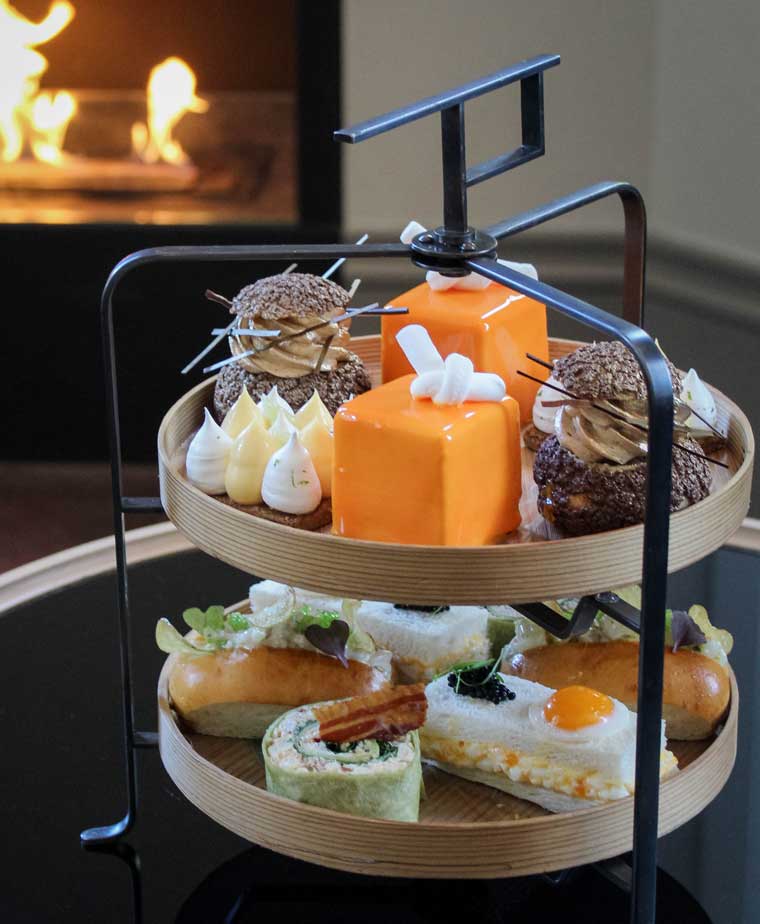 Winter Afternoon Tea Menu:
Classic egg mayonnaise, quail egg, avruga caviar on white bread
Shark Bay prawn roll, wasabi tobiko, kipfler potato chips
Roast chicken, smoked bacon, vintage cheddar, ranch roulade
Tarte au citron — hazelnut sable, crème au citron, Swiss meringue, citrus compote
Profiterole — crémeux au café, pecan praline, Dulcey and caramelized pecan whipped ganache
L'entremets mandarine — almond biscuit, streusel, mandarin toffee, Bavarian chocolate, mandarin mousse
Reservations for Afternoon Tea at The Treasury Lounge and Bar Perth are required with a minimum of 24 hours' notice.
Afternoon Tea is available year-round. The menu changes seasonally.