The Treasury Lounge and Bar has taken thinking outside the box (during these COVID-19 times) to a whole new level with the introduction of their Autumn Afternoon Tea at Home.
There is something quite decadent about whiling away the hours in your own home whilst indulging in their first class menu made up of West Australian produce and sipping on a glass or three of bubbly. Oh and did I mention that it is delivered by none other than Food and Beverage Manager, Steve Scaffidi and the Wildflower Restaurant Manager Marco Vagos, who have wealth of knowledge and passion for the food that is lovingly individually packaged for each person.
Without further ado it was time to open my first box of savoury goodies and try the smoked chicken mini baguette. The free-range chicken blended beautifully with the whipped pesto cream cheese and sun-dried tomatoes making it a refreshing start to the day.
Next up was the highly anticipated and super popular, classic egg curry mayonnaise on white bread. Sprinkled with parmesan cheese in place of the usual quail egg, this finger sandwich still stands out as one of THE best you will ever taste. Everything from the creamy curry egg filling, to the lightly toasted bread and delicate salty aftertaste works, and then some. It's worth the price of the afternoon tea for this alone, trust me!
However, that takes nothing away from my final savoury, a prawn cocktail with a difference. Served in a wonton cup this Asian inspired caviar topped beauty also comes with your classic iceberg lettuce and avocado.
It was then time to turn my attention to the Teassential Rejuvenate tea that is packaged in a quirky tube. This unique green tea is a lesson in aromatherapy with every sip thanks to the lavender, lemon myrtle and eucalyptus, and was a great accompaniment to my first sweet offering, scones. Each serve includes one fruit and one plain scone but there is nothing plain about either of them. Both are crusty on the outside and fluffy on the inside and have a scrumptious buttery flavour. Combined with double cream and housemade strawberry jam they were simply the perfect scone x 2.
I followed up with the first of three picture perfect desserts, the mango bavarois, matcha crème brûlée and matcha biscuit. You can almost see your face in the mango glazed dome, topped with a marshmallow knot. My fork effortlessly glided through the mango bavarois to reveal the green tea crème brulee and biscuit base. It was a lovely light introduction to the desserts.
I followed with the caramelised apple, vanilla mousse, caramel cremeaux, sablée, whipped honey ganache. It's quite the mouthful to both say and sample. Each layer complimented each other to a tee with the caramelised apple a standout.
I concluded my afternoon tea at home with the chocolate offering as is customary for me to do so. The dark chocolate cremeaux, pear compote with hazelnut frangipane was not surprisingly my dessert of the day. This was due to the perfect combination of these ingredients all housed in a delicious buttery shell.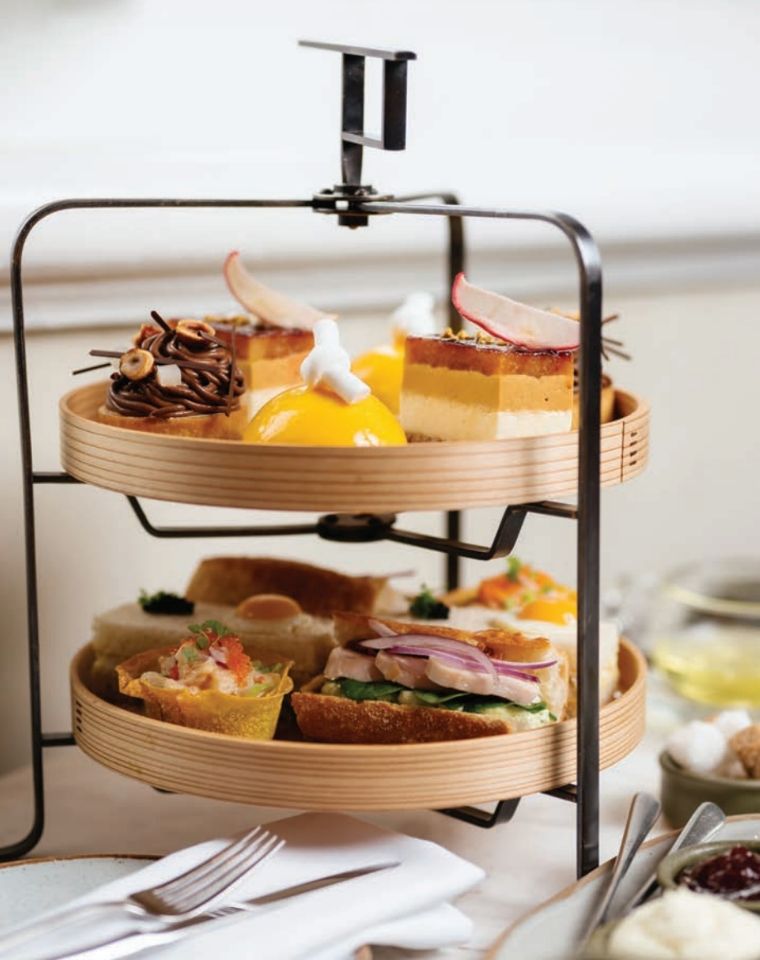 The Treasury Lounge and Bar is onto a winner with their Autumn Afternoon Tea at Home. It's a delight from the moment the car pulls up with your delivery to your last mouthful. There are three options available; Classic for the teetotallers, Western Australian that includes a bottle of Vasse Felix Blanc de Blancs 2017 per two people, and Signature that comes with a bottle of Taittinger Brut Réserve NV per two people.
Delivery is available on Saturday and Sundays between 1pm and 4pm. Alternatively, you are welcome to pick up your order from the Cathedral Avenue entrance of the State Buildings. Reservations are required at least 24 hours prior with a minimum of two people and a maximum of four people per order.
If there is ever a time we should be spoiling ourselves it's now.
Autumn Afternoon Tea Menu:
Classic egg curry mayonnaise, quail egg and avruga on white bread
Smoked chicken, whipped pesto cream cheese, sun-dried tomatoes, mini baguette
Prawn cocktail, iceberg lettuce, avocado, wonton cups
Mango bavarois, matcha crème brûlée, matcha biscuit
Caramelised apple, vanilla mousse, caramel cremeaux, sablée, whipped honey ganache
Dark chocolate cremeaux, pear compote, hazelnut frangipane
Full details can be found on the Como The Treasury Perth website.