Perth's 'Historic Heart', COMO The Treasury is oozing in class, history and flavour. Class as it is an elegant urban hotel with beautiful décor, history as the site dates back to the mid 19th century and flavour, well, read on…
The building comprises of three exquisite places to dine, Wildflower, Post, and the Treasury Lounge and Bar, where I was lucky enough to try their autumn afternoon tea. I was impressed from the get-go when our French waiter Andy handed us the menu that came in the shape of a take home booklet. Apart from listing the delicious menu it also highlighted where the local produce hailed from on a WA map and included information on the beautiful setting and local artwork that adorned the walls.
The food then kicked off in fine fashion with warm plain and fruit scones, cocooned in a napkin. This meant as you unwrapped the toasty treats the waft of freshly baked scones filled your nostrils. If that wasn't enough it came with vanilla bean cream and delicious strawberry jam. I don't usually start with a sweet but I made an exception this time and I'm so glad I did, wow!
I had barely taken that in when the two-tiered tower of sweet and savoury delights arrived at our table. The bottom tier housed the savoury items that looked amazing so without further ado I tucked into the grilled southern chicken and ranch wrap with red Leicester cheese. Despite the generous size it still left me wanting another. The Mount Barker chicken was spicy but not overpoweringly so and it worked well with the cheese, red onion and surprise ingredient, potato.
The crab and avocado circle shaped sandwich with crème fraiche and chives was a refreshing light delight after the spiciness of the wrap. The caviar on top was both pretty to look at and added an extra oomph to this already delicious savoury.
I rounded out the savouries with the classic egg mayonnaise, avruga caviar and wait for it, quail egg white finger sandwich. This is hands down THE best egg sandwich that I have ever had and that is down to the fried quails egg that sits delicately on top. The combination of the soft yolk with the creamy egg filling is to die for and for that it gets savoury of the day in a very tight race.
It was then time to turn my attention to the desserts which looked almost too good to eat, almost! I started off with the chestnut cremeux, vanilla mousse, pineapple confiture and frangipane tart. From the description you can probably tell it's a tart with a multitude of delicate layers that combine beautifully, even the chestnut and gold foil on top play their part.
The rhubarb and strawberry profiterole was a scrumptious balancing act that housed a bunch of flavours. So much so I had to deconstruct it to eat it. The top was a macaron, followed by multiple layers of white chocolate and strawberry ganache swirl and rhubarb and strawberry confiture sitting on a light crunchy biscuit base.
However, I left the best for last (and once again it was a very tight race) with the very decadent chocolate cube, or passionfruit and Manjari mousse, banana compote and biscuit chocolat. This had just the right balance of flavours so as not to be too rich. It comprised of a chocolate sponge base and a generous cube of passionfruit mousse surrounded by chocolate and banana mousse coated in Madagascan chocolate, simply sensational!
There is a wide variety of JING teas and local coffee roasters, Mano coffees to accompany this flawless autumn afternoon tea that runs until the end of May 2019 so don't delay. There are three packages available, the classic ($55), WA that comes with a glass of Vasse Felix bubbles ($70) or for an extra $10 you can have a glass of French bubbles. You have a choice of three interconnected rooms with one room able to accommodate up to 75 people for private functions. It also has the added bonus of being easy to find as the building is Point Zero, the marker to which all distances are measured from Perth.
Whether you're a local or on holidays, the Treasury Lounge and Bar afternoon tea should be on all food lovers to-do list. It really does boast class, history and flavour, and then some!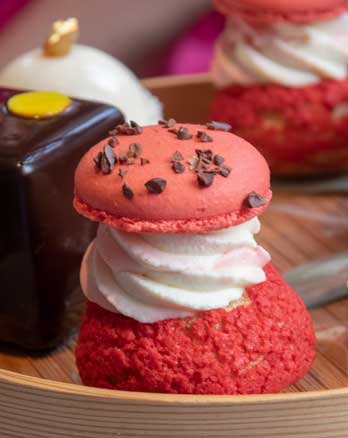 Como The Treasury Lounge & Bar Afternoon Tea Menu:
Classic egg mayonnaise, quail egg, avruga caviar on white bread
Grilled southern chicken and ranch wrap with Red Leicester cheese
Crab and avocado sandwich with crème fraîche and chives
Chestnut crémeux, vanilla mousse, pineapple confiture, frangipane tart
Passion fruit and Manjari mousse with banana compote and chocolate biscuit
Rhubarb and strawberry profiteroles with a white chocolate and strawberry whipped ganache swirl and a rhubarb and strawberry confiture
The menu changes seasonally.