Last year, Como the Treasury in Perth's CBD launched a new afternoon tea experience in the newly renovated Cape Arid Rooms, and I've been itching to try it ever since.
Some of the changes include the introduction of the twelve different afternoon teas, to be revealed over the next three years. On this occasion, I was reviewing the Thomas River Edition. Then there's the watercolour and ink prints by Alex and Philippa Nikulinsky which adorn the walls of the three interconnected rooms and are available to purchase from the State Buildings online shop.
They have also stepped up their customer experience which I didn't think was possible. Starting with the short welcome spiel from our waiter, Lawson, who talked us through the new look take home booklet page by page while we sipped on a glass of Tattinger Champagne.
Given it was a hot summers day, we decided to sample their iced teas. I opted for the Pink Summer with blueberries, Australia Green Tea, passionfruit and yuzu. Extra points for creating a spot of theatre as the tea changes from a vibrant purple to pink when a secret ingredient is poured in at your table. While their other iced tea, the Hibisc-tea, looks like a cocktail. Served in a balloon glass, the vibrant blend of green tea and hibiscus is sweetened with local Jarrah honey and garnished with stunning edible flowers. Both iced teas went down a treat!
The changes kept coming when the thoughtfully crafted three-tiered square tea stand arrived at our table. Made from three iconic local timbers; Red River Gum (Moore River), Jarrah (Donnybrook) and Tuart (Wellard) it showcased the menu to perfection.
We started on the middle tier where the three savoury delights resided. The Mt Barker smoked chicken, sun-dried tomato mayo and cucumber finger sandwich combined beautifully, taking out savoury of the day.
However, a very close second was the Shark Bay crab on a brioche biscuit with pickled kohlrabi (or German turnip) which gave it a welcomed tang. The third savoury, pea and ricotta tartlet with parmesan, lemon and thyme took me straight back to my childhood. The parmesan pastry basket instantly reminded me of the cheese straws my grandmother used to make so extra brownie points for that. All three savouries had a creamy filling that was light, refreshing and encapsulated summer to a tee.
It was then time to move down to the bottom tier which featured their signature warm raisin and buttermilk scones lovingly wrapped in a white napkin, with house made strawberry jam and vanilla clotted cream. I'm a big fan of warm scones and these were oh so toasty, the strawberry jam had just the right amount of tart and the vanilla clotted cream was divine!
With the three delectable desserts in near sight we ordered two teas from the lengthy menu. I chose the very first one, Kiss from a Rose (cue Seals 1994 song) and the tea was just as memorable as the song. A lovely touch was the dehydrated rosebud and orange in the tea. The other one was the 'Rare and Precious', Huoshan yellow tea which is one of the most exquisite teas from China so not surprisingly it was a big winner.
We then took the plunge and started with the hazelnut dacquoise, mango compote and passionfruit, topped with mango crémeux and a curl of white chocolate with edible gold leaf. This showstopper produced a very fruity flavour with a nutty aftertaste.
Our second dessert had three delicious layers of mousse, strawberry, blueberry and vanilla with a white chocolate base and gelatine blueberry on top with strawberry and blueberry jam, yum.
I finished off with my favourite item on the menu, the luscious chocolate hibiscus mousse glazed with yet more chocolate, topped off with a swirl of raspberry jelly and fresh raspberry, wow!
One final new feature, before you leave every person receives a take home gift bag with a thank you card and WA map showcasing where the key ingredients come from PLUS a gorgeous little gift box with two passionfruit jellies inside.
Their gluten free (GF) menu is also the best I've seen in that there are only minor GF friendly tweaks made to each item.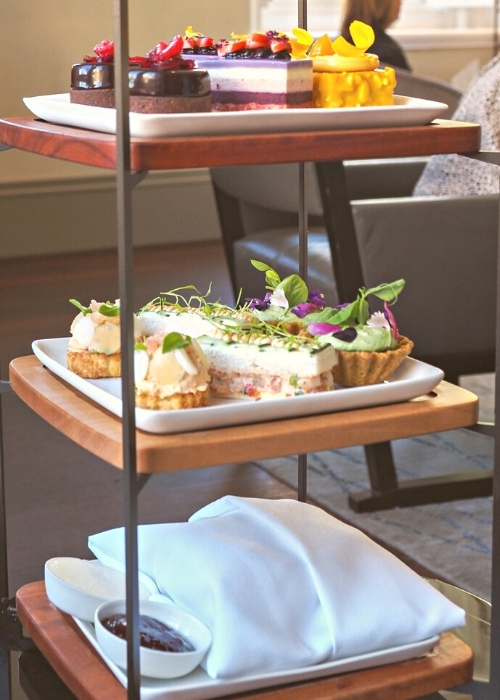 For a high tea that is next level in attention to detail (thanks Lawson), menu and venue you can't go past the Thomas River Edition afternoon tea at the new Cape Arid Rooms. Their improvements follow two years of research and draw inspiration from some of the finest afternoon teas across the globe, and boy does it show.
Priced at a very reasonable $75 per person, there is the option to splash out on extra's such as bubbles and iced teas which I highly recommend on both fronts.
Cape Arid Rooms Afternoon Tea Menu:
A pea and borrello ricotta tartlet, parmesan, lemon thyme
Shark Bay crab on brioche, pickled kohlrabi, ice plant
Mt Barker chicken and sun-dried tomato, cucumber sandwich
Hazelnut dacquoise, Kununurra mango compote, passionfruit
Bahen & Co chocolate tart, raspberry, hibiscus confit
Gnangara strawberries, blueberry, vanilla delice, almond joconde (an almond sponge)