Highlighting the magnificence of well-known West Australian produce, as well as the hidden gems, the Treasury Lounge & Bar offers an authentic and delightful Afternoon Tea reminiscent of the history and culture Perth and West Australia have to offer.
The Treasury Lounge & Bar in Perth is situated in the historic former Treasury building, a 140-year-old building that is Western Australia's most significant heritage precinct. Despite the conversion of the site into a hotel, the State building retains its old-world charm with the external design, masonry, metalwork, joinery and timber being maintained. The Lounge itself is also positioned directly above Point Zero, which is the marker where all distances in Perth are measured from.
After 20 years being vacant, a $90 million investment transformed the unoccupied building into a stunningly restored precinct that includes a 5-star hotel, two restaurants, a bar, lounge and library. The hotel has won numerous accolades including the #12 hotel in the world in 2017 and was voted the top hotel in Australia and New Zealand's by Condé Nast Traveler readers in the 2017 Readers' Choice Awards.
The menu showcases top West Australian produce and highlights the importance of using local produce. Included in the menu is a detailed map highlighting where local ingredients are sourced from. The inclusion of this, along with pictures of the menu item, eludes to a sense of locality and familiarity.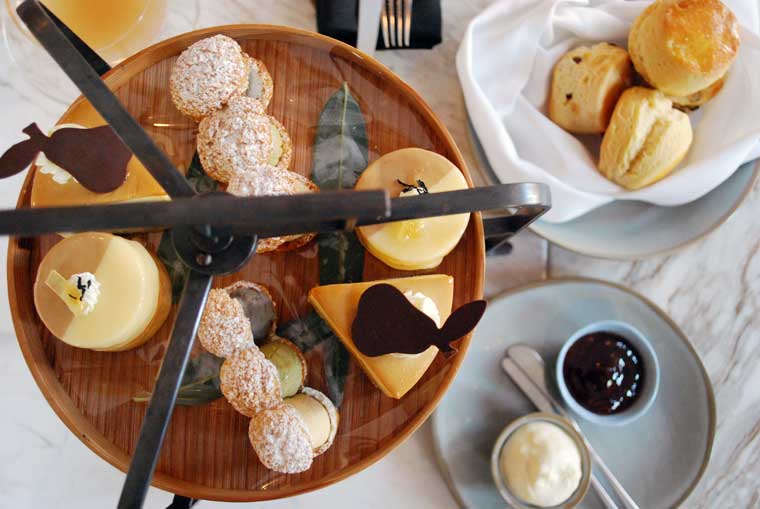 Focusing on amazing West Australian local produce, the Treasury Lounge & Bar takes a creative and individual approach to Afternoon Tea, especially with the inclusion of a two-tier stand, as opposed to the traditional three-tier stand.
The menu truly has a modern take on the Afternoon Tea Experience, especially with such a distinct and refreshing focus on local produce.
The three elements featured on the savoury level were all absolutely fantastic, with the ham, brie, Granny Smith apple and honey mustard sandwich, with the apples sourced from Pickering Brook, WA, being sourced only 30km from Point Zero. However, for me, the Chilled Shark Bay crab on tortillas from the UNESCO listed Shark Bay (808km from Point Zero), were the absolute hero of the entire experience. If granted, I could have had an entire tray of these beautiful tortillas filled with blue swimmer crab.
Moving to the sweet treats featured in the Afternoon Tea, were all sourced locally, and before even indulging, the appeal was already clear in their bright colours. The "Dango" profiteroles featuring black and white sesames, and locally sourced matcha crème mousseline (347km from Point Zero), were incredibly fresh, and delightful. But it was the lemon and early grey frangipane tart that stole the show in the sweets. There were almost 3 different elements to one single treat, with all elements being flavoursome, and zesty, highlighting the locally sourced lemon from Taddei Orchards in Gingin (77km from Point Zero).
Hints of a traditional Afternoon Tea were still ever-present, with the inclusion of the classic scones. Served with classic jam and cream, the scones were freshly baked with a fluffy centre and a beautifully crisp casing.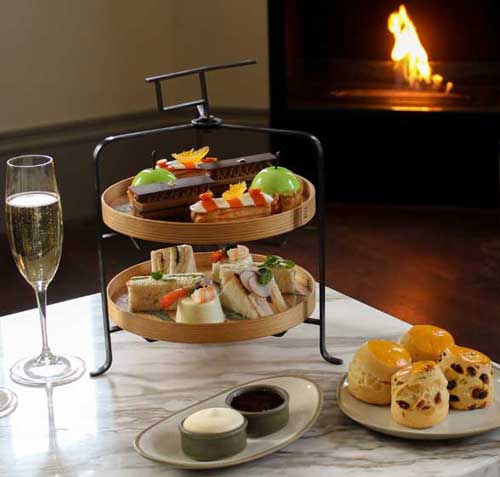 Presented with a variety of options in terms of beverages, we were presented with a comprehensive menu of JING tea, where we chose to indulge in a beautiful ginger tea, that was strong and intense in flavour, but in a pleasant way.
The aura of the intimate lounge was luxurious and peaceful, aided by the inclusion of beautiful artworks by West Australian artists Philippa and Alex Nikulinsky, and the presence of big leather chairs.
In order to keep in tune with changing produce with the seasons, the menu changes according to season, so it is important to note that the menu we were treated to was the Autumn menu. You can view the current afternoon tea menu on The Treasury Lounge & Bar website.
The Treasury Lounge & Bar Afternoon Tea Menu: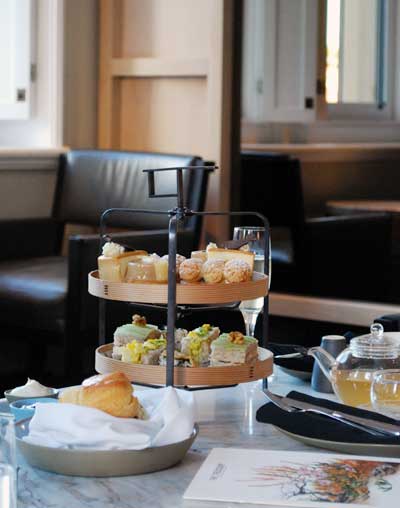 Chilled Shark Bay crab on tortillas
UNESCO World Heritage listed site Shark Bay produces a tremendous quality blue swimmer crabs, also known as manna crabs or sand crabs.
Ham, brie, Granny Smith apple and honey mustard on wholemeal bread
Pickering Brook used to be a popular stopping place on the Upper Darling Range Railway, now well-known for its sweet Granny Smith apples.
Smoked chicken with egg curry mayonnaise on white bread
Mount Barker free range chickens in the Great Southern region are released from their barns and are free to forage from 3 weeks of age.
"Dango" profiteroles, black and white sesame, matcha crème mousseline
The South West region produced world class green tea, with its pollution free environment. Using ancient Japanese tea processing principles, Southern Forest Green Tea produces unique, fresh Australian green tea.
Lemon and Earl Grey frangipane tart
Gingin produces some of the best quality lemons available in Western Australia. Available all year round, Autumn brings a flavoursome and fragrant bounty of this zesty fruit.
Caramel pear — pear compôte, caramel, hazelnut biscuit, pear bavarois
Karragullen is known as orchard country producing excellent pears, many of which were planted by Italian migrants in the 1930's.
Served with Jing Tea or Mano a Mano Coffee, with the option of a glass of Vasse Felix or Champagne Tattinger.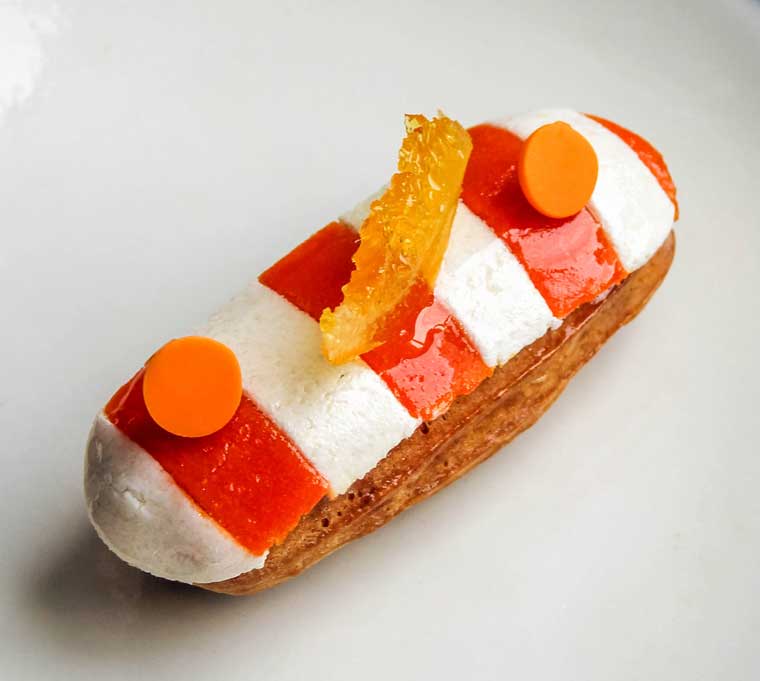 Being one of the few venues in Perth that offer a daily service (between 2pm and 5pm), reservations are required with a minimum of 24 hour's notice.