Chocolate Raspberry Sablé recipe by Simon Veauvy, Head Pastry Chef, InterContinental Sydney.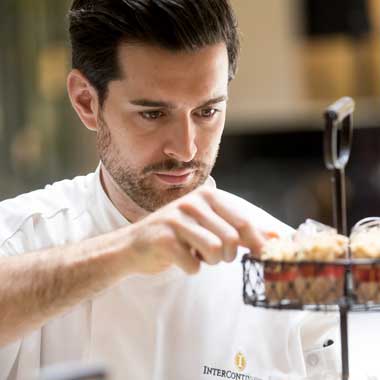 Charmed by his introduction to pastry at locally cherished Patisserie Rébert in Alsace (France), Simon Veauvy has crafted a career travelling between renowned patisseries across the globe. Seeking to hone his expertise in blending a rich balance of history, culture and flavour, Simon has trained at kitchens in Seoul, New York, Tokyo, Paris and now Sydney. Passionate about the art of pastry, Simon moved swiftly between managing chocolate and macaron stations at prominent patisserie, Pierre Hermé Paris, to being put in charge of the company's cake production in Paris. Joining InterContinental Sydney late 2013 as Head of Pastry, Simon has played an instrumental part in revamping existing menus and bringing to life a philosophy of seasonality in dishes. With a focus on taste and flavour, Simon specialises in producing bespoke desserts with innovative flair.
---
Ingredients
---
Instructions
Chocolate and raspberry sablé dough method:

Chop chocolate into small pieces.

Put butter into the bowl of electric mixer fitted with paddle attachment.
Mix thoroughly at low speed.

Sift flour with cocoa powder and baking soda.

Mix butter, both types of sugar and salt.

Mix until thoroughly blended, then add flour with cocoa powder, baking soda,
chocolate and crunchy raspberries.

Mix until thoroughly blended.

Use immediately.

Forming:

Shape into rolls of 200 g, 2 cm in diameter and 40cm long.

Chill in refrigerator for minimum 1 hour.

Cut into slices 2cm thick and place on silicone paper.

Baking:

Preheat oven to 170°C.

Place sablés about 10 cm apart on a baking tray lined with baking paper.

Defrost for 30 minutes at room temperature.

Bake for 8 minutes.

Remove from oven, slide onto rack to cool.