Serves
8 - 10 with 1 dessert glass each
Equipment
Whisk
Digital thermometer
Sieve
Spatula
Stand mixer
Piping bag
Baking tray
---
Deliciously fresh and creamy, this decadently layered dessert will be a crowd pleaser.
With minimal oven time, this dessert is simple, fresh and perfect to make ahead of parties.
The Citrus & Vanilla Mascarpone Verrine is a celebration of flavour and texture. The word verrine comes from verre, the French word for 'glass'.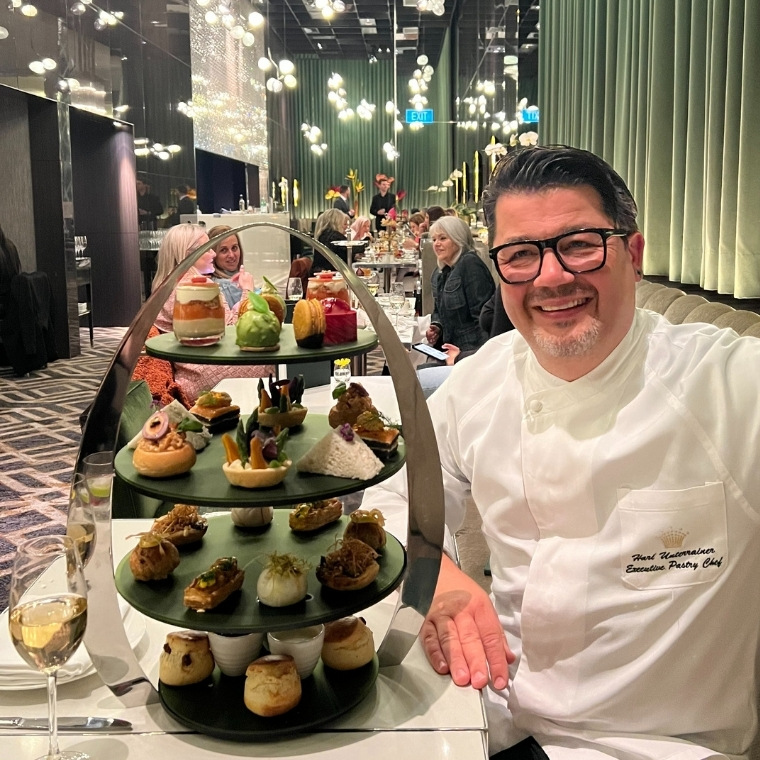 Each guest will feel special with their very own decadently layered dessert glass, showing colourful layers with each element enhancing the others beautifully.
This spectacular dessert is the perfect combination of sweet and tart.
Crown's Executive Pastry Chef, Hari Unterrainer was born in Austria. Hari has over 25 years of International work experience, being in senior positions in 5 star hotels in Europe, Middle East and Asia Pacific.
Hari has held the position as Executive Pastry Chef at Crown for the past 3 years, bringing a wealth of knowledge to the Pastry and Bakery team. He is very talented and passionate at what he does and brings the WOW factor to many events throughout Crown each and every day, including The Waiting Room High Tea.
Ingredient list: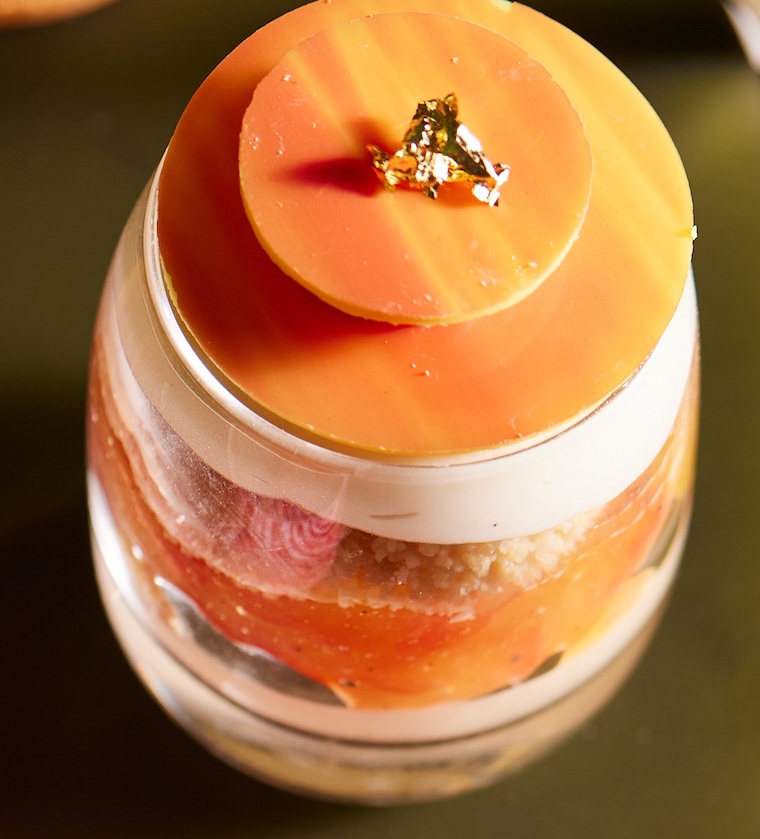 For the citrus gel
95 gr Blood orange juice
60 gr Grapefruit juice
40 gr Lemon juice35 gr Sugar
5 gr Pectin NH
45 gr Trimoline
175 gr Blood orange segments
175 gr Grapefruit segments
Zest from ½ blood orange and ½ lemon
For the gluten free almond crumble
75 gr Butter
75 gr Brown sugar
65 gr Rice flour
90 gr Almond meal
50 gr Cocoa butter
For the citrus cremeux
125 gr Blood orange juice
100 gr Grapefruit juice
125 gr Lime juice
100 gr Sugar
325 gr Whole Eggs
100 gr White chocolate
90 gr Butter
125 gr Cocoa butter
For the vanilla mascarpone cream
500 gr Mascarpone cream
300 gr Cream
90 gr Sugar
1 Vanilla bean
Method:
For the citrus gel
Warm up all the juices with the trimoline and zest in a pot
Mix the pectin with the sugar and add to the warm juice whisking vigorously
Bring the liquid to the boil and continue boiling for 2 minutes
Allow gel to set overnight
Use a whisk to break apart the set gel then add roughly cut citrus segments
For the crumble
Mix all ingredients together in a stand mixer with the paddle attachment
Spread out the crumble on a tray lined with baking paper and bake at 160c until lightly golden (35 – 40 minutes)
Move crumble around every 10 – 15 minutes to ensure even colouring
For the citrus cremeux
Heat all the juices in a pot until simmering
Whisk together the eggs and sugar and slowly add the hot juices while continuously whisking
Return the mix to the pot and cook until 80c
Use a spatula while stirring to avoid any curds forming in the edges of the pot
Sieve the mix into a large bowl and allow to cool down to 70c
Once at 70c, add the butter, white chocolate and cocoa butter and emulsify with a stick blender
For the vanilla mascarpone
Place all ingredients in a mixing bowl and whip together until soft peaks form
Finishing and Presentation
Pour some of the citrus cremeux into desired glasses and place in the fridge to set
Spoon a generous amount of citrus gel on top of the set creameux and tap gently to spread out evenly
Spoon some crumble on to the citrus gel
Finally, pipe the mascarpone cream over the crumble and garnish with some fresh citrus segments and mint leaves
---