Back to warm the wintery Melbourne months, The Westin Melbourne is bringing back its famous High Cheese. Created in partnership with the Maker & Monger. High Cheese can be enjoyed in the Westin's Lobby Lounge, or – this year - from the comfort of your own home.
Tucked away in an alleyway off the high-end shopping district of Collins Street is the Lobby Lounge of the Westin Melbourne. Upon a warm welcome, we were treated to the refined ambience of the Lobby Lounge, highlighted in its luxury furnishings and rich colour palette.
Taking our seat by the window behind the central spiralling staircase, we were offered our choice of free-flowing tea, coffee or hot chocolate by the friendly and attentive waitstaff, who throughout the High Cheese experience provided us with the polite and helpful service the Westin Melbourne is renowned for.
The concept of High Cheese was first created in 2018, when the chef Michael Greenlaw – in collaboration with Anthony Femia of Maker & Monger – took his passion for cheese and combined it with the traditional concept of High Tea. Creating a defined menu, highlighting different cheese varieties in a range of forms, and displaying it on cake-stand reminiscent of a High Tea setting, was a huge hit, selling out and extending its season two years in a row.
This year High Cheese is back at the Westin's Lobby Lounge, renewing favourite menu items from previous years and adding new and delicious accompaniments to warm our winter days.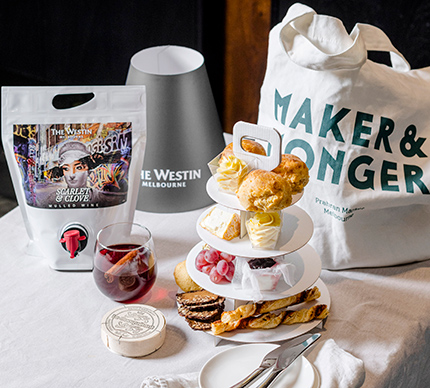 In addition to this years' menu, High Cheese is now available in a take-home hamper for two, that can be enjoyed from the comfort of your own home. For $189 the High Cheese take-home hamper is filled with the classic sweet and savoury cheesy treats, to be displayed on an accompanying self-assemble High Tea stand. Also included is 1.5 litres of Scarlet & Clove Mulled Wine from Bar Clara, as well as a Maker & Monger tote to top off the decadent at-home High Cheese experience.
We began our sitting by digging into the gooey, creamy Le Conquerant baked Camembert wheel. Subtly flavoured with thyme and garlic, and accompanied by toasted sourdough and house-made crackers.
The most anticipated menu item was the Petit Langres, that was awarded the title of Champion of the World Cheese Awards for 2018 – 2019. Langres is a cheese made with cows' milk, originating in the Champagne Ardenne region of France. The cheese was served warm, softening the rind and creating a deliciously creamy centre that melted in the mouth. The complex, salty taste is best paired with red wine from the Burgundy, Marc de Bourgogne or Champagne regions, and can be served in a salad, but is equally special on its own.
The cheesy highlight of the menu was the L'Artisan Grand Fleuri Brie layered with Victorian black truffle. The creamy brie mingled with the distinct truffle flavour, creating a rich and
As a part of the collaboration between the Westin Melbourne's High Cheese and Prahran Market's Maker & Monger, all of the cheese served as a part of the menu are available for purchase and to enjoy on any occasion.
Having the muscatel grapes as a garnish was a great palette cleanser between cheese tastings – providing a refreshing burst of sweetness amongst the cheesy delights.
Our first venture into the dessert offerings was the Basque Cheesecake. Served in a parchment paper cup with twine tied in a bow around it, the presentation was rustic, while still sophisticated. The cheesecake itself was a similar style to a New York baked Cheesecake; deliciously dense, but still creamy, with a lightly Smokey flavour from the browned top.
Next we tucked into the beurre noisette Madeleines. These delicate and light cakes were subtly sweet, with a delicious zesty lemon flavour to break up the richness of the cheese selection. Served alongside the Madeleines, was a whipped lemon mascarpone, topped with fresh honeycomb, which was best enjoyed in moderation as it was extremely sweet.
The warm, golden scones were a savoury delight to conclude our High Cheese sitting. The scones were deliciously rich in its cheese flavour, a welcome departure from the High Tea standard plain or date scones. The caramelised apricot butter served along with the scones provided a creamy and refreshing accompaniment to the savoury, cheesy flavour of the scones.
High Cheese offers complimentary Vittoria coffee, the drinks menu suggests a variety of wine accompaniments to complement the High Cheese menu,
High Cheese Menu: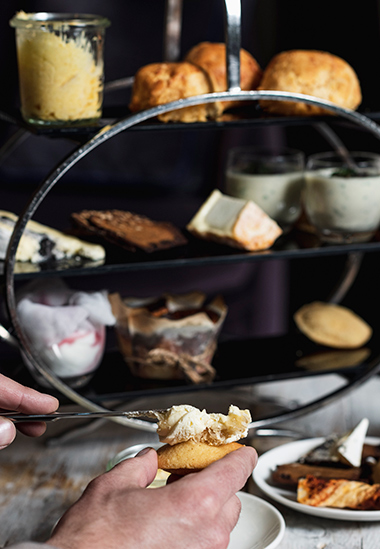 Savoury Temptations
Baked Le Conquerant Camembert, studded with thyme and garlic, served with crusty sourdough
Roquefort and cognac dip with poached muscatels and spiced house made crackers Mahón, paprika and native thyme cheese twist
L'Artisan Grand Fleuri layered Brie with Victorian black truffle and crème fraîche
Petit Langres soaked in champagne
Sweet Delights
Yarra Valley Dairy curd Fontainebleau with Four Pillars Bloody Shiraz gin and preserved cherries
Basque cheesecake
Beurre noisette madeleines, whipped lemon mascarpone, fresh honeycomb
Scones
L'Amuse Signature Gouda scone served with caramelised apricot butter
Drinks
High Cheese is served with free-flowing Vittoria Coffee blends, Jing Tea herbal infusions and hot chocolate.
A variety of wines are available by the glass or bottle, including the Scarlet & Clove mulled wine, Moët & Chandon, and a variety of Victorian whites and reds.
You can order directly through Providoor.
High Tea Melbourne – find more experiences in
our High Tea Venue Directory