The Westin Melbourne has gone all cheesy with its latest high tea offering, High Cheese.
The luxury hotel has paired up with cheesemongers Maker & Monger to serve a specially themed High Cheese menu, with cheese presented as the hero ingredient in each and every morsel – both savoury and sweet.
The menu, which launched earlier this month will run throughout winter, consecutively with The Westin's traditional high tea menu, leaving high tea goers spoilt for choice.
As with the traditional offering, High Cheese is served in The Westin's Lobby Lounge, a beautiful space with a mixture of soft and natural lighting, leather and felt backed chairs, plush lounges and glass topped tables.
Westin Executive Chef Michael Greenlaw has worked closely with Maker & Monger owner Anthony Femia to source the best in show of cheeses from across the world to be part of the High Cheese line-up.
As with any high tea, High Cheese is served on The Westin's trademark three-tier stands, with savoury Giorgio Cravero Reggiano scones on top, followed by savouries in the middle and desserts on the bottom.
But its what's served on a separate plate that is perhaps the stand-out dish in the entire menu.
A whole wheel of Normandy Camembert, which has been baked with slivers of garlic and thyme, is pure heaven. The melting, gooey cheese is perfectly paired with the mini baguettes and lavosh crackers provided for dipping. In short, it's a very more-ish start to the meal, and just the thing for a cold winter's day.
Moving onto the stand, the buttery taste of the pastry and creaminess in the leek tart filling made it another memorable savoury.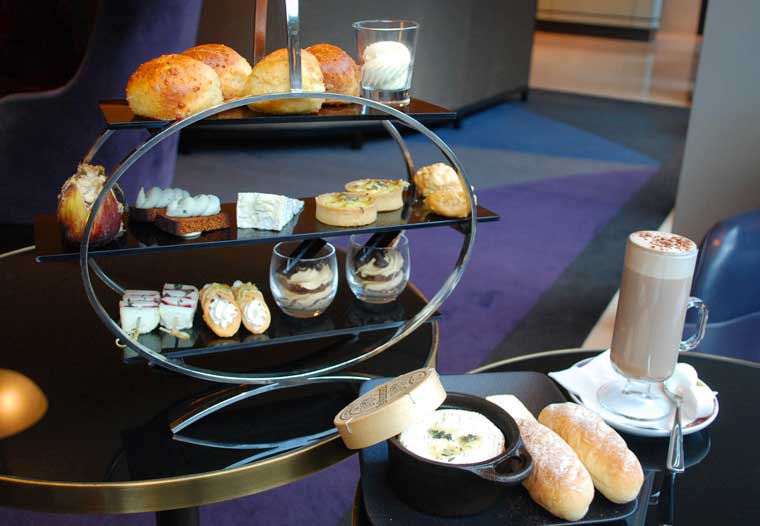 Although I'm not normally a savoury scone fan, I found that adding pieces of the gorgonzola dolce stuffed fresh figs on top gave it just the right mix of savoury and sweet for my tastebuds.
For the dessert, you couldn't go past the delicious tiramisu served in a glass, with a chocolate sliver on top bearing #westinmelbourne. Clearly, this is a High Cheese created for the Instagram generation and, as is standard for The Westin Melbourne, the High Cheese menu looks as delectable as it tastes.
I would have loved to see a cheesecake-style dessert on the menu however, this is the only fly in the ointment.
The menu is served with free-flowing Vittoria coffee blends, Jing Tea herbal infusions and hot chocolate. Matched wines and ports are available by the glass for an added cost.
High Cheese is a smart and delicious gamble taken by The Westin Melbourne, and could easily become an annual seasonal favourite. Try it while you can!
High Cheese at The Westin Melbourne Menu: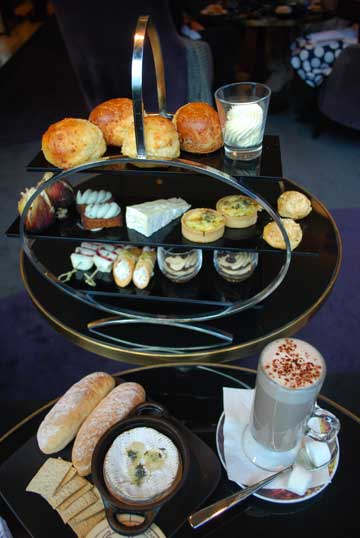 The Scone
Giorgio Cravero Reggiano scones served with whipped butter
Savoury Temptations:
Basil crème fraiche layered brie
Marcel Petite Comté gourgeres
Roquefort & Cognac served with Pain d'Épices
Beaufort d'Alpage & leek tart
Baked Normandy Camembert with garlic and thyme, served with mini baguettes and lavosh crackers
Sweet Delights:
Tiramisu with Kahlua coffee syrup soaked chocolate cake
Cannoli with whipped vanilla bean ricotta and honey
Holy goat organic skyla strawberry and thyme Mille-Feuille
Gorgonzola dolce stuffed fresh figs with fresh peninsula honeycomb
Free-flowing Vittoria Coffee blends, Jing tea herbal infusions and hot chocolate.
Wine pairings are also available with prices by the glass.
High Tea Melbourne – find more experiences
in our High Tea Venue Directory