The Westin Melbourne has pulled out all the stops for its latest high tea offering, High SocieTea.
Inspired by the three C's – caviar, cheese and chocolate – High SocieTea is an Insta-worthy menu that pairs premium ingredients with a carefully curated selection of Rob Dolan Black Series wines.
Served in the Lobby Lounge, it begins with the theatrical presentation of a salmon tart nestled within a glass smoke-filled "treasure box".
When opened, we are treated to tempting wafts of the juniper and Champagne cured Ora king salmon, which is served within a handmade charcoal tart with avocado and Meander Valley crème fool and topped with glistening blue wild scampi caviar from Shark Bay.
The tart is both sizably portioned and generously filled, and most importantly, it's delicious.
In a nod to The Westin's famous High Cheese, the tart is served alongside a full wheel of Le Conquerant camembert that has been baked with locally sourced winter truffles and lemon thyme and is served with white chocolate dipped muscatels, date apricot toast and lavosh.
To complement these dishes, we begin with the Rob Dolan Blanc de Blanc, which is refreshing on the palate.
After about 10-15 minutes, we are then presented with The Westin's signature three-tier cake stand, and the impressive attention to detail in this gastronomical extravaganza continues.
We start with the savoury Brillat Savarin cheese and fennel scones, which have been served with whipped Mauri mascarpone cream, Italica Royal Oscietra caviar and 12-carat gold leaf.
We then move to a warm berliner with a spiced cream centre. It deceptively looks like a jam donut, right down to the sugar coating which is actually bacon and onion dust.
With so many stand-out items it is difficult to pick just one hero dish, however a special mention goes to the Murray region 12-hour braised lamb shoulder served with chevre cheese in milk buns.
There is a lovely crunch as you bite into the buns, and you are then welcomed with delicious Indian spices, which we are told is the chef's secret recipe.
From here, we move to the trio of chocolate desserts – and also transition from the Blanc de Blanc to a deliciously sweet Rob Dolan Muscat.
If you're a chocolate lover, you'll find it hard to pick a favourite from these three.
The black forest cookie is a great take on the traditional gateaux, with a soft and chewy biscuit and delicious cream and cherry filling.
The warm chocolate tart, which is made with single-origin Valrhona Kalingo chocolate is next-level rich, featuring an oozing chocolate centre. Meanwhile, the burnt marshmallow atop the tart and whisky anglaise proved the perfect accompaniments.
We finish with the Valrhona Amatika plant-based chocolate, which has subtle nut hints and will please any vegan.
View this post on Instagram
View this post on Instagram
The Westin Melbourne's Executive Chef Apoorva Kunte – previously from The Ritz Carlton and Sheraton Grand Hyde Park – said he was excited to deliver a uniquely indulgent menu that highlighted the magic trio of caviar, cheese and single-origin chocolate.
"The High SocieTea menu brings together my love for pairing luxe ingredients with locally sourced produce and a passion for thinking outside the square," he said.
Billed as "Melbourne's most opulent hotel high tea", The Westin's High SocieTea has taken many traditional elements of high tea and created a sophisticated menu that it sure to delight many.
But get in quick – this menu is available for a limited time only.
The Westin Melbourne's High SocieTea menu: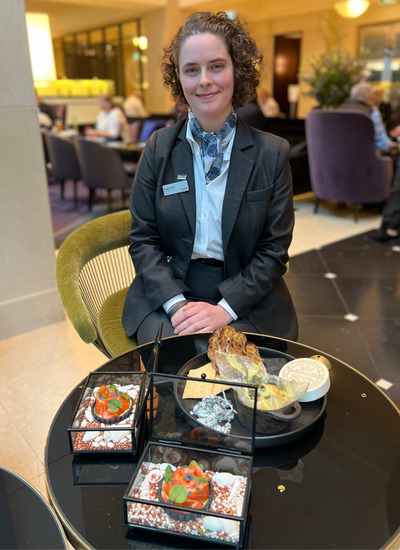 CAVIAR
Juniper cured Ōra king salmon, wild scampi caviar and handmade charcoal tart
ARS Italica Royal Oscietra Caviar, Brillat-Savarin cheese scone with 12 karat gold leaf
CHEESE
Baked Le Conquérant camembert, lemon thyme and truffles
Murray region pulled lamb, Woodside salt bush chèvre chaud
Berliner, Mauri Taleggio Nduja cream, bacon dust
CHOCOLATE
Black forest cookie gateaux, Schulz organic quark cream, Amarena cherries
Warm chocolate tart, burnt marshmallow and whisky anglaise
Valrhona Amatika bark, raspberry and Olsson's red gum salt
The Westin Melbourne is serving it's High SocieTea menu each day between 4pm-8pm until 16 October 2022.
High Tea Melbourne – find more experiences
in our High Tea Venue Directory