It's winter in Melbourne, and that can only mean one thing: High Cheese is back at The Westin Melbourne!
The Westin Melbourne has once again paired with paired up with cheesemakers Maker & Monger to create a stand-out High Cheese menu.
To add to the decadence, this year South Australian winery Bird in Hand has also come on board with a menu of perfectly matched wines to go accompany the cheesy fare, including a limited edition 2015 'Nest Egg' Joy sparkling and 2009 'Nest Egg' Cabernet Sauvignon.
Served in The Westin's Lobby Lounge, cheese is the star of the show in this menu. However, for those inclined, The Westin's traditional high tea menu continues to be served throughout winter.
The baked cheese wheel, a Baked Le Duc Grand Vacherin, has become a staple of the Westin High Cheese and remains as glorious as ever: soft, gooey cheese with a hint of garlic and thyme, served with a slice of sourdough toast and lavosh.
The most traditional high tea element on this menu is the scone. However, don't expect your standard dessert scone with jam and cream. This savoury Alpine cheese scone is accompanied by whipped butter. It's simple, but hits the spot nevertheless.
A tip for the remaining savoury temptations: start with the finger lime spread, progress to the L'Artisan Grand Fleuri layered brie and finish with the Roquefort and cognac dip. The flavour intensity of the cheese used builds with each dish, and blue cheese lovers will be particularly partial to the Roquefort dip, with some slivers of pear and a spiced fruit chutney on top providing just the right amount of sweetness to balance the dish.
View this post on Instagram
Similarly, there's a very definite order in which to sample your desserts. Begin with the Madeline, then pick up the mini cocktail glass and savour the Stracciatella Verrine, and complete the menu with the Coeur à la crème, a light and sweet way to round out the menu.
As is par for the course with any Westin high tea menu, it's the little touches that make all the difference, and we were particularly delighted by the mini silver cutlery – perfect for small morsels – set out on our table.
But as with any high tea, it all comes down to the offering. Quite simply, this menu is truly un-brie-lievable.
The Westin Melbourne will serve High Cheese until the end of August – get in while you can!
The Westin High Cheese Menu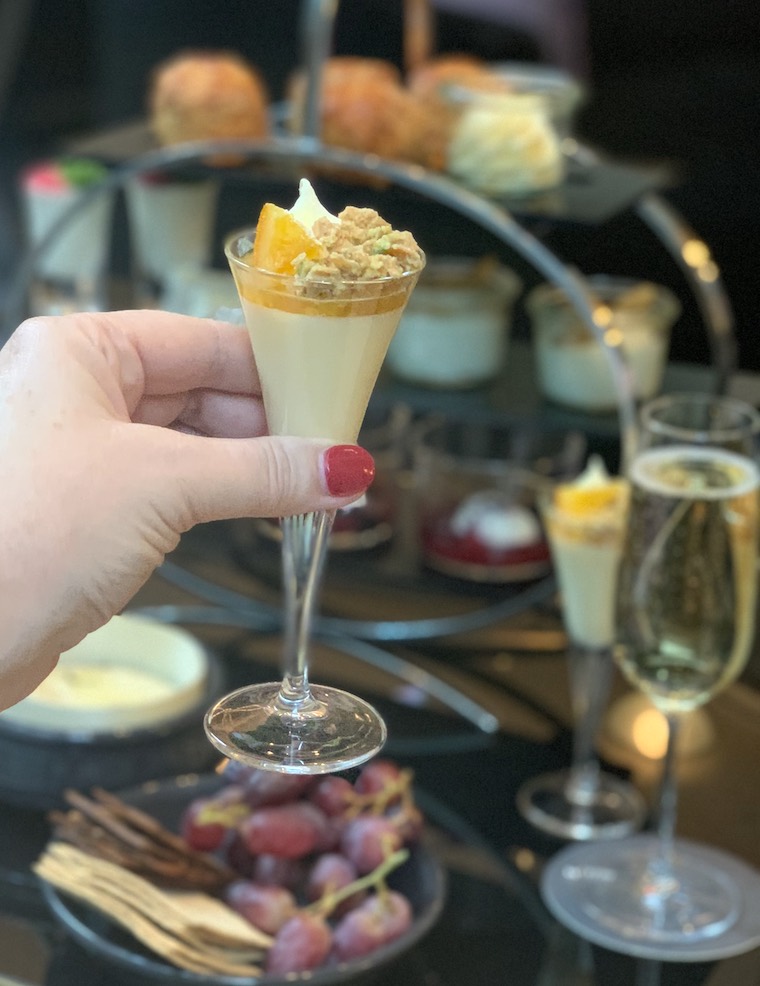 THE SCONE
Alpine cheese scone served with white wine and Gippsland Jersey butter
SAVOURY TEMPTATIONS
Baked Le Duc Grand Vacherin with garlic, thyme and wine served with quinoa, soya and amaranth sourdough
Cervelle de canut finger lime spread featuring Yarra Valley Dairy fresh curd
Roquefort and cognac dip with Beurre Bosc pear with spiced chutney and house made crackers
L 'Artisan Grand Fleuri layered brie with sautéed mushrooms and leek in oloroso sherry and sour cream
DELIGHTS
Stracciatella Verrine with Four Pillars Negroni marmalade, pistachio and white chocolate
Coeur à la crème – Potted heart shaped Schulz Quark with preserved summer berries
Walnut praline Madeleines filled with whipped Marcel Petite Comté and fresh honeycomb
High Tea Melbourne – find more experiences
in our High Tea Venue Directory