Over the years, The Westin Melbourne has built a reputation for devising eye-catching seasonal high teas that tickle the tastebuds.
First we went all gooey over High Cheese. Then we celebrated caviar, cheese and chocolate in High SocieTea. This latest offering NativiTea – doesn't disappoint.
Dedicated to showcasing and celebrating native Australian ingredients, NativiTea serves up a traditional high tea menu with an Indigenous twist.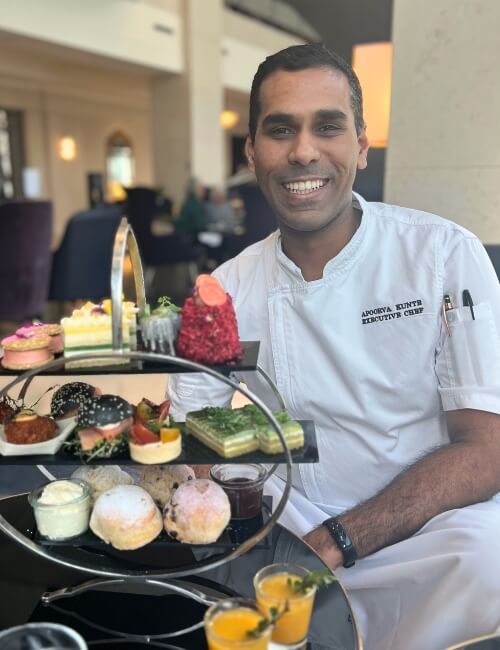 The theme also extends to the tea menu itself, with a selection of four Mabu Mabu loose leaf teas from its Kara Meta range on offer in addition to the usual selection of black, herbal and fruit teas from Jing Tea.
Then there's the beautiful artwork of Wurundjeri artist Valerie Evans, whose piece "River of Dreams" is used as the backdrop for the Winter high tea menu.
Executive chef Apoorva Kunte said to his knowledge, this was the first high tea dedicated to celebrating native Australian ingredients.
"I've been itching to do a native high tea for a while, and I thought this was the perfect time with Winter and NAIDOC Week (in July)," he said.
Served in the sophisticated surrounds of The Westin Melbourne's Lobby Lounge, we are offered a glass of Chandon Brut and a cup of tea or coffee on arrival and serenaded by a violinist and cello player.
The high tea is served on The Westin's signature three-tier stand and is colourful, indulgent and generously portioned.
On the advice of Mr Kunte we begin with the ice cream sandwich before diving into the warm orange soup, much like diving into an ice bath followed by a warm bath.
It's easy to see why the ice cream sandwich is one of his favourite items on the menu – the oat cookie provides the perfect crunch and the surprise rosella jam centre marries beautifully with the strawberry gum ice-cream.
Next up is the soup, served in a glass and infused with a sprig of honey myrtle. Striking a perfect balance between sweet and spicy, the soup is the perfect segue to the remainder of the savoury items.
It's hard to pick a clear winner here: the roast chicken croquette with native thyme and Kakadu plum aioli is divine, while the smoked salmon served in a charcoal slider with dessert lime is also a standout.
Then there's the cucumber and mountain pepper spiced cream cheese finger sandwich, an explosion of green that is layered much like an opera cake and topped with little slivers of cucumber fanned out.
Moving up to the desserts, where there's an actual opera cake with thick layers of creamy coconut mousse, finger lime jelly and pineapple sage sponge. Topped with edible flowers, it is colourful and delicious.
Similarly colourful is the red wattleseed and bush apple lamington sprinkled with gold dust that tastes like a Cherry Ripe – yum! Last but not least are the scones, including a dark chocolate, prune and Davidson plum damper scone that was incredibly fluffy.
This menu truly is a feast of the senses and one that does our native Australian ingredients proud.
The Westin Melbourne's NativiTea menu
Savoury:
Honey myrtle and cinnamon-scented warm orange soup
Roast chicken, native thyme, and tomato croquette, Kakadu plum aioli
Smoked salmon, celery, and dessert lime slider
Mountain pepper spiced cream cheese and cucumber finger
Heirloom tomato, native fennel, and akudjura-infused fetta and mascarpone tart
Sweet:
Strawberry gum and rosella ice cream sandwich
Opera slice
Wattleseed and bush apple lamington
Lemon myrtle canelé
Scone:
Dark chocolate, prune, and Davidson plum damper
Vanilla scones
Jam and cream
High Tea Melbourne – find more experiences
in our High Tea Venue Directory