Equipment
Kitchenaid mixer with creaming attachment
---
This Almond Raspberry Chocolate Bites Recipe is a feature of the High Tea at The Robertson Hotel in the NSW Southern Highlands. This recipe can now feature in your own High Tea at home.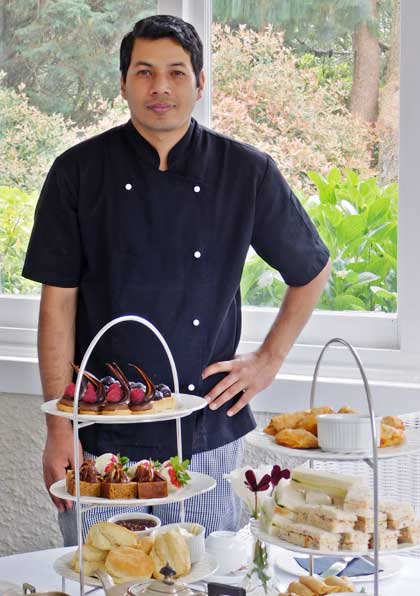 Ingredients
Almond Cookies:
Butter – 100 gms
Sugar – 100 gms
Egg white – 12gms
Plain Flour – 120 gms
Almond Flakes – 100 gms
Chocolate Ganache:
Thickened Cream – 250gms
Callebaut Dark Chocolate – 150gms
Garnish:
Fresh Raspberries – 100gms
Dark Chocolate for garnish – 100gms
---
Instructions
Cookie

- Put butter and sugar in the mixing bowl with creaming attachment.
- Cream it until it becomes fluffy and light.
- Add egg whites gradually and mix thoroughly.
- Fold flour and almond flakes and mix thoroughly.
- Divide cookie mix into 700 gms and make a long cylindrical shaped log and put in fridge until chilled.
- Take out the cookie dough log and slice into 1cm thick portions.
- Place slices onto baking tray with baking paper.
- Bake at 150 degrees centigrade for 12 to 15 minutes or until light golden brown colour.

Chocolate Ganache

- Boil cream and mix dark chocolate in with spatula.
- Set aside until cooled and set.