Equipment
Mixing machine with paddle attachment
Temperature probe
Hand blender
---
The sweetest little cake love heart. Consisting of a raspberry lychee rose cremeux covered in raspberry glaze served on a shortbread biscuit.
This delicate creation is sure to impress guests when you host your next High Tea at Home.
This delightful recipe is by Sarah Mountain, the Executive Pastry Chef at The Ned in London. Sarah has over 20 years experience in a wide range of establishments, from five star hotels and two Michelin starred restaurants to the finest patisserie shops. Sarah's pastry work style is contemporary, being colourful and bright on visuals but full on flavour and taste.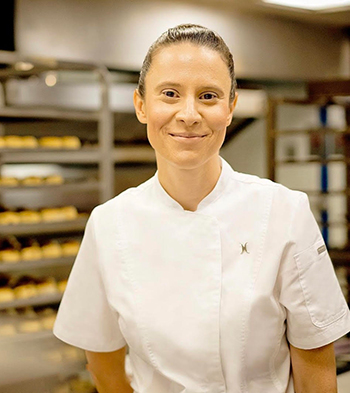 Ingredients:
RASPBERRY LYCHEE ROSE CREMEUX
300 g Lychee puree
100 g raspberry puree
30 g egg yolks
12 g custard powder
10 g castor sugar
3 g gelatine leaf
250 g unsalted butter
3 g sosa rose essence
2 g citric acid
4 g raspberry sevarome colour
RASPBERRY GLAZE
250 g raspberry puree
125 g Neutral Clear Glaze
8 g Gelatine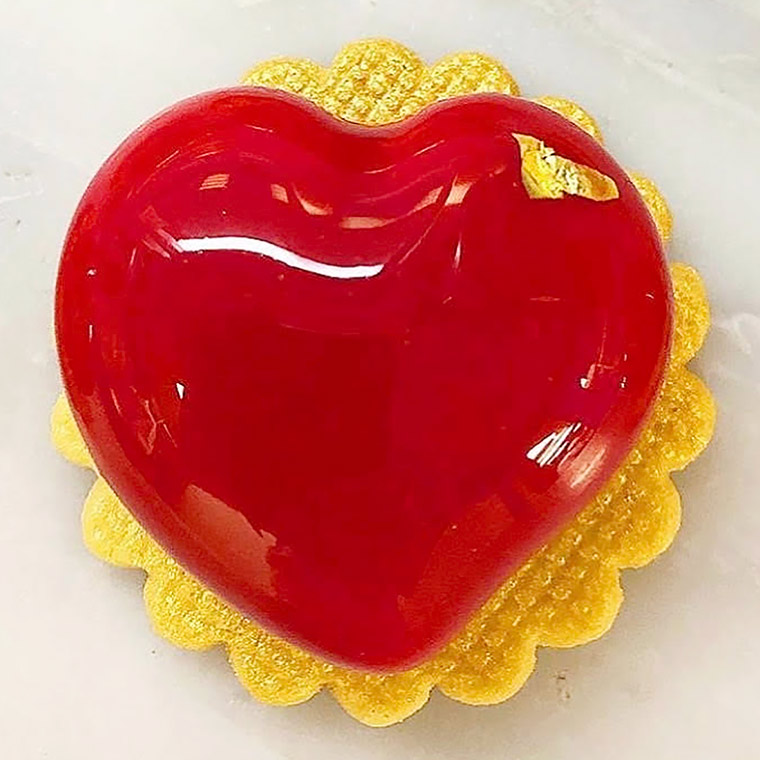 SHORTBREAD BISCUIT
240 g butter
180 g castor sugar
250 g T55 soft flour
30 g rice flour
Instructions:
RASPBERRY LYCHEE ROSE CREMEUX:
Boil the purees togethers, whisk the yolks, sugar and custard powder together.
Pour the puree over the yolk mix, and return the pan cook until the mix boils for one minute and resembles a thick pastry cream.
Remove from the heat and add the gelatine and stir well.
Add the soft butter, rose essence, colour and citric acid, blitz until the mix is completely emulsified with a hand blender.
Pipe into silicone love heart mats and fill to the top tap to make flat.
Place in the freezer for 2 hours to freeze. Once frozen demould and cover with the glaze.
RASPBERRY GLAZE:
Boil the puree with the glaze, then add the soaked gelatine and stir well.
Cool glaze on an iceboat, when at 20c pour over the frozen demoulded love hearts.
Leave glaze to set for 1 minute before placing on the baked shortbread biscuit.
SHORTBREAD BISCUIT:
Crumb all the ingredients together on the mixing machine with the paddle attachment.
Once the mix forms a dough, remove from the machine.
Roll the dough between 2 sheets of baking parchment to 1 cm thick.
Place in the fridge for 15 minutes to chill the dough. Then cut with the flutter cutters.
Place on baking tray with silicone mat and bake at 180℃ for 10 minutes until golden brown.
---